In The Librarian's Vampire Assistant, Book 5 by Mimi Jean Pamfiloff, As the King of Vampires,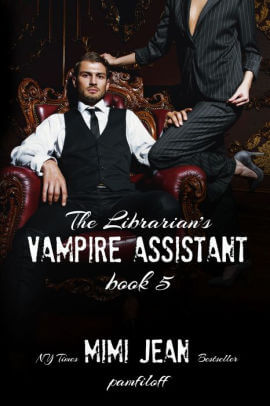 Michael Vanderhorst makes tough decisions in an instant every single day. The fate of his vampires–and humans–depends upon it. But when it comes to librarian Miriam Murphy, a newly turned vampire and Michael's former love, he can't figure out if keeping her far away from him or keeping her close is safer for her and their daughter Stella. Michael knows his enemies could use the two females against him. But even though he has been forced to become cold and uncaring, he somehow would feel better to have them in his life. When Miriam and Stella find themselves in danger, Michael will have to make the toughest choice of his centuries-long life.
'If I have learned anything after all she and I have been through, it is that we will always find our way back to each other.'
Miriam never dreamed she would become a vampire. Not with her history and upbringing. All she ever wanted was to be a librarian–something she made happen before she was turned. She kind of wishes things could go back to when Michael was her assistant and they had this close bond that was bordering on romantic. But that was before Miriam realized he was a vampire. And before they had their daughter. Now with evil and extremely eccentric vampire Mr. Nice possibly on her trail and another unknown threat after her and Stella, Miriam isn't sure if going to Michael would solve her problems or create more in the process.
"I may not feel desire, but you are still mine," he says.
We exchange meaningful stares. My stare says that I belong to no man. His stare says guess again.
Say it isn't so! No more Vanderhorst? Or Miriam? Or even Mr. Nice?? Book five was the exciting finale in Mimi Jean Pamfiloff's Librarian's Vampire Assistant mystery series. The door was left open just a teeny tiny crack, though, so there is always the possibility of something in the future… *crosses fingers*
'Rule one: Never cross a librarian. Rule two: Never cross a vampire librarian.
We don't mince words. We mince enemies.'
I really am sorry to have to say goodbye (for now?) to the characters that have become near and dear to my heart from this series. Don't worry if you haven't read the previous four books, though. You can read this on its own easily enough. But once you get a taste of all that is the awesome duo of Michael and Miriam, well…you'll want to read every single book. Because what's not to love about a slow burn romance between a human librarian who gets turned into a vampire and the current Vampire King, right?
Miriam and Michael were in quite the predicament when book five began. There was still that wonderful, solid connection between them that's been there since day one, but with Michael having turned into an unfeeling King (he had his reasons) it was rough going to say the least. I had fun getting to know Stella, Miriam and Michael's child, and loved how smart and aware she was. It was an added complication, though. She and Miriam were apt to be in harm's way because of Michael's position in the vampire community, let alone the normal enemies one accumulates after four hundred years of existence. So that put him on the path to keep them safe any way possible. Even to his own detriment.
Okay. I have to say it one final time: Mystery! Mystery! Mystery! Boy, weren't there a lot of twists trying to figure out who was after Miriam and Michael. What Mr. Nice was really up to. If Lula and Alex would reappear again. Why Michael was blocking his emotions and what big plans he had up his sleeve. MJP pulled out all the stops here and just kept throwing more and more at her poor unsuspecting characters–much to our entertainment. (lol)
Now *this* was a story that kept me glued to my seat–and that ending! The Librarian's Vampire Assistant #5 was all I hoped it would be and so much more. Crazy twists and turns. Explosive action scenes. (Literally: a building gets blown up!) Romance. Deception. And of course mystery. I don't think MJP fans could ask for more.
Book Info:

Publication: Published October 31st 2020 | Paper & Silver, Inc. | The Librarian's Vampire Assistant #5
From New York Times Bestseller Mimi Jean Pamfiloff comes the FINAL vampire-mystery-slash-romance-slash-adventure about a librarian and her trusty vampire assistant, The Librarian's Vampire Assistant, Book 5. (Yes, yes. Still a standalone. Yippy! You don't have to go back and read all four books. But don't ya kinda wanna?)
NEVER HIRE A HANDSOME VAMPIRE!
MIRIAM MURPHY loves being a librarian. It's all she's ever wanted—to eat, breathe, and sleep books. But when she hired Michael, a handsome college student, she had no idea he was a four-hundred-year-old vampire and that inviting him into her life would result in her becoming one too. But not before he knocked her up and broke her heart.
Now Miriam is a single mother, all alone in a new world with a new vampire body. And someone's trying to kill her. Who? Why? She has no real enemies.
If only Michael would help. After all, he's the vampire king now. And this is one mystery she can't solve on her own.
NEVER FALL FOR A LIBRARIAN!
MICHAEL VANDERHORST knows he's changed. He can no longer love or laugh or enjoy hot peppers like he used to. But being an unfeeling, ruthless vampire is what it takes to rule the deadliest bloodsuckers on the planet. It's the only way to keep humankind safe.
Problem is, his enemies know the librarian and his daughter are special to him. They are his to protect, even if he's incapable of feeling love.
But when danger comes knocking at Miriam's library door, he must choose between solving the biggest mystery of his existence and the woman he swore to protect.
What's a vampire king to do?