The Love Coupon by Ainslie Paton: The last thing Tom wanted was for loud and eccentric Flick to be his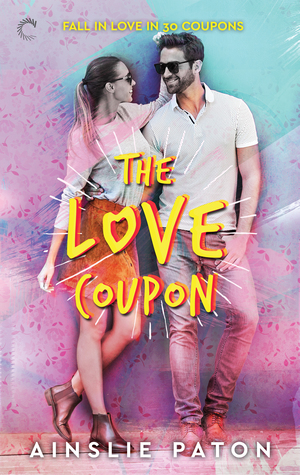 temporary roommate, but when she offers him a much needed interview with an acquaintance in exchange it looks like Tom's opening his extra room to her after all. He certainly never expected they'd become friends, let alone lovers.
Flick thought Tom was rigid and boring, but living with him has shown a whole new side. And she wants to open him up more. Once their attraction becomes clear, and when Flick has only a month left, she decides to make a coupon book for Tom.
Each day Tom gets to use a coupon, and with each activity intimacy deepens between the two. The incompatible pair turned out to be far too compatible. But Flick's on her way out of town to her dream job, and all that Tom has worked for is right there.
I loved this idea, and I loved the story. I did not want to put this down; Tom and Flick were just too cute and perfect for one another. Their spats were amusing, their attitudes endearing, and their love for one another the perfect amount of sweetness.
I also really like how the author fully developed the conflict, between the pair and in their external lives. They felt real, and I really felt they worked together to support one another. And the coupons were a fantastic added level of intimacy and even conflict in the story.
I highly recommend THE LOVE COUPON, and I know I want to keep up with this series. For those who love roommate romances or opposites attract, you'll want to read this romance.
Book Info:

Publication: April 9, 2018 | Carina Press | Stubborn Hearts #2
Can you fall in love if you have the right coupon?
Tom O'Connell had a problem. His temporary roommate, Flick Dalgetty was noisy, messy, made of bees and had enough energy to power an amusement park. The problem was he shouldn't have kissed her.
Flick Dalgetty had a problem. Her landlord, Tom O'Connell was made of granite. He was a big, repressed anti-social ogre, but the man knew how to kiss. The problem was he felt guilty about hooking up and she wanted more.
Until Flick's gift of thirty coupons, each entitling Tom to one guilt and obligation free activity, from bowling and bubble bathing to morning delight and lingerie buying, removed all the guesswork of being incompatible partners and temporary roommates.
Now the only problem was Flick had to leave and Tom needed to stay and they might be falling in love—and there wasn't a coupon for that.
Love can be a sexy game until it becomes the only one your stubborn heart wants to play.