In The Mister by E.L. James, Maxim Trevelyan admits he was born into a privileged world in London and has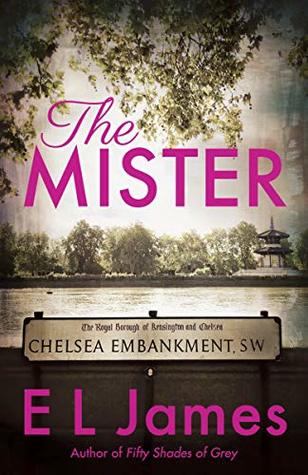 used it to his advantage, partying and concentrating on music and photography instead of being required to hold down a steady job. Such is the life of a "spare" heir. But when Maxim is suddenly thrown into the role of Earl, inheriting his family's title after a horrible accident, he realizes he is ill-equipped to handle the heavy burden. It's the innocent smile of his "daily" (his house cleaner) that brightens his grief-laden days. As Alessia's employer and as a new member of the peerage, Maxim knows a dalliance should be the furthest thing from his mind. But between her beauty, her kindness, and her astonishing musical abilities, he cannot see a future without Alessia somehow prominently featuring in it.
'She's invaded my thoughts and my dreams since I laid eyes on her.
I fucking burn for her.'
Alessia needs her job cleaning for Mister Maxim so she can make a new life in London after leaving behind her home in Albania. Things didn't go as planned on her trip and she found herself in a world of trouble. Now she's worried she will bring that danger to Mister Maxim's door. And given Alessia's intense attraction and growing feelings for him, she must be careful. What started out as a way to make ends meet becomes an infatuation so strong she wonders if it is love. Especially when Maxim goes to great lengths to keep her safe. She's still fearful he won't want anything to do with her when he realizes exactly how much trouble she brings to a relationship, but Alessia hopes her secrets will not push away the man who has become so dear to her.
'She peers in and sees him at the piano. Eyes closed, he's feeling the music, every note expressed on his face. As she watches him–his brow furrowed, head tilted, lips parted–he takes her breath away.
She's captivated
By him.
By the music.'
Surprisingly tender and romantic after a crash introduction into the self-absorbed life our hero had been leading, The Mister was not quite what I expected from E.L. James–but in this case that was a good thing.
'My life has been complicated beyond recognition by Alessia Demachi, but even as the thought pops into my head, I smile.'
Note: No author or book bashing, please, and keep comments/feedback constructive. Thanks.
Whether you loved or hated Fifty Shades of Grey, do not…I repeat…do *not* go into this book thinking it will be similar to the infamous trilogy. The Mister is definitely its own story with a totally different feel to it. And although it has explicit love scenes, it is not about BDSM. This was instead a love story through and through. Where it was set mainly in England (which I loved) and our hero had just inherited his family title of Earl, it almost felt like a mix of a sweeping historical with a modern day Cinderella retelling. And ultimately I think it all worked together in the end.
I will be completely honest that The Mister could have been shorter by about a hundred pages and still got everything across just fine. Particularly the middle of the book. And it was a bit awkward how James wrote in the first person for Maxim, while Alessia's POV was second person. It didn't flow as naturally for me as it does when a writer uses one type of POV. I did actually like them as a couple, though. They were polar opposites in terms of upbringing, social and economic standing, and life experiences. But I'm a sucker for an opposites attract trope so I was happy to find out how Alessia and Maxim would make it work. Aside from their unique chemistry, they shared an adoration of music. I loved that Alessia was a musical prodigy and thought James did a great job creating the right mood in the scenes where she lost herself in playing the piano, with Maxim watching her perform. Those moments were atmospheric and absorbing for me as a music fan myself.
It's Maxim that I think readers will initially have an issue with here. At the beginning of the book, he comes across as, well, a player to the Nth degree. His partying and womanizing ways were unabashedly on display in graphic detail, something that I could have done without and that frustrated me at first. Once we learned how Maxim had just inherited the title of Earl and the tragedy he was only beginning to deal with emotionally, more of his true personality and kindness came out and I warmed up to our hero. It felt like James put all of Maxim's–and Allesia's–flaws out there in an honest, raw way. We saw their faults as well as their redeeming qualities, which I appreciated as a reader.
I will caution that there will be some scenes difficult for sensitive readers–and I don't want to give too much away–but I will say women traditionally in Albania, where Alessia came from, were not always treated well. So abuse in different forms will be a big part of her journey unfortunately. I was impressed overall with Alessia's strength and the innate goodness she had in her, wanting to do the right thing and be honorable. She deserved someone to dote on her and cherish everything about her–which Maxim was more than willing to do.
A seductive, slow burn with a touch of humor, angst, and even suspense, The Mister concluded with a HFN ending that left the door open for a possible sequel. One which I would be more than willing to give a try.

Book Info:

Publication: Published April 16th 2019 | Vintage Books |
The passionate new romance from E L James, author of the phenomenal #1 bestselling Fifty Shades Trilogy
London, 2019. Life has been easy for Maxim Trevelyan. With his good looks, aristocratic connections, and money, he's never had to work and he's rarely slept alone. But all that changes when tragedy strikes and Maxim inherits his family's noble title, wealth, and estates, and all the responsibility that entails. It's a role he's not prepared for and one that he struggles to face.
But his biggest challenge is fighting his desire for an unexpected, enigmatic young woman who's recently arrived in England, possessing little more than a dangerous and troublesome past. Reticent, beautiful, and musically gifted, she's an alluring mystery, and Maxim's longing for her deepens into a passion that he's never experienced and dares not name. Just who is Alessia Demachi? Can Maxim protect her from the malevolence that threatens her? And what will she do when she learns that he's been hiding secrets of his own?
From the heart of London through wild, rural Cornwall to the bleak, forbidding beauty of the Balkans, The Mister is a roller-coaster ride of danger and desire that leaves the reader breathless to the very last page.