In The Nurse's Special Delivery (The Ultimate Christmas Gift #1) by Louisa George , when Abbie Cook accepted her best friend's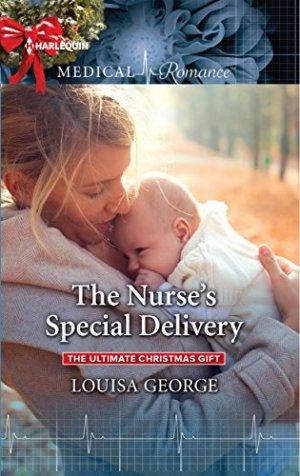 offer to be a surrogate for a baby she's longed for, she never imagined she would find love again. However, the more time Abbie spends with Callum Baird, the more she finds herself wanting forever after again. But with Callum having responsibilities at home in Scotland, do they have a shot at happy ever after?
His amazing eyes met hers and he grinned. Not the faintest hint of breathlessness anywhere in him. "Well, wow. Unexpected. Hello."
"I can hang back, let you go ahead if you need it."
The irritation she'd seen in him while on the phone disappeared and he laughed. "Not necessary. Challenge accepted."
"To the bridge."
"Seriously?"
There was a moment when she almost felt sorry for him. "You underestimate me at your peril."
What a surprising and riveting read Ms. George has delivered in this first book of the Ultimate Christmas Gift series where the second book is penned by author Sue Mackay; and where this story tells the tale of a woman giving her best friend the gift she's always wanted – a baby. The way this story started with the prologue had me wanting to cry for the heroine, as Christmas is a hard time for her because she's facing another holiday without her husband; a man she was very in love with. However, it was from the moment the hero and heroine met that had me completely hooked, as the rescue the pair is handling doesn't go according to plan.
Both the main characters had heartbreaking back stories with the heroine losing her husband three years ago and the hero feeling horrible guilt for what happened to his brother that makes him feel responsible for his sibling. Will Callum finally realize the accident wasn't his fault? Will Abbie ever be able to love another man as completely as she did her late husband? However, I did get a little frustrated with the heroine continuing to deny how she felt about the hero. That they could only be friends because the timing for her to start a relationship is all wrong. What will it take to make her realize that she can have both a new baby and a new man in her life?
"I want my child to be outgoing and adventurous, not to be afraid to take risks."
"Taking risks is all very well until you have to live through the consequences. Not so exciting and life-affirming then, believe me."
Moreover, the heroine is strong and brave in overcoming everything she's been through and I really enjoyed the tight friendship she shared with Emma. It's palpable they'll do anything for each other, which is proven by what Emma is willing to do for Abbie that gives her the chance at love, family and happiness. I also liked how determined she was to keep her distance from Callum, and yet, it was obvious that they'd give into their feelings eventually. While the hero, he's hard-working, honorable, and I liked how devoted he was to his brother. I also liked what the hero's brother was willing to do to get Callum to finally begin to live his life for him instead of continuing to allow him to feel guilty for what happened. Will Callum ever be able to stop feeling guilty?
"It's always good to face your demons."
"Ach, how can I not when you're around?" He winked and then looked across the exposed terrain. Wind sliced through them and the grass bowed and swayed in one direction and then another. "I admit I was playing it cautious, but I'm learning. Live and let live. Give support and don't overpower. Right?"
"Right. And learn to trust in other people's ideas and dreams."
"It's harder than you think."
Overall, Ms. George has delivered a really good read in this book where the chemistry between this couple was convincing; and the ending of this story was heart-warming, as Callum has big decisions to make and I liked the ones that he did make. Certainly, they both deserve to be happy after all that they've been through and I loved the words Callum said to Abbie to prove that he's ready for love, family and happiness. Furthermore, the epilogue wrapped this story up nicely, as Christmas is a special time and the best one Abbie has had in a while. I would recommend The Nurse's Special Delivery by Louisa George, if you enjoy second chance romances, the mysterious strangers trope, or books by authors Sue Mackay, Annie O'Neill, Carol Marinelli and Susan Carlisle.
Book Info:

Publication: December 1st, 2017 | Harlequin Medical | The Ultimate Christmas GIft #1
A baby for Christmas…and a father too?
When nurse Abbie Cook meets gorgeous Scottish paramedic Callum Baird there's an instant attraction. But the timing couldn't be more wrong…
Abbie's best friend Emma is about to give birth to a longed-for surrogate baby for her. And Callum has responsibilities at home that mean he can't commit to Abbie .
As Christmas approaches Callum and Abbie cannot deny the passion between them. But will the sudden arrival of baby Gracie give them the miracle they long for?