In The One That Got Away by Karina Halle, Rising football star Luciano Ribeiro has spent so many years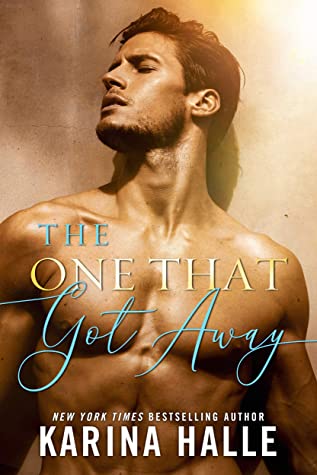 laser focused on his career that he never gave thought to settling down and having a family some day. Especially considering the mess his own family is. With a mother who ignores him, a stepfather who despises him, and his womanizer half-brother Marco as his agent, is it any wonder that Portugal's football season rules his world? But when an American journalist, Ruby Turner, gets tangled up first with Marco and then over several years, with Luciano, their timing is never as right as their attraction has felt since day one. And it changes his life in too many complex ways to count.
"Do you want to kiss me?" she asks…
"Yes," I murmur, unable to keep up the lie, unable to stop staring at her lips.
"Now? Or always?"
"Since the day I first met you," I admit.
"Then why haven't you?"
…"Because you are not mine to kiss."
Ruby learned very early on after a troubled childhood and very few people in her corner that the harder something is to achieve or overcome, the more it's worth it in the end. She just wishes a few things could be easy in her life. Like her feelings for Luciano. Ruby had the idea to go to Europe and interview local football stars, never knowing she would become entangled in a decade-long search for herself–and for a way to make a relationship with Luciano work. But with his family in the way, his demanding career, her non-citizenship and lack of resources…it all threatens to separate the pair. All Ruby can do is work hard to mend fences and hope that it will all work out as it's supposed to.
'Luciano is the man I could fall in love with, if I only let myself.'
Karina Halle is the Queen of Complicated Romance, and her newest standalone, The One That Got Away, took that up another notch. It was angsty. It was sexy. It was forbidden. And it had wonderfully flawed characters that I think will resonate with readers.
'I'm kissing her with fire and sorrow and love and sunshine, all those years coursing through my veins, lighting me ablaze, pouring out from my lips straight to her soul.'
What an epic story. Whew! It took place over about a decade and a half, told from both Ruby and Luciano's POVs. I will warn that while there wasn't any cheating, per se, a few lines were crossed over the years between the two of them that made things even more difficult than they needed to be. That was also where a good chunk of the angst came in.
It could potentially be a little off-putting for some readers where Ruby kind of went back and forth between a relationship with Luciano's brother Marco and with her feelings for Luciano himself. There was a lot more to it that I won't get into, involving his family and others around them. But the way Halle wrote it, with Ruby and Luciano's intense draw toward each other and their strong, soul-deep connection, I was (mostly) okay with how things went. It mainly felt like it was a no-win situation, where someone was bound to get hurt. Something that seemed realistic.
The characters themselves were very well-drawn out like I would expect from Halle. Ruby was a combination of strong-willed and vulnerable underneath the bravado. She was also rather free-spirited and had a tendency to speak first and think later, which got her into some predicaments as you can imagine. Luciano, who we met in The Younger Man, was all about his football (soccer for us in the US) career and just trying to keep the peace in his rather messed up family. He didn't have the best childhood but I think made the most of it. Neither did Ruby, actually, and that's part of what drew her and Luciano together. They were both broken.
A second chance romance that soared to the heights of passion and dipped into the depths of loss, The One That Got Away was a highly emotional story that ended on a glorious note.
Book Info:

Publication: Published September 20th 2020 | Karina Halle |
*A standalone second-chance romance*
Ruby Turner was never meant to be mine.
When I first met her, she was a fresh, young, American sports journalist trying to find her footing in a new life abroad. She was the one interviewing me for an article, yet I wanted to know more about her. She captivated me.
But she went home with Marco that night.
My agent.
My brother.
And I did what I could to pretend I was fine with it.
After all, I'm Luciano Ribeiro. As the captain of Real Madrid, and Portugal's National Team, it's my job to be cool, calm, and collected, not easily rattled.
Only what I felt for Ruby over time, shook me to my very core.
It made me do things I never imagined I would do.
It started with a stolen kiss in the middle of the night.
It led to a passionate tryst.
It created a burden of guilt that I had to carry, as Ruby came in and out of my life until she left for good, leaving her mark on me.
Now, seven years later, she's back.
She was the one that got away.
I don't think I'll let her go this time.
But I might not have a choice.
Because my heart still belongs to her.
And her heart might belong to my brother.