The Pediatrician's Twin Bombshell by Juliette Hyland: Paediatrician Tessa is so used to being all work and no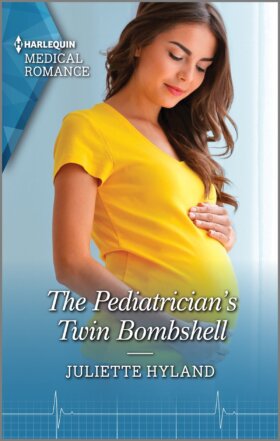 play, after all her heart is saver if she doesn't put herself out there. However there is just something about the charming night nurse Gabe that calls to her broken heart, maybe it's because Gabe to knows the pain of a hurt heart. So when one steamy night leaves these two broken hearts forever bound will Tessa be able to trust Gabe with her already fragile heart especially now that there are two other little hearts involved?
Oh this was just perfect! I loved a good medical romance and Hyland has truly delivered a goodie with The Paediatrician's Twin Bombshell! I loved every bit of this second chance/surprise pregnancy romance, this was just the type of book that you don't want to put down because it just keeps getting better.
I really liked Tessa, it was so easy to relate to her and feel her fear and anxiety. I really liked getting to watch her lower her guard with Gabe and start to allow her heart to love again. As for our hero Gabe, my heart hurt for him you could just see that his love for his late wife and that the fear of losing someone he loved again would have just crushed him. I think this made his character even more loveable and watching him support Tessa throughout the novel all the more sweet.
If you enjoy a good fast paced medical romance then this is the book for you!
Book Info:

Publication: May 25th 2021 | Harlequin Medical Romance |
The wrong time……to meet Mr. Right? Why is pediatrician Tessa all work and no play? Well, she's far too used to people not believing in her. Still, Tessa can't resist one—incredible!—night in nurse Gabe's arms…and the chance to feel wanted. But it's not just Tessa who is battling her past. Widower Gabe has his own scars to heal. So when Tessa discovers she's pregnant, he's determined to look after her! But is Tess ready to trust Gabe?