The People We Keep by Allison Larkin: Barely existing as an invisible 16 year old with dreams of becoming a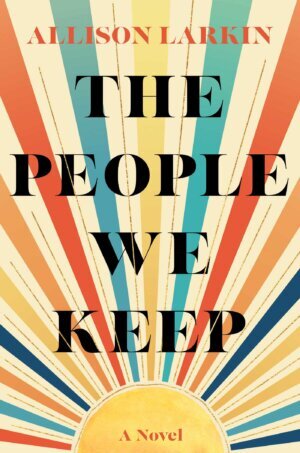 musician, April's journey was simultaneously heartbreaking and uplifting as she flees small town Little River to find the freedom and belonging she never believed she was entitled to.
Initially abandoned by her mother, then her cowardly father and ultimately by the town she grew up in, April had little choice by to school herself on what it takes to escape and what freedom really means with no roof over her head and little money to feed herself. Having started waiting tables at 6 years of age, her inner work ethic and early learned hospitality skills position her to get by and exist one day at a time, and whilst her fighting spirit and her in-built survival mechanisms serve her well, the need to be loved and belong fights for precedence in her hierarchy of needs.
Inevitably, April's simple yet entirely complex existence changes shape when she discovers she has more to lose than what she stuffed into garbage bags to escape her social class rat wheel; friendship, love, comfort and trust.
The overarching narrative voice was effortlessly innocent; observing life and events from April's perspective yet held a strong sense of wisdom despite the deliberately simple and youthful language choices. April was a warrior – naïve, vulnerable, intelligent, loveable, and given it is set in the late nineties and therefore pre-internet, her need to learn and connect and leave an impression on people was desperately real and key to her survival.
Throughout her journey, April meets and falls in love with a cast of thousands, and each appear to leave a mark on her, helping her to trust, and find the ability to value herself and feel okay with wanting things that the majority take for granted. Interestingly, despite the inherent darkness she encounters on her journey, from homelessness to attempted sexual assault, at no juncture does she feel sorry for herself, as her inherent pragmatism keeps her grounded.
Overall, The People we Keep, will leave its mark, reminding us all that the privilege of growing up in a loving home isn't the reality for many and while we dream of wealth and riches, finding our tribe and the need to belong transcends all other desires for home is truly where our heart is.
Book Info:

Publication: 3rd August 2021 | Gallery Books |
Little River, New York, 1994: April Sawicki is living in a motorless motorhome that her father won in a poker game. Failing out of school, picking up shifts at Margo's diner, she's left fending for herself in a town where she's never quite felt at home. When she "borrows" her neighbor's car to perform at an open mic night, she realizes her life could be much bigger than where she came from. After a fight with her dad, April packs her stuff and leaves for good, setting off on a journey to find a life that's all hers.
As April moves through the world, meeting people who feel like home, she chronicles her life in the songs she writes and discovers that where she came from doesn't dictate who she has to be.
This lyrical, unflinching tale is for anyone who has ever yearned for the fierce power of found family or to grasp the profound beauty of choosing to belong.