In The Princess by Lisa Renee Jones, If there is one thing Harper has learned the hard way, it is that you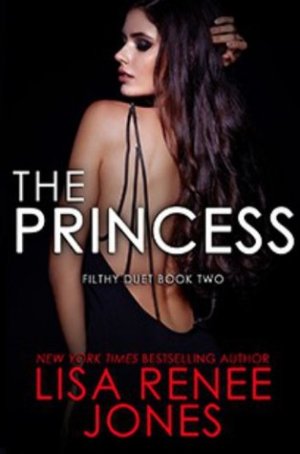 cannot trust anyone. Even family. Or her step-family, the Kingstons, in her case. But she thought Eric, the so-called bastard son, was one person she could count on until he walked away. When Harper finds out that there is so much more to his actions–as well as what is happening around her–she realizes how much danger she and Eric are in. Banding together against their enemies is the smartest move. But as they fight to stay one step ahead of their enemies, will Harper also lose her heart to Eric? Or did that already happen six years ago when they first met?
"What are you doing, Harper?"
"Saving you."
…He reaches up and brushes his fingers over my cheek, his touch shivering through me. "You already have, Harper. You just don't know it yet."
Eric has never truly felt a part of the Kingston family. Not that that's a bad thing in his estimation, because of the things he's seen his father and half-brother do over the years. Harper, though… She is not only his beautiful step-sister, but she is a strong, capable businesswoman who has been on his mind for the past six years. Eric has calculated the odds of her being in his family's pocket and he's pretty confident she can be trusted. But as secrets and revelations are thrown at them both, he's well aware that their lives are in danger. And that just doesn't fly with him. He has the skills as former military to take down anyone and the intelligence to outwit his opponents. But with Eric's emotions all tied up over Harper, he has to make sure he keeps laser focus on their threats so he can make good at starting a future with her.
'She is sweet, so damn sweet. The kind of sweet a Kingston destroys, but I'm not a Kingston. I'm just the bastard son.'
The Princess, book two of what was supposed to be a duet of books but is now a trilogy (yay!), started and ended with a shocking turn of events. And everything in between was just as exciting, riveting and scintillating as you would expect from a Lisa Renee Jones novel.
"They don't get to take anything more."
Eric's hands come down on my face. "No. They don't get to take anything more. We're going to fight. We're going to win."
Talk about a complex situation. In this sequel to The Bastard, we still had our hero and heroine, Eric and Harper, rehashing their tumultuous past and trying to pin a name on the intense feelings between them. The fact that they're step-siblings (who never lived together as children & didn't become "family" until they were adults) just added to the issues they faced. Although it was the dirty dealings–and double crossing–by the Kingston family itself that was at center stage. And the way this played out and where things were left off, Lisa Renee Jones still has me trying to figure out who is behind all the threats and problems Harper and Eric were facing down.
The only tiny thing that caused me to hit a snag with this installment was that at times it felt like the way Eric and Harper kept having the same argument about their past and their trust issues was a bit too much. By the time I got to the end of this book, though, I figured out that it seemed more like LRJ was showing us through Harper and Eric's thoughts and conversations how they were processing their emotions and the serious threats in front of them. So it worked out in the end for me but gave me pause for a few moments while reading.
Even though this was titled The Princess–and there was a lot of the book from Harper's astute POV–we actually got quite a bit of insight into Eric's past through flashbacks, starting with him as a teenager. That really helped clarify, to me at least, why there was such a discord between him and the rest of the Kingston family. Particularly with his father and brother. Harper had her own problems with her step-family which meant that when she and Eric joined forces here…boy did it create some serious drama. But I quite liked how they both handled things overall and found them to be as intriguing and engaging a pair as I hoped they would be.
We have yet another thrilling cliffhanger as The Princess leads the way to the Filthy trilogy's end in The Empire. But don't worry. It's set to come out in March 2019 so we won't have to wait long to get closure and enjoy watching Harper and Eric finally get their HEA.
Book Info:

Publication: January 22nd 2019 | Pub: Julie Patra Publishing | Filthy Trilogy #2
The second book in the Filthy Trilogy – Eric and Harper's story continues…
He's the bastard of the empire, a savant, a genius, and a self-made success. He left it all behind, but he came back for her.
Their passion is a flame that ignites more than their bond. It ignites secrets, lies, and a puzzle that once solved, will shake them to the core.You know one deep, dark secret, but you do not yet know anywhere near everything.