The Queen's Impossible Boss by Natalie Anderson is an exciting adventure for Queen Jade. After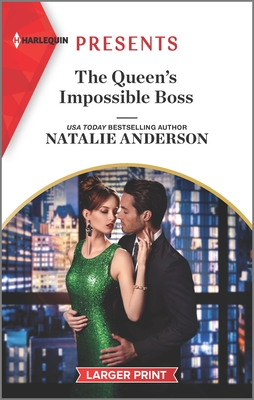 swapping places with her sister (refer to Book 1 by Heidi Rice) she escapes to New York, looking forward to seeing all of the wonderful places New York has to offer, eat at amazing eateries and just be a normal person for two weeks.
A magical night with her sister's boss, Alvaro, wasn't in the plan but throwing caution to the wind Jade experiences a night like no other. Complications and difficult pasts help shape a wonderful conclusion to The Princess Swap.
Queen Jade is a beautiful person, inside and out and her humor shows in her dialogues with Alvaro. I loved the little things like how she had no money and couldn't get her sister's money card to work. I loved how she was brave and totally threw caution to wind, after all she was never going to experience New York again as an unknown with no royal duty holding her back. I loved how she was herself and mostly wore her heart on her sleeve.
Alvaro was very likeable match and it was easy to see his point of view and what drove him. He struggled with his internal promise of only one night and it was enjoyable reading how that was resolved. Commitment-phobe Alvaro is really being tested and Queen Jade was the wake up he needed.
I loved the Christmas angle in this book, I almost felt like I was in New York at Christmas. I liked the fast pace and I really enjoyed the dialogue between the two characters. Read in one setting I really enjoyed The Queen's Impossible Boss and I think it was a perfect complement to book 1 and a lovely way to wrap up the duet.

Book Info:

Publication: December 2020 | Harlequin Presents | The Christmas Princess Swap Duet #2
Instant passion makes spending Christmas with the boss all the more tempting…in this forbidden royal romance from USA TODAY bestselling author Natalie Anderson.
She was bound by duty. But oh so tempted by desire…
Switching places with her twin was supposed to give Queen Jade a couple of weeks' escape from duty in New York. Now she has to handle a professional scandal and her sister's impossible billionaire boss!
Alvaro Byrne knows something about his employee is different—especially the instant heat between them! Discovering her true identity only increases temptation…because as Jade's bound to her throne, Alvaro's committed to his business empire. Perhaps, just for Christmas, they can explore their unrivaled connection with no paparazzi, no royal protocols—and no promises…
From Harlequin Presents: Escape to exotic locations where passion knows no bounds.
Read both books in The Christmas Princess Swap duet:
Book 1: The Royal Pregnancy Test by Heidi Rice
Book 2: The Queen's Impossible Boss by Natalie Anderson