The Roommate Agreement by Emma Hart: Shelby is a talented writer and has some interesting habits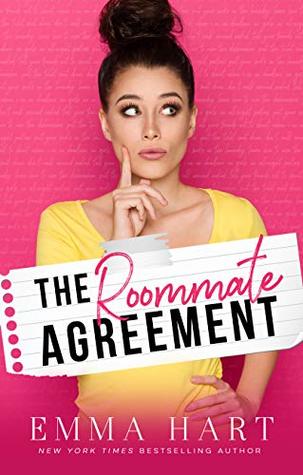 while she's under a deadline. She's in a serious relationship with Oreo's and loves The Big Bang Theory. She's funny, sassy, loves her girls night out, and is the queen of avoidance.
Jay is running one of his family's gyms and he loves to work out. He's sexy, charming, and not so great at being a roommate. He has relied on his grandmother, and now Shelby, to do his laundry and he doesn't know what a duster looks like. He loves sports and hanging out with the guys.
Shelby and Jay have been best friends for most of their lives. When Jay needed a place to live, Shelby stepped up, but after a few months of living together she's ready to pull her hair out…or kick him out. Out of frustration, Shelby creates a roommate agreement with compromises for them both.
"I'll never understand women."
"And that's why you're single and live with your best friend."
"Shelby, you are the reason I don't understand women."
"More fool you if you're using me as the benchmark."
Jay and Shelby are opposites, but they've found a way to make their differences work for their friendship. Apart from Jay not cleaning, their relationship is tested with a newer attraction that both are struggling to keep a lid on. They banter and give each other a hard time, but it gets harder not to cross that line, especially when they finally acknowledge that it exists.
"How the hell are your hands so cold?"
"They match my heart," I quipped.
"Says the romance writer."
"Keep talking; I'll start a murder mystery, and you'll be my first victim."
The Roommate Agreement is funny and sexy with great banter. Emma Hart created an opposites-attract, friends-to-lovers romance with plenty of tension and anticipation. Ms. Hart created an entertaining cast of secondary characters in their friends and family. Fans of Lauren Blakely and Kelly Rimmer will enjoy The Roommate Agreement.
Book Info:

Publication: Published March 26th 2019 | Pub: Emma Hart  |
A brand new best-friends-to-lovers romcom from Emma Hart.
Let your homeless best friend stay with you, he said. Being roommates will be fun, he said. It's only temporary, he said.
He never said I'd fall for him.
You know what isn't 'temporary?' The endless stream of dirty socks in my bathroom and empty food packets under the sofa—and don't even get me started on the hot guys who take over my living room every Sunday to watch sports.
I can't take anymore.
So I propose a roommate agreement. One that will bring peace and order back to my life, complete with rules that might just stop my newfound crush on my best friend in its tracks.
After all, there's only so many times you can see your best friend naked before you start to lose your mind.
Rules. They're meant to be broken… Aren't they?