In The Rules of Dating by Penelope Ward & Vi Keeland , Billie will admit that she has bad taste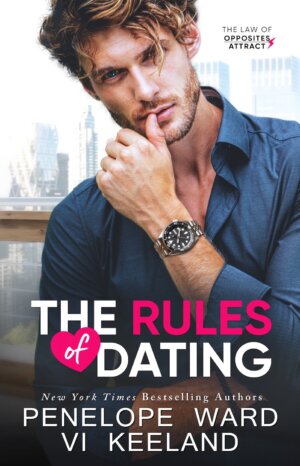 when it comes to choosing guys. But her latest breakup takes the cake. Her supposed exclusive boyfriend turned out to have about a dozen women on the hook on Tinder. So Billie got revenge. Although it seemed necessary at the time, teaching her now ex a lesson by inviting all his dates to her tattoo shop to out his cheating ways might not have been a healthy thing to do. Especially considering her new landlord watched it all happen. If Billie was in a better place emotionally since swearing off men, she might just have accepted Colby's dinner invitation a short while later. But the persistent single dad somehow still keeps trying, even if it's to be nothing more than friends.
"Saylor asked me to invite you to her birthday party on Saturday."
"I'll try to stop by."
"So when my daughter invites you, you'll come. But not when I invite you to do something with me?"
"Don't be offended, Big Daddy. Saylor doesn't have that thing I've recently determined I'm allergic to."
I shook my head. "What thing?"
"A penis." She winked.
Colby knows Billie isn't looking for anything serious–and neither is he. As an in-demand architect and a busy dad to his three-year-old daughter Saylor, his days are pretty hectic. But he can't deny his intense attraction to the lovely tattoo shop owner. When Colby comes up with the idea of "undating", basically hanging out with Billie without the emotional attachment, he thinks he's solved the problem. Nope. Not even close. Before he realizes it, she's an important part of his–and Saylor's–world. Which admittedly freaks Colby out a bit. So when his past comes back to haunt him and he needs to make a choice about the safety of his daughter or hanging on to his relationship with Billie, Colby is in for the battle of his life to balance it all out.
"I have no idea what I did to deserve you."
She smiled. "That's how I know this is real. Because true love is when you both feel like you've found someone you don't deserve."
The Rules of Dating started off with a bang and didn't let up with the twists, laughter, angst, and sexy attraction. But what else would we expect out of the awesome author duo of Penelope Ward and Vi Keeland, right?
"I guess this sounds harmless enough," I conceded. I was sure those would be famous last words, though. Because as harmless as he made this undate thing sound, I could hear virtual alarm bells going off.
Talk about a blast! I always have fun with Penelope Ward and Vi Keeland's books–whether they're writing together or separately–but The Rules of Dating was a page turner for sure. Not only was the premise interesting, with the heroine, Billie, starting the story off finding out her then boyfriend was cheating on her and showing him who was boss in the most epic of ways, but the cast was superb. From Billie's close friends at her tattoo shop to our hero Colby's adorable daughter as well as his ridiculously funny three best friends (and a few other interesting characters along the way), I loved how they all fit into the story perfectly. And realistically.
At the core of it, this romance was an opposites attract trope. Colby was the single dad, an architect who worked hard and doted on his three-year-old daughter Saylor. He was (mostly) responsible, protective, oh so kind, and oh so sexy. Then there was Billie. More of a fun, free spirit, she owned her own tattoo shop and was a talented artist in several mediums. She had been burned in love a few times, so she was skittish about relationships–and that's why Billie turned Colby down. She wasn't looking for a new boyfriend after how her last go-round blew up and she knew Saylor being in the mix meant she needed to be careful with how deeply she became entrenched in Colby's life.
Can I say how I adored not only Colby's relationship with his daughter, which was *everything*, but also how Billie was a natural at putting Saylor's needs and well-being first? It was such a breath of fresh air compared to how some novels handle it. The plot twist made things supremely difficult for all involved but I was impressed how Ward and Keeland kept things real while still adding on the angst and drama. Keeping Saylor safe and happy was always our couple's focus, though. So how could I not cheer on Colby and Billie when they were selfless to the point of making things more difficult for themselves, all in the name of protecting a little girl–and each other.
QOTD: Colby and Billie were an opposites attract couple who truly complemented each other. Are you a fan of the trope? Or do you not find opposite personalities working together realistic?
Book Info:

Publication: Published September 19, 2022 | C. Scott Publishing |
It all started when I hosted a little party for a bunch of new friends.
Though "friends" might not be the right word since the invitees were all the women I'd found out my boyfriend was talking to behind my back. When the guest of honor walked in—aka my now ex—things took a turn…
Unfortunately, a stranger witnessed the whole blowout. I was in a mood that night and ended up giving this gorgeous guy an attitude, too. As if my night could get any worse, before he stormed off, he informed me he was actually my landlord.
Colby Lennon, along with three of his friends, owned the building where my tattoo shop was located. He and I were total opposites. He wore a tie, oozed confidence that came with years of women falling at his feet, and wasn't afraid to say what he wanted, which lately—was me.
I hated that I found myself attracted to him. Especially since I was supposed to be on a self-imposed dating hiatus. Yet the two of us couldn't seem to stay away from each other. We started hanging out, as friends. I even went as far as making rules for what he'd dubbed our "undates."
But eventually, our explosive attraction became too much to bear, and we broke our resolve. I let my guard down and started to really fall for Colby.
Nothing could have prepared me for the ride he took me on. And I certainly wasn't prepared for where I'd wind up when the ride was over.
All good things must come to an end, right?
Except our ending was one I didn't see coming.