In The Summer Retreat (Moonlight Harbor #3) by Sheila Roberts, Schoolteacher Celeste Jones is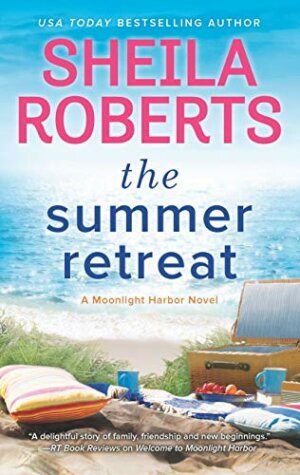 certainly no stranger to heartbreak but she thought she was on the right track with her boyfriend Emerson. The sexy cop is perfect husband material. Until she discovers he's been cheating on her. Vowing to be done with men for now, Celeste makes her way to Moonlight Harbor, Washington, to visit her sister Jenna, niece Sabrina, and great-aunt Edie. Surely, time with her family will help heal her emotional wounds. And what could be more relaxing than spending her summer beside the gorgeous beach, right?
"I love you, Aunt Celeste," Sabrina said, threading her arms through Celeste's… "I hope you find the right man."
She'd have better luck finding a unicorn eating a four-leaf clover.
Jenna is happy to have her sister in Moonlight Harbor for the summer although she's saddened by the reason for Celeste's visit. Her sister is one of the most bubbly, kindhearted people she knows which makes Jenna determined to help her turn her personal and romantic life around while she's in town. But when Celeste is torn between two men: one who is safe and loyal but who doesn't make her heart race, and the other who challenges her all while giving her belly flutters, Jenna isn't sure what advice to give. She herself is still sorting out her life with two good guys pulling her heart in different directions. But with the power of family and friends, Celeste and Jenna know they will be able to figure it all out and find the happiness they each long for.
'Good grief. Most of her life she'd been running into relationships and now she was running from one that could possibly work. She had to be insane.'
The Summer Retreat welcomed us back to Moonlight Harbor which was as stunning as ever and still filled with caring (but nosy) locals–and in this lighthearted novel, two charming sisters both looking to heal and find contentment in their lives.
'Moonlight Harbor was the perfect place to mend a broken heart.'
I can always depend on Sheila Roberts for a rock solid story with dynamic characters, interesting backgrounds, and a pleasing plot. The Summer Retreat read like it was part contemporary romance, part women's fiction as there was a good dose of heat and chemistry between the characters, but with a lot of the storyline following Celeste and Jenna's personal struggles. Not only that, but Roberts again had three generations of women under the same roof (actually, four when Jenna and Celeste's mom visited here and there) which was so much fun. I love multi-generational family casts and it really worked well the way it was done here.
The bulk of this story was about Celeste, a schoolteacher who recently had her heart broken after being cheated on. I liked our heroine a lot. She had a wonderful heart, she was warm and empathetic, but still had a zest for life. The one downfall was that Celeste had a tendency to fall in love way too fast for her own good and then held onto her hopes and dreams of perfection with both hands. She kind of viewed every eligible man as a potential husband. It was written in a way that painted Celeste as cute and almost naive. I was fine with it as I could see the humor and the sweetness of her being such a hopeless romantic, however it might not work for some readers. But her HFN ending was certainly hard-won and worked out in a way that while tough to get through emotionally, was perfect for who Celeste truly was in her heart.
Jenna's portion of the storyline found her still working her tail off and torn between Seth and Brody. There might just be a decision in one particular direction in the near future but even I'm not sure which guy I'm rooting for at this point as they both are genuinely nice men. I did get a kick out of Jenna being Celeste's sounding board as well as her voice of reason when she faltered. Although Jenna eventually had her own ideas about who her sister should pursue which made things oh so interesting. (lol)
Perfect beach reading material thanks to the gorgeous setting and the warmth of Sheila Roberts' writing, The Summer Retreat is a must-read for fans of books rife with heartfelt personal journeys and lovely romance.

Book Info:

Publication: Published April 23rd 2019 | MIRA | Moonlight Harbor #3
Join USA TODAY bestselling author Sheila Roberts for a seaside escape to the beaches of Moonlight Harbor
Celeste Jones has plans for a perfect summer with her boyfriend (and hopefully soon-to-be fiancé)—until he dumps her to be with the woman he's had on the side for months. Heartbroken and furious, Celeste resolves to move on. When the going gets tough, the tough…okay, the not-so-tough go to the beach.
As soon as school lets out for the summer, she waves goodbye to her first-graders, packs up her bikini and heads for Moonlight Harbor, where she knows her big sister, Jenna, will receive her with open arms. Jenna could probably use some help at the Driftwood Inn, and Celeste is happy to do chores around the place in exchange for a relaxing summer escape. She just needs something—or someone—to distract her from her troubles.
Finding The One can be tricky, and Jenna is determined to make sure Celeste gets it right this time around. Not that Jenna's an expert. She's still trying to sort out her own love life. But if both sisters listen to their hearts, eventually they're bound to discover that life—and love—is good at the beach.