The Sweetheart Bargain by Shirley Jump: At a time in her life when she is ready for change, a lawyer shows up on Olivia's doorstep. He gives her the keys to a home her biological mother has left her, a photo of it, and a necklace. Before she can change her mind, or think of reasons not too, Olivia has packed up herself and her dog, quit her job and is heading to Florida for that fresh start. She never knew her biological mother, and is hoping that she will finally find some answers.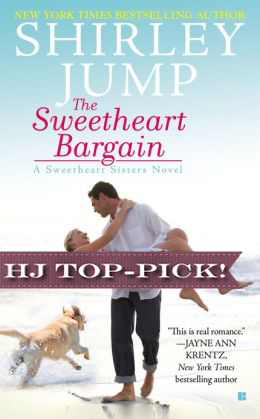 Things are not quite as she expected when she arrives in Florida at her mother's house. The house is in dire need of renovations and her hot new neighbor Luke is definitely not looking to make friends…and he is definitely dangerous "Not in the hack-you-into-tiny-pieces-and-bury-you-in-a-landfill kind of way, but in a mysterious, sensual way that said tangling with him would be unforgettable." Olivia has come through a divorce though and has no desire to wrap her happiness up in another man anyway! She has a house with the attached animal shelter that is going to take all of her extra time and money to fix up, a new job, and a surprise sister she never knew she had. Olivia has quite enough on her plate right now, thank you very much, she is not interested in a man, especially not Luke, who makes it clear he is not interested in her.
Luke is a search and rescue helicopter pilot on leave after an accident that left him injured and his buddy and colleague dead. He is devastated, guilt ridden, and has no idea what he will do with his life now. He just knows he is not good enough for a woman like Olivia. He doesn't feel good enough for anyone. Luke is so scarred physically and emotionally, hiding from the world.
But fate, friends, animals, and 3 meddling older ladies keep throwing Luke and Olivia together. The more time they spend together, the more they want each other even though Olivia knows "That would be a mistake, because she knew, as sure as she knew her own name, that getting involved with Luke Winslow would shatter her world in new ways." The pull to each other is irresistible though, and when they are together, they are so good together and for each other. Olivia finds herself losing her heart to Luke, but Luke keeps pulling back, hurting Olivia more each time. Olivia can handle almost everything that comes her way…not knowing the answers only her biological mother could have answered, a house and animal shelter ready to collapse, a sister who is still hurting in her own way… but it's getting harder and harder to handle the hot and cold feelings she's getting from Luke. So heart breaking for her that she's ready to give up and head back home to the big city, her friends, and her parents. Olivia needs to decide if Luke is worth fighting for. Luke will have to accept his life changes, who he is now, and decide – can he be the man for Olivia? Every part of is screaming yes, but he's too scared to chance it.
I loved Olivia and Luke! They are both easy to get attached to! Olivia is a woman who is easy to relate to. She has a great life with her adoptive parents, but she still has unresolved feelings and questions about her birth mother. Her marriage turned out to be a disaster, and for now she's sworn off men. Olivia is trying her best to deal with her issues, and she is independent, funny, loving, patient, and brave! Luke is lucky he has some good friends and a loving grandmother. Besides his possible career ending injury and the death of his friend, he is also still trying to cope with the non relationship he has with his father. He should be hard to care about with his attitude and cold fronts at times, but really you want to get through his tough exterior and make him see what a good man he is! Olivia is just the woman to do this if Luke can let her in. Maybe they can rescue each other.
There were quite a few secondary characters in The Sweetheart Bargain. Diana is Olivia's 'new' sister…I'm really looking forward to her story. We get a good introduction to her. Luke's Grandma is hilarious! I'd love to sit down for 'coffee' with her! I'm hoping to see more of her in the next book too. All of the characters really worked well together and tied in to the story well. The animals are an important part of The Sweetheart Bargain, they just add so much to the story!
Shirley writes The Sweetheart Bargain with feeling! At times you will laugh, at times you will want to jump into the pages and push Olivia and Luke together! Shirley writes Luke and Olivia's perspectives so well, you really get a good idea of what is going on in their heads. I really loved watching Olivia and Luke's characters grow in The Sweetheart Bargain. The setting Shirley's descriptions really took you to where they were. I could feel myself in the lighthouse in the storm on Rescue Beach!
I highly recommend The Sweetheart Bargain for a great romantic read, with characters all of whom you will really care about!
Book Info

Release date: September 3, 2013 | Series: A Sweetheart Sisters Novel (Book 1)
You can't teach an old dog new tricks—unless you're a Sweetheart Sister… 
The Sweetheart Sisters, a trio of sassy, well-meaning grannies (who aren't against a sip of bourbon with breakfast) are ready to dispense advice and help create happy endings with a little of what they do best—meddling.
Animal therapist Olivia Linscott is the Sweetheart Sisters' first target. Running from a bad marriage and a lousy job, Olivia is determined to save the dog shelter she inherited from the mother she never knew and, above all, to protect her broken heart. The Sisters want to tie the spirited young do-gooder to wounded helicopter pilot Luke Winslow, but the intended pair keeps slipping the leash.
Luke's dreams were shattered by a career-ending eye injury. Adrift and bitter, the last thing he wants is romantic involvement. But when a golden retriever in worse shape than he is scratches on the door, the dog brings in a whole lot more than puppy love…