The Telegraph Proposal by Gina Welborn is the third book in the Montana Brides series. This series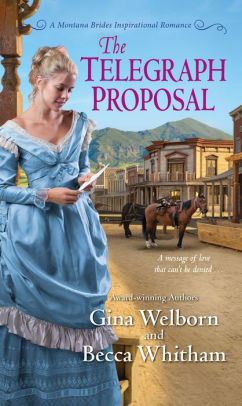 and author are both new to me, but I was pleasantly surprised by the book. The author was able to include just enough information from the previous books when needed so that it truly could be a standalone book. The characters were well developed and were easy to connect with.
The series is based on a matrimonial company called the Archer Matrimonial Company. They arranged correspondence courtships between clients that matched. Hale Adams was one client the company had that was difficult to match. He kept rejecting all the candidates that Antonia Archer referred him to. While having tea with her friend, Yancey Palmer, she discovers that Yancey has loved Hale since she was ten years old. Believing the two would be a perfect match, Antonia arranges for them to correspond with each other with false names.
Yancey had tenaciously pursued Hale for years and wasn't shy about it. The entire town was aware of her infatuation and her schemes to win him. She finally realizes that she needs to move on and decides to correspond with a client that Antonia says is perfect for her. As her correspondence courtship with Nathan St. John progresses, she slowly falls in love with him.
Hale's bitterness towards Yancey was due to her ruining his courtship of her sister and then proclaiming him as hers. Hale realizing, he will not find a spouse in town decides to sign up with the Archer Matrimonial Company. He had been corresponding with Miss Portia York for a while and decided he was ready to move forward and ask her to join him in Helena. When Antonia's duplicity is discovered, Hale immediately thinks it's another scheme Yancey has come up with and accuses her in front of everyone. Afterwards he realizes his error, but it is too late he still receives the "Yancey effect" from the townspeople. In order to win the position of mayor, he must put aside the past and let Yancey help him with his campaign.
Along with Yancey and Hale's romance there is a mystery involving the side characters of counterfeit money being produced and murders. I enjoyed reading the mysteries, but I do wish the author would have included more scenes of the courtship between Yancey and Hale. Overall this was a good book with a great plot and was interesting to read.
Book Info:

Publication: October 29th 2019 | Zebra Books | Montana Brides #3
In the rough and rugged Montana Territory, the journey to true love is filled with unexpected twists–and sweet rewards–for daring frontier women who faithfully believe every heart has a home . . .
With the help of the Archer Matrimonial Company, Yancey Palmer has finally put Hale Adams, the man she's loved for ten years–sometimes not wisely or well–behind her. Yancey is so sure of her love for the man the agency matched her with, she readily promises a friend that she'll help Hale with his mayoral campaign without chasing him.
Hale has also engaged the services of the matrimonial agency. He's so pleased with one lady, he requests that she join him in Helena to commence a sixty-day courtship. But instead, the Archer ladies arrive in town to reveal the true identities of both Hale's and Yancey's matches: each other. Can they look past their misunderstandings and hurt to see that they are still a perfect match?