The Texan's Wedding Escape by Charlene Sands: Loss is never easy, especially when it's your brother or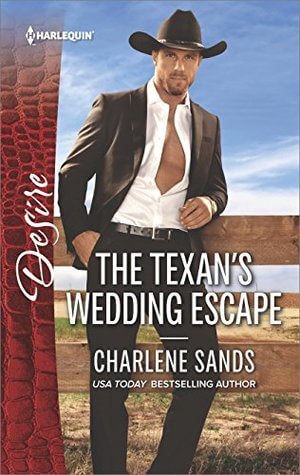 your best friend. The world begins to spin out of control and it can make you take a serious look at what you are doing.
Lauren Abbott was learning that quickly. When her brother passed away it was all she could do to not fall apart. Instead she found herself falling in love with his business partner and creating a safe and stable life. She wanted to be happy, be married and be well. That's what her brother would have wanted for her, and maybe with him?
Cooper Stone lost his best friend thanks to a drunk driver and he blamed himself. Now his best friends little sister was getting married to a guy she barely knew and who her brother had begun to question his integrity. How could life have spun out of control? He needed to make sure this guy was good enough for Lauren.
Now Lauren and her mom were on the ranch planning her wedding and Cooper was drowning. How could this possibly not end badly?
WOW. Ms. Sands has given her readers something intriguing to dig into and the begging of a great duo. The characters are great and with a surprise twist at the end it will keep you guessing and reading more and more. There are many ways this could have gone poorly, but she has managed to turn a relatively played genre into something new, exciting and habitable for her readers. This is a must, now if only we didn't have to wait for Jared Stone's story.

Book Info:

Publication: Published April 1st 2018 | Harlequin Desire | Heart of Stone
From friendship to passion…to forever?
Only if she doesn't marry the wrong man first…
Lauren never got over her childhood crush on Cooper, but she's grown up now and ready to settle down. She even agrees to plan her upcoming wedding at his ranch, but in close quarters, she's second-guessing her groom and yearning for Cooper's forbidden embrace… Then she discovers the rancher's ulterior motive. Will she walk down the aisle with the wrong man?