In The Trouble with Texas Cowboys (Burnt Boot, Texas #2) by Carolyn Brown we are once again drawn into the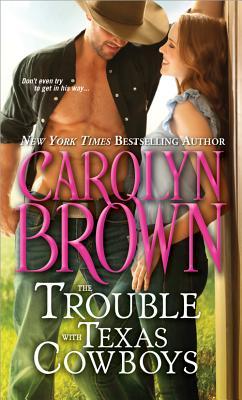 fun, feisty, and feverish world of hot cowboys, a fantastic HEA and feuding families that make the Hatfields and McCoys look like the best of friends.
Sawyer O'Donnell had decided to sign on and foreman at the Fiddle Creek Ranch. Close to his cousin on Salt Draw, ready to settle into ranching life, he never thought that he would find himself smack in the middle of the Gallagher/Brennan family feuding. Add to that the firey red head Jillian Cleary, the woman that will one day inherit the Fiddle Creek and the sparks really start to fly.
Jillian Cleary is not interested in getting in the middle of a feud that has gone on so long, that no one can remember how it even started. The one thing she knows for certain is that neither family is going to lay claim to her heart or her ranch. In order to save each other Sawyer and Jill will have to have each others backs, stand up to the feuding families, help out Jill's ailing aunts, and keep from getting cornered by one side or the other.
They have only known each other a short time, but as they work side by side, as their feeling for each other start to take hold, they might have found that fate steps in when you least expect it to and shows you the missing part of your soul.
I have loved every book that I have ever ready by Carolyn Brown, and Sawyer and Jill's story is no exception. The scenes with the Gallagher's and the Brennan's are laugh out loud funny. The way that Sawyer and Jill's relationship unfolded despite everything that tried to pull them apart was just beautiful. Of course, it helps that Sawyer is a HOT cowboy who knows how to fill out a pair of jeans, and Jill is a spitfire that stands her ground and fights for what is hers. We get to revisit Callie and Finn from book one in this series along with their children and the meddling, matchmaking aunts.
Although this is the second book in the Burnt Boot Series, it can be read as a stand alone book without confusing the reader. I look forward to the next installment of feuding, flirting, fun and HEA from Burnt Boot, Texas.
Book Info:

Published January 6th 2015 by Sourcebooks Casablanca |  (Burnt Boot, Texas #2)
When Sawyer O'Donnell takes a ranch job on a whim, he lands smack dab in the middle of a Texas-sized feud! The Gallaghers and the Brennans are at each other's throats to woo the red-headed spitfire, Jill Cleary, and stake a claim for the Fiddle Creek Ranch.
Jill makes Sawyer's blood boil. They argue, they banter, but Sawyer soon goes from being driven crazy to crazy in love. Damned if he knows how that happened. But now that it has, how does he compete with two men that can give this cowgirl a lifestyle beyond her wildest dreams?