In The Twins' Rodeo Rider by Tina Leonard, Bridesmaids Creek legends are very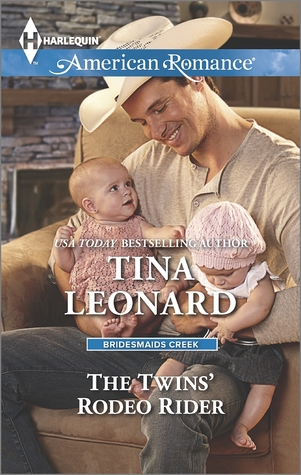 specific, and according to the legend Cisco Grant has been chosen as destined to another woman. But Suz Hawthorne cannot accept that the man she loves is meant for another. Yet, that does not mean that she will give in to his flirting that easily.
Navy SEAL Cisco Grant knows that he and Suz belong together. It's not his fault that his buddy got a cramp during the race and he accidentally got the wrong woman at the finish line because of it. He doesn't believe in legends or curses, but everyone in Bridesmaids Creek does making it quite difficult for him to romance Suz. But after things get a little out of control and Suz and her sister are at risk of loosing their family ranch and their livelihood, he knows that he may have to get out of town for a while even if he only wants to do things his way.
But being away a few weeks has made no difference to his feelings, and when he sees Suz at one of the rodeos he knows that he cannot let her go again. Only she is not exactly there to give them a chance, but to convince him to return and put things to right back in town.
One night alone together will lead to bigger consequences and even bigger problems…
Now Cisco and Suz have a secret they are hiding from everyone at home, but how can he go back to romance another woman when he has been with the only woman he wants and desires? Not to mention that according to others there is no way to cheat the Bridesmaids Creek Charm.
Cisco and Suz will have a tough road to their HEA, but only with lots of love and determination will they be able to get there. For one decision from them can break the town apart if they are not careful.
If you want a fun and fast read that will keep you hooked through every page, don't miss The Twins' Rodeo Rider by Tina Leonard.
Book Info:

Published February 3rd 2015 by Harlequin American Romance Series #1533
BREAKING ALL THE RULES
Suz Hawthorne was always a rebel. But falling for Navy SEAL Cisco Grant—when Bridesmaids Creek legend already chose him as destined for another woman—borders on sedition. For a small Texas town that depends on its romantic reputation, flouting local lore is disastrous. Now, Suz's renegade heart could cost her the family ranch, and the town its livelihood.
Cisco knows he and Suz are meant for each other, and the twin babies they're expecting are the only kind of magic he cares about. No one ever tried to cheat the Bridesmaids Creek charm before, but Cisco believes in doing things the old-fashioned way…his way. Can he preserve the town's fabled tradition and still win the woman he loves?