In The Wanderer (Thunder Point #1) by Robyn Carr, Hank Cooper travels to Thunder Point, Oregon, after learning of his Army buddy Ben Bailey's passing. He expects to be in town for about a week before moving on and finding a job piloting a helicopter but finds there's more to be done in town than expected when Ben leaves him to handle his estate. Cooper is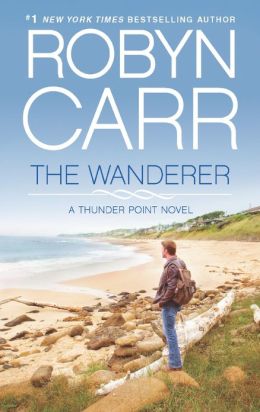 intrigued by the beauty of the town and its residents…especially Sarah Dupre. They have a lot in common but she makes it clear she is not interested in dating. Cooper steps in to help her younger brother Landon and although at first Sarah is suspicious of his intentions, they form a friendship that he hopes will grow into something more.
"He could already feel her hooks in him. He was an expert at not caring deeply, yet this time it wasn't working for him. He wanted her in every way – physically, intellectually, emotionally. And she didn't want him back in that way. In fact, she needed his help in remaining unattached."
Sarah Dupre is a pilot in the USCG. She's taken care of Landon since he was five when their parents passed away and has taken on his guardianship while forming her career and making a home for themselves. She divorced about a nine months ago after a year long marriage to a co-worker and is still reeling from the emotional pain and trust issues it caused. She's hoping Landon can finish out high school and then enter college before she tries seriously dating again, but when she spots Cooper she has to fight the attraction she feels for the rugged traveler. He seems to have the best of intentions for Sarah, her brother and the town, but she's afraid it's too good to be true.
Robyn Carr knows exactly what readers are looking for in a romantic series and delivers every time. The characters are complex yet easy to relate to. She creates these towns where you feel like you could walk right in and hang out at the diner or watch a Friday night football game with everyone. From Cooper and Sarah finding a chance at love they never thought they'd have, to Gina and Mac moving beyond the friendship they've forged over the years, their stories work their way into your heart. Whether you also enjoyed her Virgin River series or you are new to Robyn's writing, I highly recommend this book and look forward to the continuation of Thunder Point.
Book Info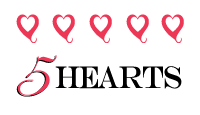 Harlequin MIRA Release date: March 26, 2013 | Series: Thunder Point
From Robyn Carr, #1 
New York Times
 bestselling author of the popular Virgin River novels, comes Thunder Point—the highly anticipated new series that will make you laugh, make you sigh, and make you fall in love with a small town filled with people you'll never forget.
Nestled on the Oregon coast is a small town of rocky beaches and rugged charm. Locals love the land's unspoiled beauty. Developers see it as a potential gold mine. When newcomer Hank Cooper learns he's been left an old friend's entire beachfront property, he finds himself with a community's destiny in his hands.
Cooper has never been a man to settle in one place, and Thunder Point was supposed to be just another quick stop. But Cooper finds himself getting involved with the town. And with Sarah Dupre, a woman as complicated as she is beautiful.
With the whole town watching for his next move, Cooper has to choose between his old life and a place full of new possibilities. A place that just might be home.