The Worlds Most Notorious Greek by Jackie Ashenden is a deep and enjoyable marriage of convenience story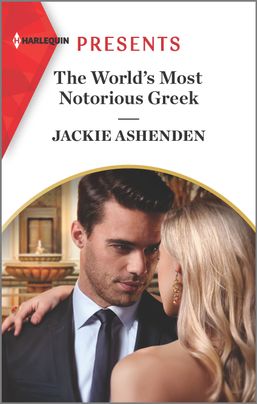 between Willow and Achilles. Sweeping across beautiful locations in England and Greece I enjoyed this story on a beautiful sunny weekend morning.
To inherit his father's estate Achilles, the seventh Duke of Audley needs a wife quickly and offering a generous financial reward to Willow, she's motivated to help her Dad and agrees. finding out Achilles also needs to have a son Willow issues her own conditions. Promising Achilles one wedding night isn't too hard because attraction was instant the second they met.
Amid the chemistry Achilles and Willow learn about each other and one of the beautiful things about this story is how they heal each other. Achillis has spent his lifetime competing with is ghost of a brother and Willow has spent her lifetime trying to bond with her Father.
I really enjoyed the growth of the two characters together and personally. They came along at the perfect time for each other. The foundations were started from their incredible chemistry and when they start questioning if this marriage could be a lifetime not a good time, issues need to be resolved and I really liked the outcome.
I loved the ending and the growth and chemistry. I really enjoyed Achilles and Willow and thought there was no rush to the end and the conclusion came about quite organically. Thoroughly enjoyed.
Book Info:

Publication: March 2021 | Harlequin Presents |
A thrilling kiss with a stranger paves the way for an explosive wedding night in this wonderfully angsty marriage of convenience romance by Jackie Ashenden.
The price of his ring: passion….but at what cost?
To defy the father who refused to acknowledge him and gain his rightful inheritance, Achilles Templeton must wed and have a son. For a famous playboy like himself, such conditions seem impossible. Until he meets the perfect bride right next door…
Innocent Willow Hall has exhausted her spirit — and bank account — caring for a father who never truly loved her. Achilles's proposition is an outlandish lifeline! But it's not the terms of their convenient marriage that scare her…it's the all-consuming fire Achilles unleashes within her…