Third Base by Heidi McLaughlin: Baseball star Ethan has had his eye on the blonde beauty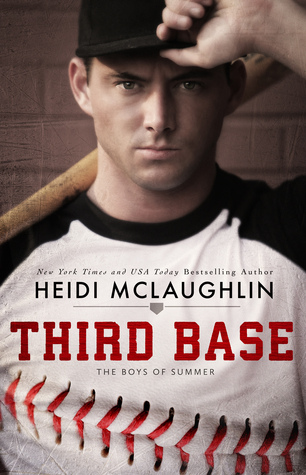 who comes to every single home game, when he finally gets up the nerve to introduce himself, he only wants to know more and more. But Daisy is closed off and unwilling to accept all that Ethan wants to offer.
And when the BoRe blogger, the anonymous person who comments on the team, and especially Ethan, comes between them, their romance begins to sour.
"I'll have breakfast with you, but I'm not going back to your place."
"Fair enough, we can go to yours." I wink and get a fry in my face. She covers her mouth as she laughs and I want to reach over the table and pull her hand away. I want to see all of her face when she laughs. I want to hold her hand and see if I feel the same radiation of heat I did earlier.
Entirely in Ethan's point of view, Third Base was fun to read because he's got a great voice. Admittedly, he's juvenile oftentimes, but it was cute. His passion for baseball, family, and Daisy was apparent, and I couldn't help but find him endearing.
Daisy, I liked less so. It was hard for me to get to know her, and even after finishing I still feel like I don't. The entire story is Ethan telling me what happened, essentially, so I end up getting very little of Daisy. That said, I like that she stands on her own two feet, and her care and support of her grandfather is wonderful.
I can't say much happens in this story. It's a cute exposition of their ups and downs as they get used to one another and become closer. Ethan really has to work to woo Daisy and to get her to accept their relationship, although it's not all on her. Ethan's got a big issue with the BoRe blogger and it works to come between them a time or two.
Overall, I did enjoy Third Base as a simple and fun read, interesting because of its voice. I would recommend it for those who want to be in baseball and love a boyish hero.
Book Info:

Publication: June 7, 2016 | Forever | The Boys of Summer #1
Ethan Davenport is already Boston's most eligible bachelor. In his second season with the Boston Renegades he has set his eyes on the girl behind the visitors' dugout.
That girl is Daisy Robinson, a journalism student at the University of Boston and a die-hard Renegades fan.
But with new found love comes challenges and Ethan and Daisy have to deal with his crazy schedule, school finals and his presence on her campus for some much needed media training.
For Ethan nothing can come between him and Daisy, until a secret that she's been keeping threatens to destroy them both.