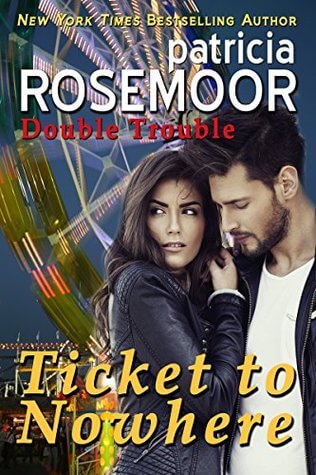 In Ticket to Nowhere (Double Trouble Book 1) by Patricia Rosemoor gives a well balanced blend of romance, secrets, mystery and suspense in a unique setting. And nothing is as it seems at the carnival! With no where to hide, Eden ends up at the carnival…and Chick is intrigued by her from the moment he sees her. Knowing no one will believe what she's seen, Eden doesn't know what to do. Soon Chick is drawn not only to Eden, but to helping her escape the danger that is chasing her.
I really liked Eden and Chick as a hero and heroine. There characters are not as straight forward as each of them seems to think, and I liked getting to know them as their characters developed. With the stress of trying to escape danger while at the same time finding proof of a killer, Eden makes an admirable heroine who is brave, even if what she resorts to isn't always smart! I liked how Chick was with Eden, even if he was keeping secrets of his own. He is protective and very obviously attracted to her. The feeling is mutual and easy to see, but the rocky road they are on is filled with challenges. I couldn't wait to see how these characters, a possible relationship, and the suspenseful plot played out. I don't know if what they were doing together as they tried to find evidence on their own is realistic, but it is a strong part of the plot and works well in Ticket to Nowhere.
I loved the unique, carnival atmosphere! I could easily picture it all. The secondary characters, mainly the other carnival people add so much color and feeling, and show a true connectedness with Chick. Their quirkiness really brings it all to life, and the setting works so well with the plot.
An exciting and well paced book, I'd recommend Ticket to Nowhere to any romantic suspense reader!
Book Info:

March 1st 2016 by Patricia Rosemoor
What is a classy woman who looks like she's been mud-wrestling hiding from in a carnival? Chick Lovett offers a desperate-looking Eden Payne shelter and a job working in his game booth. Having witnessed a body hauled onto a boat and a prominent politician who was involved, Eden can't go home. As they work together to find proof of a woman's murder, as attraction brings them closer than he's ever been with another woman, "Chickie-loves-it" wonders if Eden will ever realize he's more than a seasoned carny.