Too Hard to Resist by Robin Bielman: When Madison begins as a temp for Elliot,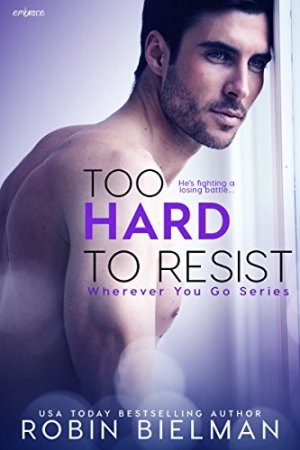 one of the guys in her friend group whom she doesn't know very well, the last thing she expected was for an attraction to explode between them. But the last thing she can do is give in to it, not if she wants to keep her job and make it permanent.
Elliot's finally in his dream job, and he's headed for great things at his new company, but when Maddie arrives as his new assistant – and becomes the best assistant he's ever had – he begins to notice her in ways he never did before.
Starting something up is either the worst or best decision Maddie and Elliot can make, especially when it begins to enter the office and hiding it becomes harder and harder.
I could not put TOO HARD TO RESIST down. The tension between Maddie and Elliot was fantastic, and I just loved the way they completely failed to resist one another.
These two were hot for one another, but I liked that they stood on their own, as well. Maddie was going to figure out where her life was going after her fiancé blew it up, and she was not going to let anyone ruin her newfound independence.
That said, they knew the importance of each other and what they found – and never expected. I've read one other in this series, and they can be read as a standalone. I will say TOO HARD TO RESIST is my absolute favorite, but I definitely plan on reading more Bielman.

Book Info:

Publication: April 16, 2018 | Entangled Embrace | Wherever You Go #3
One rookie assistant + one demanding executive = flirting that is too hot to handle.
Have you ever wished for the perfect job? Me, too. So when I land a temporary gig with a worthwhile and exemplary startup, I'm determined to make it permanent. That my boss is the gorgeous, clever Elliot Sax is nothing I can't handle. We may steal glances at each other and straddle the line of playing it safe, but our partnership is too important for complications. Not to mention workplace hookups are against the rules.
But when our attraction flames hotter, our best efforts are put to the test. I never imagined having to fight my feelings for him on a daily basis and keeping my hands to myself is absolutely killing me.
Until I can't. Until we can't. And what's at stake becomes more than our jobs. What's at risk is our hearts.