Tools of Engagement by Tessa Bailey: From the time she has been a kid Bethany has been trying to be as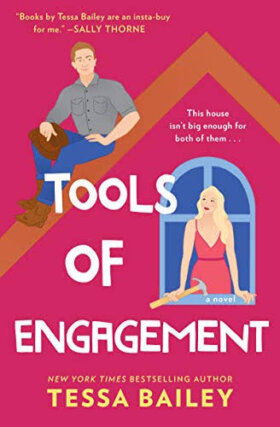 perfect as possible, but it is all finally getting to be to much. Tired of not being taken seriously in the family business, she decides to strike put on her own. However things take an interesting turn when a network studio gets wind of Bethany straying from the family renovation empire, with the already terrifying pressure of taking on her own flip now she has to deal with having a camera crew following every step she takes. Oh and let's not forget that she has the annoyingly handsome cowboy flirting with her at every turn.
"BETHANY: I'd take care of those nasty blue balls, of course.
WES: BETHANY: With all that paint lying around, I can totally paint them a new color."
Wes is a true cowboy, living life as each day is his last, after all he has never had to worry about anyone other than himself, but his carefree life takes a drastic change when his half sister asks him to watch over her young daughter Laura, till she gets her life together. But Laura isn't the only lady turning Wes life upside down, from the moment he meet Bethany he knew that she was something special. So when the opportunity to work alongside her comes about, Wes jumps on it. With the two of them taking on project doomsday Wes soon finds himself more and more taken by the cute blonde that wants to get her hands dirty but really dislikes dirt.
"How many times can you put something behind you . . . before all those incidents crowd you out the door?""We're in construction, darlin'. We'll just build an addition to make them fit."
While the two breath new life into a once sad old house, things between them start to heat up and their flirty banter begins to turn into heated kisses. With the house flip almost completed and her newly blooming relationship with Wes and Laura starting to take shape, the question is how will Bethany react when she faces a set back.
"I am your destination. And you didn't get lost on the way to me , you just circled the block one extra time. Now park the goddamn car, darlin', come inside and tell me you love me again."
I have been wanting to read Tools of Engagement from the time I read the blurb earlier this year, and let me tell you, Bailey has truly out done herself. I was absolutely taken with Wes, he is hands done the perfect hero. Not only does he uproot his life to move across country to take care of his young niece but he does so in the cutest way ever. The way Wes and Laura interact and the way he tried to make sure that she felt comfortable and loved, completely melted my heart. Not only was the cutest uncle but I loved that he stood by Bethany giving her the support that she so needed, and not once did he judge her for her constant need to be perfect.
As for Bethany's character, I really liked that she was not perfect even though she tried her hardest to appear perfect. I loved that she faced very realistic challenges and that she tired to get out of these confines. I am a huge HGTV fan so the concept of the Flip Off reality show was right up my alley. I loved that even though Wes so against having a camera following him around, it actually helped build his relationship with Bethany.
"You said it's complicated, baby. Heard it plain as day.""I meant you give me indigestion." This woman. She was such a fucking work of art, it was torturous standing this close without holding her, kissing her, tickling her."
Overall Tools of Engagement was a standout read that will definitely have a spot on my top 10 favorite romcoms of 2020. I highly recommend all book lovers give this unlikely couple a chance to worm their way into your heart.
Book Info:

Publication: September 22nd 2020 | Avon | Hot & Hammered #3
In Tessa Bailey's latest rom-com, two enemies team up to flip a house… and the sparks between them might burn the place down or ignite a passion that neither can ignore!
Hair, makeup, clothing, decor… everything in Bethany Castle's world is organized, planned, and styled to perfection. Which is why the homes she designs for her family's real estate business are the most coveted in town. The only thing not perfect? Her track record with men. She's on a dating hiatus and after helping her friends achieve their dreams, Bethany finally has time to focus on her own: flip a house, from framework to furnishings, all by herself. Except her older brother runs the company and refuses to take her seriously.
When a television producer gets wind of the Castle sibling rivalry, they're invited on Flip Off, a competition to see who can do the best renovation. Bethany wants bragging rights, but she needs a crew and the only member of her brother's construction team willing to jump ship is Wes Daniels, the new guy in town. His Texas drawl and handsome face got under Bethany's skin on day one, but the last thing she needs is some cocky young cowboy in her way.
As the race to renovate heats up, Wes and Bethany are forced into close quarters, trading barbs and biting banter as they remodel the ugliest house on the block. It's a labor of love, hate, and everything in between, and soon sparks are flying. But Bethany's perfectly structured life is one kiss away from going up in smoke and she knows falling for a guy like Wes would be a flipping disaster.