Truly Madly Montana by Fiona Lowe: Millie is working as an RN as she studies to be a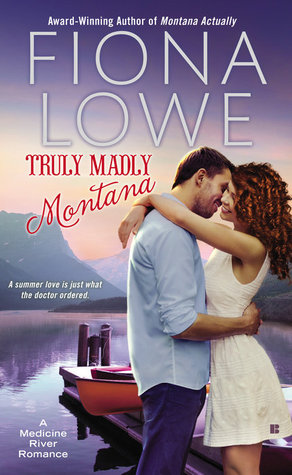 doctor. She's very much looking forward to her upcoming clinical assignment in her hometown of Bear Paw. Sexy, Australian doctor Will is never short of women who are interested in him, but he's restless and unsure why. He decides to move to Bear Paw for the summer for a change of pace.
He decides Millie would make a great friend since she's not like the women who obviously throw themselves at him. Unbeknownst to Will, Millie's had a crush on him since they first met. Things become awkward when Will mistakenly assumes that Millie is a lesbian.
He raised his glass to her, his handsome face filled with camaraderie. "Consider me your wingman."

Her wingman? Good grief, he was deadly serious. Why was this happening? Pretending to be a non-dating lesbian was supposed to have been easy-identical, even, to her normal state of being a non-dating heterosexual. She was fast coming around to believing she'd been cursed.
Millie is quite dismayed to learn that Will is her supervising physician for her assignment. As Will and Millie spend more time together, both in and out of the hospital, Will is becoming attracted to Millie despite her supposed homosexuality. Millie is stuck in a no-win situation until Will finally learns the truth.
"What?" Her accusation burned him. "So now this is my fault?"
She nodded violently. "Uh-huh."
"You've got to be kidding me." He threw his arms out wide in disbelief. "What sort of woman wears a man's suit to a wedding, anyway?"
Truly Madly Montana is a humorous and engaging small town romance. Truly Madly Montana can be read as a standalone. Fiona Lowe created a very relatable heroine in Millie with her need to be treated as a normal woman and not a fragile flower due to her diabetes. Ms. Lowe also included a fun secondary storyline and interesting secondary characters. Fans of Susan Mallery's Fool's Gold series and Jill Shalvis would love Truly Madly Montana!
Book Info:

Publication: July 7th 2015 | Berkley | Medicine River #2
Summer in Montana brings heat with a chance of romance in the new Medicine River Romance from the award-winning author of Montana Actually
Sexy and charming Australian doctor Will Bartlett will do anything to help out a friend, even if it means moving to Bear Paw for the summer. Some small-town hospitality, and the uncomplicated friendship of his co-worker, Millie, is just the ticket to shake off the restlessness that's been gripping him lately.
Millie Switkowski, RN and medical student, is home for her clinical rotation, and she's determined to make this summer so much better than last. She's got a year of medical school under her belt, her diabetes is under control and she's kicked her crazy crush for Will Bartlett, who only ever treated her as "one of the guys."
But when Will turns out to be Millie's supervising physician, without warning the summer gets a whole lot hotter than either of them anticipated. With both of them holding onto thorny secrets, can they walk away with their hearts intact?