In Under Her Clothes by Louisa Edwards, Colby St. James has spent her life proving her worth. First it was to her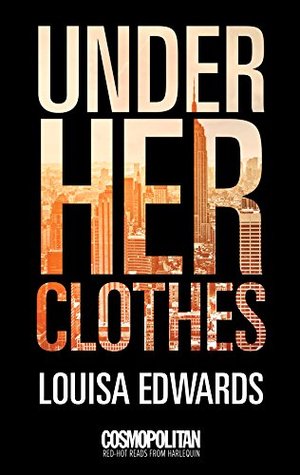 father, then on the line in restaurant kitchens. Having concocted a scheme to become chef at a first-class restaurant in Manhattan, Colby will dress as a man to get the job. Then she can let the truth be known that a woman can have a place at the top rung in the business. But one look at Chef Dominic Fevre and Colby is in trouble. The rugged French chef will oversee the entire two week process. If she can keep herself from ending up in his arms, she might just make it through.
'She'd hold her own against the other chef wannabes, and show the world she wasn't the best "female chef" in Manhattan–she was one of the best chefs, period.'
Chef Dominic Fevre is ready to take the next step in his career, and picking the best chef out of the candidates for a new restaurant will solidify his position with his boss. But Dom didn't expect to have his emotions and desires jumbled up when smart-mouth Colby walks into the kitchen. After leaving France, and his family, on less than perfect terms, he's fought for control over his life. That has meant casual hookups with women only. No man has ever tempted Dom the way Colby does. And yet the more he tries to stay away, the more he seems to be drawn to the androgynously stunning man.
'Colby St. James seemed to have been designed to remind Dominic that he wasn't a cold, emotionless machine. He was human and fallible and alive.'
Under His Clothes was a gender-bending love story with some seriously steaming hot moments…and not just because it was set in a restaurant kitchen.
As one can always expect from a Cosmo Red-Hot Reads novella, the love scenes and stolen moments between our protagonists were hot, hot, hot! Those scenes were also surprisingly complex, given that Dominic thought that Colby was a man. Trying to get that straight in my mind during the dialogue and with Dom's inner thoughts when he referred to Colby as "he" was a bit difficult sometimes. But I felt like that was part of the charm here. Because just as confused as I felt at times with Colby's gender-swapping, I think both she and Dominic were confused by their feelings for each other in the same way. Very smartly done, Ms. Edwards.
I thought the writing style used was very easy to follow and the scenes were well detailed but not overdone. And of course the idea behind Colby's deception was such an intriguing one: to prove that women have just as much talent and right to be a chef in an upscale restaurant as men do. I am all for empowerment as long as it's not derogatory in any way, and while this had the power to turn that way, I liked that author Louisa Edwards kept things on the level. I wish we could have had a little bit more backstory on Colby and certainly to see where things took her and Dom, but I thought the ending worked well. And yeah, Dom may have been quick to give in after he found out the truth. It led us readers to a happy conclusion, though, so I won't complain about that! 😉
Looking for a quick & sexy culinary-themed romance? Under Her Clothes might just have all the right ingredients to fit the bill.
Book Info:

Published February 10th 2015 by Cosmopolitan Red-Hot Reads from Harlequin
When Colby St. James dresses like a man to prove she can succeed in the male-dominated world of professional cooking, she never expects to fall for the handsome chef who will decide her fate. They agree that nothing that happens after hours will affect Colby's chances in the competition and begin a secret affair.
It's been years since Dominic Fevre felt a sexual attraction toward another man. He thought he'd put that stage of his life behind him when he focused everything on his career. But something about Colby St. James makes him want to break all his own rules…