Under His Skin by Nicola Marsh is a sexy opposites attract romance for the owner of a construction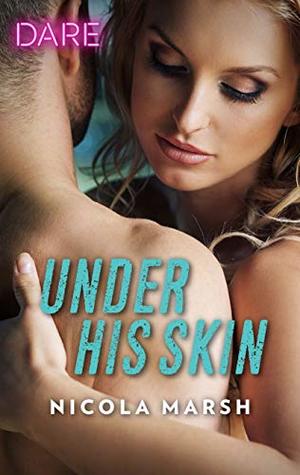 company and the musician who plays just the right tune to draw him in.
Logan Holmes runs a successful construction company and though he doesn't always do much of the hands on work himself anymore, he likes to meet his clients and stay in the loop. When an English woman leaves a message requesting that he be personally involved in giving her a quote for renovating her music studio, he's intrigued, though antsy to get on the road again and not be stuck in Melbourne for much longer. But once he meets Hope McWilliams, he finds himself interested in more than just her business.
Hope has heard from several music industry friends that Logan is the one she should hire to make her new music studio. She's up and coming on the indie music scene and hopes to help other young talents get some recognition. She's attracted to Logan when they meet (and the feeling is mutual) but she's been burned in relationships before. A sex only fling while her studio gets designed and built? Doable. But can it lead to something more permanent?
Both characters have issues that are brought up fairly quickly, and are the main source of conflict for their burgeoning relationship. Logan's mother has passed away but she had some obsessive qualities and his father, a stand up comedian, never stuck around long enough to have a real relationship with Logan. Logan blames his father for his mother's death, and knowing that his father is in Melbourne just brings up bad feelings. He can put them out of his mind while indulging in a sexy affair with Hope but he won't be able to move forward in a real relationship until he deals with it.
Hope was never supported by her parents in her music dreams and ended up with an older man who took advantage of her talents and passed off her songs as his own. She's learned not to trust men so Logan has to work hard to get past her defenses. They share some sexy scenes as they connect. It takes some work to get to their happy ending, but they learn to open up and communicate so that they can move forward. The setting of the story is unique and well described and while Logan sometimes comes across as arrogant (and he has a bit of a temper) he makes up for it by the end. Hope's character is more appealing to me and I love that she is a musician working not just for herself but to benefit others on the indie music scene. It's an enjoyable read.
Book Info:

Publication: Apr 01, 2019 | Harlequin Dare |
Aussie construction king Logan Holmes never sleeps with clients. Especially not hoity-toity English girls wearing caftans and ordering soy chai lattes. But when Hope McWilliams hires him, he discovers they have one thing in common—chemistry hotter than the Australian sun!
Soon all Logan can think about is every sinful way he can pleasure her. And she's offering and demanding more than he ever imagined. Exploring each other in the bedroom is one thing, but venturing into her café-culture, vintage-fashion world is more than he signed on for. What's wrong with sports bars, anyway? Still, he has to admit spending time with the gorgeous music teacher is anything but dull!
Logan always moves on before things get serious, though. And he's already planned his getaway. But suddenly he's not so eager to hit the road. He knows he's getting in too deep, and his heart is in serious danger, but something about Hope makes him want to stay when he should walk away…