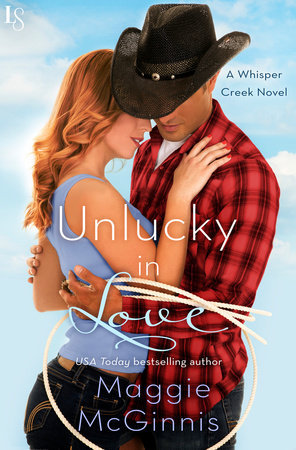 Unlucky in Love by Maggie McGinnis brings heartwarming romance back to Whisper Creek. This is book four in the Whisper Creek series but can be read as a standalone. Although all four books are worth the read, especially if you love your romance sweet and your cowboys HOT!
In Unlucky in Love, Alexis Maguire decides to take on a temporary job as a ranch nurse in Montana. Her reasons for taking the job are all because her fiancée calls off their wedding, leaving her feeling inadequate and needing to change herself. She believes if she starts taking chances and being adventurous, he will want her back.
Gunnar Peterson loves his job at the Whisper Creek Ranch and the only thing that would make his life better, would be finding a woman to put roots down with him. His father was never a good role model growing up and Gunner is nothing like him. He wants commitment and the new nurse is perfect for him, if only she would stop thinking about her former fiancée.
"I'm just sick of being the safety-school girl, the one you keep around till something sparklier comes along. I want to be the sparkly one, for once."
Lexi's issues have a lot to do with her ex, but there is also some jealousy in there about her sister, too. While her sister was out having fun, Lexi was taking care of their mother and her feelings come off as realistic while her character is relatable. My heart broke for Lexi every time she looked down at her phone waiting to see if the ex was going to call her, but then my heart expanded, when her feelings for Gunner began to surface. Just because one man doesn't think you're his world, doesn't mean another one won't.
I loved Gunnar with Alexis. He sees right through her and when he talks to her, I feel like he's talking to her soul. He's on team Lexi throughout the book and out to prove to her that she doesn't need to change herself for anyone. Gunner and Lexi are great together, but when summer ends and Lexi has to go back home, will either of them ever be the same?
While I was reading I was thinking of that song from Garth Brooks. The one about thanking God for unanswered prayers, and I think that's the perfect song for this story. Lexi prayed for her ex to come back to her, but thankfully when he did, her heart was already gone to someone else.
If you're looking to brighten up your day with a satisfying romance that is hard to put down, I highly recommend Unlucky in Love!
Book Info:

 October 11th 2016 | Loveswept | Whisper Creek #4
After Alexis Maguire's wedding day comes and goes without a groom, she decides that it's time for a change. Tired of being the dependable, steady—and apparently boring—one, Alexis hopes that a cross-country road trip will help her loosen up and find her inner sparkle. Her first stop is the Whisper Creek Ranch, where the hot wranglers are sure to bring out her inner party girl. The trouble is, she can't stand pretending to be someone she's not—especially around the cowboy who tempts her to stay put.
Gunnar Peterson has spent six months working at Whisper Creek, and he's never been happier. Having grown up an army brat, he's ready to put down roots, and the only thing missing is a woman to share his life with. When Alexis blows into town, Gunnar thinks he may have met his match, despite the wild-child facade he sees right through. But Alexis swears she won't settle down anytime soon—so it's up to Gunnar to convince her that what she's looking for . . . is right here.