In Vampire in Paradise (Deadly Angels #5) by Sandra Hill, Doctor Sigurd Sigurdsson has come a long way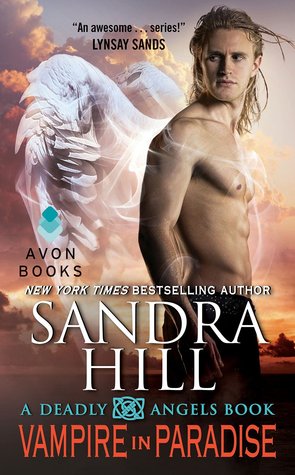 in the millennia since he was turned into a Viking vampire angel (or Vangel) for his sin of Envy. That sin is something he still struggles with to this day, just like his six brothers struggle with their own individual sins. When Sig is given orders to leave his important research job and instead go to a tropical island off the Florida keys to hunt down demon angels, or Lucies, he cannot think of anything he would rather do less. Then Sig meets exotically beautiful Marisa Lopez. They are both working at the resort, him as a doctor, her as a waitress and massage therapist. The sparks fly immediately, but will he be able to avoid temptation and focus on the task at hand, or is Marisa part of his mission after all?
"I pick number five. Full body massage," he said, pointing to the sign on the wall.
"Why?"
"Why not? Methinks I have a kink in my…" He waggled his eyebrows, then said, "…shoulders."
"Oh, just lie down. And shut up…"
Getting the money to save her five-year-old daughter's life is the sole focus of Marisa Lopez's days and nights. When she and her best friend have an opportunity to work at an exclusive resort for several days and make a big chunk of money, how can she turn down the opportunity? Once Marisa gets to the island and meets the interesting array of crude occupants, she's not so sure. But her trip also puts her in contact with Doctor Sig, a seriously handsome Norseman who is obviously attracted to her. Marisa doesn't need the distraction of a blonde god-like man fawning over her, but if he can help her daughter, she'll do whatever it takes. Besides falling in love, that is.
"I need to bite you, Marisa," he said.
That was the last thing she'd expected him to say. She was shocked.
"No, no, do not struggle. 'Tis for your own good."
"For my own good," she sputtered. "You are crazy. Let go of me, at once, or I'm going to scream my head off."
Vampire in Paradise is Dr. Sigurd Sigurdsson's story. And what a unique tale it is. Where else would you find a Viking vampire angel falling in love with a Cuban beauty on an island of sin? Why, in Sandra Hill's Deadly Angels series, of course!
I'll be honest and say that I haven't read this entire series yet; just this title and book four, Kiss of Wrath. (It certainly isn't for a lack of interest…but a lack of opportunity.) That didn't stop me from completely enjoying Dr. Sig and Marisa's wild romp together. There were so many elements in this book, a lot of them that I would never expect to work together but they definitely do. Sending a sexy Vangel into the midst of not only demon vampires, but also a convention full of lewd people committing sins left and right is interesting enough. Ms. Hill took it even further by introducing a feisty woman who could stand up to Sig's Norse attitude yet who needed his help saving her daughter's life. Talk about pulling at a reader's heartstrings…*sniff*
Just like I admired in Kiss of Wrath, Sig and Marisa's story has a wonderful current of humor wrapping around every scene. This made it a lot of fun to follow along with the dialogue and helped keep the book moving at a nice pace. Even the romantic scenes were at times comical with Sig deciding he would seduce Marisa, and Marisa trying to thwart him at every turn. But once they both gave in…whew! Crazy sexy and passionate. I loved that there was a bit of Sig's background given at the beginning so we could better understand what his sin of Envy really did to his life before he was turned into a Vangel. And of course Michael, the ever present archangel, was just as dramatic and meddling as always while interacting with the VIK brothers.
I think fans of off-beat paranormal romance will love Vampire in Paradise. I had so much fun reading Marisa and Sig's story that I can't wait for the next installment of the Deadly Angels series.
Book Info:

Published November 25th 2014 by Avon | (Deadly Angels #5)
The vangels are back in Vampire in Paradise, the latest in Sandra Hill's bestselling Deadly Angels series…
It's been centuries since the Norseman Sigurd Sigurdsson was turned into a Vangel—a Viking Vampire Angel—as punishment for his sin of envy, but he's still getting the hang of having fangs that get in the way when seducing women. Slaying demon vampires known as Lucipires and using his healing gifts as a cancer research doctor, Sigurd is sent to Florida's Grand Keys Island as a resident physician . . . where he encounters a sinfully beautiful woman.
The only hope Marisa Lopez has of curing her five-year-old daughter is a pricey experimental procedure. When she meets the good-looking doctor, Marisa is speechless. Then Sigurd tells her he believes he can help her daughter. Could this too-hot-to-resist Viking doctor be an angel of some sort sent to bring a miracle for her daughter? Or is he just a vampire bent on breaking Marisa's heart?