Walk on the Wilder Side By by Serena Bell: Everything seems to being going exactly to plan for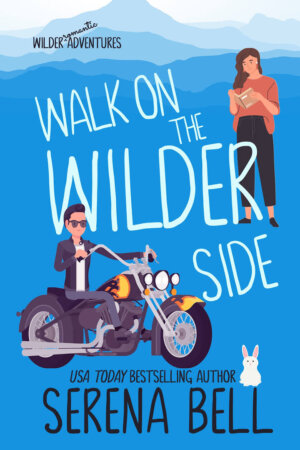 librarian Rachel, that is until she get fired from her job and finds her boyfriend cheating on her! With her entire life plan all falling apart Rachel heads home to regroup and help her mother recover from a bad fall. However the last thing she thought she would be doing was running the erotic version of a Tupperware party on the boat of her childhood crush Brody Wilder, but with her mother out of commission and her new business already booked up Rachel has little to no choice but to team up with Brody.
"How does a bad boy end up hosting a book club on his boat?"
If anyone had said that Brody Wilder would be hosting book clubs and all girl girly events on his fishing boat he would straight up laugh in their face, but with Wilder Adventures adapting to the new bridal market Brody to has to adapt or face getting the boot from the family business. However actually putting these events into motion is proving to be a lot harder than Brody had expected, which is how he finds himself sharing his boat with non other than Rachel, his best friends younger sister. The only issue being Brody had no idea that Rachel would be hosting such provocative ladies nights or for the feelings it would stir within him!
"Whew. If I'm going to walk on the Wilder side, I should probably do it a little more stealthily."
Oh these Wilder's just keep steal my heart and making me swoon! Walk On The Wilder Side was hands down one if the best books that I have read this year, I loved every single moment from start to end of this best friends sister romcom. Not only did we get a good dose of romance goodness but we get buckets of funny adventures!
"I have the ridiculous thought that Brody limits his eye contact because it's a controlled substance. And he doesn't talk because he doesn't need to. His body is eloquent."
Rachel was such a great character not only was she super relatable and genuinely a nice person but she was so open to trying all kinds of new things. I loved that she fell in love with her hometown all over again thanks to Brody. Gosh did these two have chemistry for days! Watching them dance around each other while co-hosting the adult toy parties was one steamy filled event after the other!
"Maybe it's not that you broke me. Maybe it's that you put me back together."
However it was Brody that well and truly stole my heart! Gosh did this bad boy turned good guy melt my heart! I loved watching Brody try to prove that he isn't some irresponsible bad boy that can't be trusted. I loved getting to see him work on his relationship with Gabe and getting to see him step up in the business. Also I absolutely adored the way he handled the entire Justin situation, this only proved that he was genuinely a good guy.
I absolutely loved getting to see the Wilder clan again, all I can say is I need more of this crazy bunch! This beautifully written romance will melt your heart, have you laughing out loud and fanning yourself at the down right steamy moments! Walk On The Wilder Side needs to jump right to the top of your TBR asap! This book is pure perfection all wrapped up in a swoon worthy bow!

Book Info:

Publication: September 23rd 2021 | Jelsba Media Group | Wilder Adventures #2
His best friend's sister is rocking his boat. In the best way possible.
Brody: What's a bad boy doing hosting a book club on his boat? Excellent question. All I can tell you is, it's not going well. I forgot the bug wipes, the TP, and the hand sanitizer, we're out of wine, and… well, I may have made some people angry, if the Yelp reviews are any indication. The only way to dig myself out of this hole is to redeem myself by offering the best girls' nights out in town.
Enter my best friend's sister. I've gone out of my way to avoid Rachel, since despite her good-girl rep, I can't seem to get her out of my head. Now she's in my boat… and if I don't watch myself, soon she'll be in my bed. Things are going surprisingly well between us… but I know myself, and I'm not this guy. I'm the guy you want for fantasy fulfillment, not the guy you want for forever.
But what if I need this time to be different?