In Wedding Date (Dating #6) by Monica Murphy, Kelsey Phillips might be jaded when it comes to romance, seeing as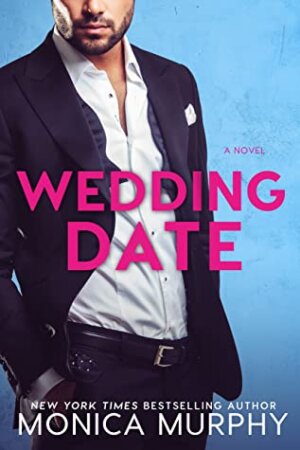 she's all but sworn off guys. But she believes wholeheartedly in friendship. That's why she cherishes the camaraderie she has with Theo Crawford. Sure, he's a very nice-looking man. And based on their bantering whenever they text or meet up in a social setting they'd probably set the bedroom on fire if they ever got the chance. But Kelsey isn't looking to settle down anytime soon. And a hookup might ruin what they already have between them.
'I would totally go for a guy like Theo if I hadn't sworn off men. He's so kind. So real.'
Kelsey will, however, agree to be Theo's date to his ex-fiance's wedding. She'll even go so far as to pretend to be his girlfriend. At first, Theo is grateful that Kelsey decides to go along with his plan so he has someone on his side who he can count on at the awkward event. But as they go on fake dates–including meeting Theo's family–things with Kelsey seem all too real. Not to mention their overwhelming attraction to each other is only getting stronger. Giving in to it sounds way too good. But will it make things so complicated as to change their friendship forever?
'I don't think she trusts many people.
That she's here with me, showing her trust in me, is mind blowing. I don't want to disappoint her. And I definitely don't want to hurt her.'
Wedding Date had me swooning and happily sighing in equal parts thanks to Monica Murphy's ability to tell a contemporary story with characters you'll want to befriend and a romance that was simply meant to be.
'I have no idea where our relationship stands.
Or what we're going to do about it when the wedding is over. Pretend we never did any of this and go back to our old ways?'
I have a good time with every Monica Murphy novel I pick up and Wedding Date certainly was no different. The sixth and final book in her Dating series, this can be read as a standalone with no problems. The unique pairings Murphy makes in her books was evident here, with Theo being a geek-chic hero with a (HOT!) hidden alpha side. And Kelsey was sassy, smart and sexy–but with a habit of being emotionally closed off. Little did Kelsey know that all it would take to break down those walls around her heart was a sweet and hunky finance guy who just happened to be her close friend.
Friends to lovers is one of my favorite tropes, something that Murphy did exceedingly well when she created Kelsey and Theo's romance. I also like strong female characters who aren't mean or vindictive…just sure of themselves. For the most part, that was our heroine. Especially when it came to her sexuality and her relationships. It was refreshing to see Kelsey confident in her desires for Theo and owning it. Didn't hurt that he was just as attracted to her. It was sort of a slow burn to get to the point where they finally gave in. I did have to shake my head over Kelsey keeping a secret from Theo. But it was so much fun watching them fall for each other and process those feelings that took them by surprise.
If friends to lovers and fake relationship tropes are your thing, Monica Murphy's Wedding Date will no doubt make you smile. With all the heat and heart I associate with her writing, readers should buckle up for a wildly entertaining ride.

Book Info:

Publication: Published December 1st 2020 | EM Publishing | Dating #6
Kelsey Phillips is over the dating scene.
All that time and energy perfecting your profile and taking just the right picture and articulating exactly what you're looking for, only to get the same sleazy propositions? No thanks. She's doing just fine on her own, so there's no point in a fruitless hunt for "the one" that doesn't exist.
Besides, she already has the perfect man in her life. Theo is the type of friend who's always there for a laugh, a hug, or a drink– and no propositions.
So when he somehow manages to agree to be a groomsman in his ex-fiancée's wedding to his cousin, the least Kelsey can do is be his date.
But why stop at doing the least?
Pretending to be in a relationship is easy. They already know everything about each other. And it sure isn't hard to fake attraction to a guy as gorgeous as Theo. Soon enough, the only pretense left is that they haven't fallen for each other for real… and the very small matter of the secret Kelsey's been keeping. Can a fake relationship survive this real revelation?