Wedding Night Reunion in Greece by Annie West is a sensual romance for a couple that start off their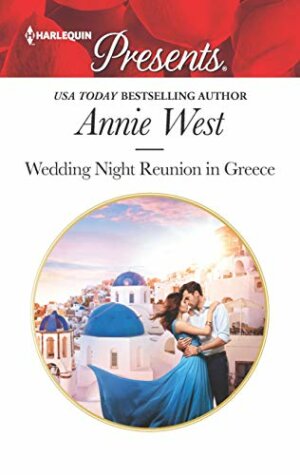 marriage poorly but find their way to a happy ending.
When Emma Piper overhears her new groom telling a friend that he'd married her for business not pleasure she's devastated. She'd believed that Christo Karides truly cared about her and she'd fallen head over heels for the handsome tycoon. But with her dreams dashed, she escapes to her family home on Corfu, leaving her husband without a bride on their wedding night.
A few days later, Christo has managed to track down his new wife. Worried sick that something terrible had happened, the woman he encounters in the beautiful Greek villa is an angry spitfire, not the demure bride he'd hoped would help him with his new ward, his three year old niece. But when Emma tells him that she overheard his conversation, he realizes he'll have to resort to drastic measures to keep his marriage, and his societal reputation intact. He wants her to commit to a year together, and at least one night in his bed in return for which he'll help shore up her family's businesses. Emma agrees. But as they grow closer, will their marriage of convenience become the real thing?
I loved this story! Christo didn't set out to deliberately deceive Emma and he'd thought her grandfather who has since passed away had told her that the property she'd inherit was part of why he was interested in marrying her, as well as his belief that she'd make a good mother figure for his niece and a suitable companion at society events. He'd been attracted to her from their first meeting and thought their marriage would be a passionate and friendly one, even if love wouldn't be on the table. But having never discussed the details with Emma, it's not surprising that she would react with shock and anger to the discovery.
Christo and Emma really do have to start from square one at her beautiful villa, with his niece Anthea, a shy and wary child at his side. The attraction between them is real, and Christo could have exploited that but instead he clearly tells Emma that while he wants her, their steps to intimacy must come from her. It's a slow burn romance as Emma wavers between remembering how he hurt her and seeing his genuine efforts to show her that he does care about her and about Anthea. When they do become intimate it is on her timetable and they share some passionate scenes.
Christo strives to show Emma that he really does want their marriage to work, and indeed, wants more from her than just that one year commitment. There are some sweet scenes as he connects with his niece who has recently come into his care. The main conflict comes right at the start and from there they build a real friendship and relationship, leading to their true happy ending. I loved the setting and the characters, both of which make this a highly enjoyable and recommended read!
Book Info:

Publication: Apr 16, 2019 | Harlequin Presents |
She's his runaway bride…
He's come to claim his wedding night!
Emma Piper's just promised to love, honor and cherish Greek tycoon Christo Karides…but then she overhears him admitting he married her purely for convenience. Bolting to her family's beautiful Corfu villa, Emma doesn't expect Christo to follow—especially with seduction in mind! Their intense attraction promises an explosive reunion. Will a night in her husband's bed show Emma there's more to their marriage than just convenience…?