In Why I Held Your Hand by Augusta Reilly, Laura Delaney is determined to save her town by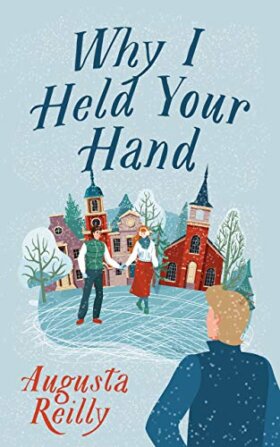 bringing in tourism. In order to do this, she hires a firm to help with marketing the town. She has an instant attraction to David Harper, one of the people assigned to her project. Then Spencer Markham is assigned to be the one to work directly with Laura, and she soon finds herself falling for him, too. Will Laura be able to figure out her feelings while saving the town?
I hate to give a book a bad review. I know how much work is put into writing a book, so I always try to find at least something that's redeeming about it. This time, however, I struggled to find anything to like here. Let's start with Laura. I disliked Laura immensely. First, on her first date with David, she takes him for a hike, at night. She doesn't know the man; where is her concern for her safety? It made me question her intelligence a little bit.
Laura then drags both David and Spencer into a love triangle that they didn't even know about for most of the book. She's dating David, she claims she loves David, then she starts something up with Spencer. She doesn't tell Spencer she's dating David, and she doesn't tell David she's starting something with Spencer. Not only is it wrong, but it's selfish. The two men worked together; not only was she playing with their hearts, she was potentially damaging their working relationship. At one point she contemplates breaking up with David, and then turns around and asks him what he wants to do about their relationship. You just said you wanted to break up; why would you then remain in the relationship if he didn't want it to end when you really wanted it to? It made no sense.
I liked Spencer a little more than Laura, but barely a little. Once he finds out Laura and David were dating, he doesn't respect their relationship. If he had, he would have stepped back and let it run its course. Instead, he keeps making excuses to see Laura, which eventually leads to a moment that made me lose respect for him and had me seeing her in an even more negative light.
I didn't really know what to make of David. On one hand I felt bad for him for what Laura was doing to him behind his back, but on the other hand, I don't think he made much of an effort to salvage his relationship with her. Even when he found out about her developing feelings for Spencer, he doesn't really do anything more than instructing her to stay away from him. I would have expected him to put in more of an effort to show her why he was the man she should choose.
By the end of the book I didn't really care who Laura ended up choosing. I also wasn't interested in what happened with bringing in tourism to the town, because that aspect of the story was almost completely overshadowed by the love triangle. I'm sure there will be people who can overlook the issues I had with the characters and will probably enjoy this book; however, it just wasn't for me.
Book Info:

Publication: October 23, 2020 | Rhapsodic Press |
Laura Delaney loves her small mountain hometown of North Powell with its quaint charm, stately Victorian homes and surrounding hiking trails. Unfortunately, when it comes to attracting travel dollars, it can no longer compete with the flashy hot springs and ski slopes of nearby competitors.
That's why she hires a hotshot marketing team to figure out how to inject the old magic back into North Powell's sagging tourist trade. What she doesn't expect is for the team to include David Harper. Smart, funny, handsome, and amazing in bed, he's the perfect man. All she needs to do now is keep their relationship under wraps until the project is over.
But that's easier said than done when she's assigned to work with Spence Markham, the company's offbeat "idea man" and David's professional nemesis. When Spence suggests hosting a Dickens Festival to revitalize the town's once-booming holiday season, Laura is thrilled. She's even more thrilled when Spence falls in love with Powell House, the dilapidated Victorian that Laura hopes to renovate and turn into a town museum. But is Spence falling in love with her as well?
As the Festival nears, Laura's feelings for both men intensify. Her relationship with David has only gotten better—and hotter—and yet she finds herself counting down the days until she can see Spence again.
Soon, what started as a simple assignment becomes a tale of two possible futures. But which one will Laura choose?