In Why Resist a Rebel? by Leah Ashton, Ruby Bell is the production coordinator for a new historical romance movie entitled "The Land" set in the Australian outback. She loves her job, her co-workers and especially traveling the globe on a moments notice. She's used to working with famous actors and dealing with their antics on set on a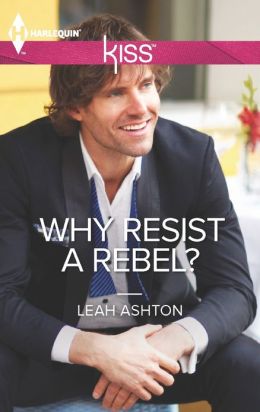 daily basis. However she was not expecting to come face-to-face with the planet's sexiest man alive: actor Devlin Cooper. She literally runs into him during his first, unannounced, day on the film set and it throws her mind into a tailspin. He's certainly as handsome and charming in person as he appears on screen, but Ruby can't help notice there's something dark and painful in his eyes when he thinks no one is looking.
"Once again it was just her, and this man, and this amazing, crazy tension that crackled between them. She'd never felt anything like it."
Dev works to keep her attention, flirting and showing up wherever she happens to be, but she tries to ignore him. She has a strict policy not to date anyone she works with in hopes to avoid rumors and cause any harm to her career. Dev seems determined to break that rule and as they give in to the amazing chemistry they have together, they find themselves opening up to each other in a way they never have before.
"You know,' he said, his words somehow vibrating through her body—her stupidly frozen body, 'I don't think anyone's ever been embarrassed when I've kissed them. In fact, I'm quite sure I've never received a complaint."
Devlin Cooper has been sent back to his homeland of Australia by his agent in hopes that he can get his movie career back on track. After having a few problems showing up on time with his previous couple of movies, he's determined to bring things back into focus, even though being home brings up family issues better left forgotten. He's intrigued when Ruby runs into him just after he arrives on the film set. Dev decides she just might be the type of distraction he needs to help him feel like his normal self again. He finds her charming and especially loves watching her eyes flash when he irritates her…which he seems to do very easily. Unfortunately, his demons have followed him to this movie set as well and he still finds himself struggling with the same issues he has for several months. Ruby doesn't want a relationship or to have anyone she works with know about the time they spend together, but Dev thinks exploring what they have together can help him come to terms with his past. He must decide if he should confess this to Ruby or keep his feelings locked up inside.
Leah Ashton has written a charming, yet deep, romance here. Main characters Ruby and Dev are both flawed with darkness in their past, but they are dealing with the issues the best way they know how. In each other, they not only find someone who understands what they have been through, but they find the strength together to heal and move on. They both have moments where it is easy to be frustrated with their choices and I found myself rooting for them to pull through. There is a good mix of witty banter, humor and humility throughout the story. Definitely recommended if you like romance stories with some depth.
Book Info
Publication Date: March 19, 2013 | Series: Harlequin Kiss (Book 11)
Giving in to temptation never felt so good!Ruby Bell has put scandal and relationships behind her to forge a successful career in film. Then the talk of Hollywood himself, actor Devlin Cooper, strolls onto her Outback set—fired from his two previous movies, and looking decidedly tempting! The last thing Ruby needs is Dev making outrageous demands and causing her to question her "no romance at work" rule….But what's a girl to do when Dev's taking her on a lavish date one moment, then calling "cut" on their growing closeness the next? What exactly does he want with her—and what's causing the shadows behind those famous blue eyes? Now she's too intrigued to walk away….