Wild, Wild Rake by Janna MacGregor is the sixth book in The Cavensham Heiresses series. I haven't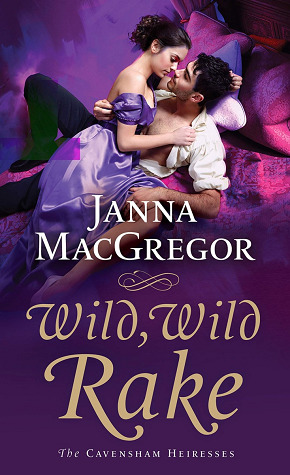 read all the books in this series, so I wasn't aware of any history between the main characters, but I don't feel like it was necessary. The author gives enough background of their history, so I don't feel like I missed out on anything. Although now I want to go back and read the series from the beginning!
This book grabbed my attention and I reluctantly had to read it in a few settings. I loved the characters in the book, who wouldn't love a naughty vicar trying to convince a woman, who had been humiliated by her previous husband, that he wanted to love and take care of her? Devan was such a sweet hero and he showed such patience and understanding toward Avalon. The banter between Avalon and Devan added humor but also allowed Devan's teasing side to slowly break down the defenses Avalon had built around her heart.
The widowed Marchioness of Warwyck, Lady Avalon, had been forced to marry Richard, the Marquess of Warwyk. Richard humiliated Avalon by keeping her at Warwyk Hall and moving the woman he loved, Mary, a brothel owner into their London townhouse. Once Avalon was widowed, she was able focus on raising her son and her charity of helping fallen women. She had no desire to ever depend on any man again or to remarry.
Devan Farris was the younger brother of the Earl of Larkton, Avalon's son's guardian. Devan had meet Avalon years before and nicknamed her Lady Warlock when she had jilted his best friend to marry Richard. Later, she had gained his respect when he saw the strength she showed when she was humiliated by her husband. Larkton had arranged for Devan to become the new vicar in Thistledown, the village near the Warwyk estate. He wanted Devan to tutor Avalon's son, Thane, and prepare him for Eton. Also, while he was there, Larkton wanted him to find out how Avalon financially supported her charities, which Devan refused to do. Devan's respect for Avalon grew as he became involved in the community and saw the love and care she provided the town residents. When a false allegation is made against Devan, the only way to save it was marriage between the two. Can Avalon overcome her fear and learn to trust Devan with her heart?
Book Info:

Publication: February 25th 2020 | St. Martin's Paperbacks | The Cavensham Heiresses Series #6
Her first marriage was an epic failure.
Lady Avalon Warwyck never did love her husband. Arrogant, selfish, and cruel, it's a blessing when she's widowed and left to raise her son all by herself. Finally, Avalon can live freely and do the work she loves: helping fallen women become businesswomen. She's lived these past ten years with no desire to remarry―that is, until Mr. Devan Farris comes to town.
Can he convince her to take another chance at happily ever after?
Devan Farris―charming vicar, reputed rake, and the brother of Avalon's son's guardian―is reluctantly sent to town to keep tabs on Avalon and her son. Devan wishes he didn't have to meddle in her affairs; he's not one to trod on a woman's independent nature and keen sense of convictions. But she'll have nothing to do with vicar with a wild reputation―even though he's never given his heart and body to another. If only he could find a way to show Avalon who he really is on the inside―a good, true soul looking for its other half. But how can prove that he wants to love and care for her. . .until death do they part?