I can't tell you how happy I am that I got a chance to 'meet' the Wilde brothers. The five men own a security company in Washington, DC – and boy… they sound mouthwatering. Wilde Nights in Paradise by Tonya Burrows is the story of Jude Wilde and his ex-fiancee Elizabeth "Libby" Pruitt.
When Libby begins receiving increasingly more unclothed paper dolls representing herself, she's creeped out, but not scared. The fact that the man she's prosecuting is out on bail is probably the reason, and he doesn't want to hurt her – just scare her. When she finds out that her father has hired a bodyguard for her, she's not exactly thrilled. In fact, when she finds out he chose Jude – the man who cheated on her the day after they got engaged – she's positively livid.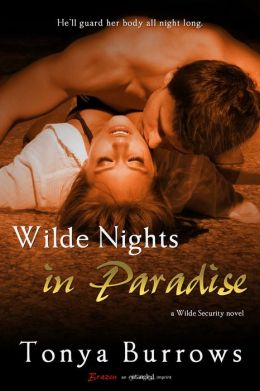 Even though Jude is the 'screw-up' in the Wilde family, he's grown up a lot over the years. He knows that this isn't a job he should take, but his older brother, Greer, insists. He shows up at Libby's office, and first thing off the bat – he kisses her. Their cover as reunited lovers isn't the only reason either.
Mr. Pruitt has a cabin in Vermont where he wants to stow his daughter and her new shadow, but Jude knows better. Isolated isn't where they want to be. They need to be protected, but near civilization. He once had a dream of a honeymoon in the Florida Keys, and since his buddy Seth still owns a house there, that's where they'll go. Seth spent a year as a POW, and his place sports top-notch security because of it.
They both ignore the chemistry they've always had until they can't anymore. So 'Libs' proposes they just give in. One night. She offers him one night to take what they've always enjoyed about each other. And man… they're STEAMING hot. To Jude's dismay, she stays true to her word and becomes polite, yet distant the day after.
He decides that if he could make the change into the decent man he'd become, she could stand to loosen up a little. He wears her down, and they fall back into bed together. Sex only goes so far though. During the long days with nothing to do, they snipe at each other. Seth's house has never been as clean as when Libby has energy to burn. So Jude takes her out for a day of fun and romance. It was the perfect day until he notices they have a tail on the way home.
He endures the ass-chewing from his brother so he can get the boys back home to check into the guy who's stalking and threatening Libby. He's chilled to the bone when he learns that the man had been brutally murdered before they were followed, so now they have a new person to track down.
Ultimately, Seth's panic room gets some use – but the true culprit is caught at last. Then came the really hard part. Jude admits that he still loves Libby and has never stopped. He's not going to let her get away this time, but he also can't tell her the truth about what happened to break them up all those years ago. Before he can decide on a course of action, history inadvertently repeats itself, and he figures it's probably for the best. But as we all know, true love always wins, right?
An incredible story with hot Hot HOT sex scenes. LOVED it. I can't believe this is Tonya Burrows' second novel, but I will definitely be reading anything she puts out from now on. In fact, I'm going back to read SEAL of Honor – where Seth is apparently introduced. Maybe he'll get his own book someday. (hint, hint). I also can't wait to get more acquainted with the remaining Wilde boys – so I've got my eye on you Tonya!
Book Info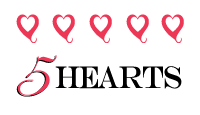 Publisher: Entangled: Brazen (June 10, 2013)
He'll guard her body all night long.
Former Marine Jude Wilde's motto has always been "burn bridges and never look back," so nobody is more surprised when Wilde Security is hired to protect assistant district attorney Libby Pruitt, the woman he loved and left. Although she makes it clear she wants nothing to do with Jude, they're forced to fake a relationship for her safety. He can't ignore the heat still simmering between them, and when her stalker's threats escalate to attempted murder, he's left with no choice but to whisk her away to a friend's safe house in Key West, FL.
Cooped up in paradise together, Jude begins to chip away at Libby's resolve to hate him. But even as she gives in to his proximity and her body's demands for his, she refuses to fall for his charms again. Maybe a torrid affair in the sun is exactly what she needs to get him out of her system. But when her stalker tracks them down, can they escape the steamy Key West night without anyone getting hurt?