Worth the Wait by Traci Douglass is a stand-alone book that started off funny and grabbed my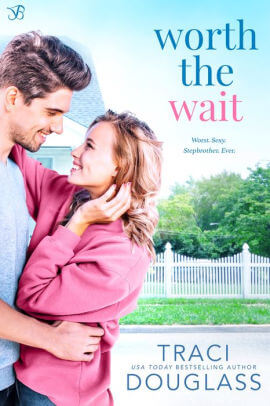 attention until the end of the book. I've never read anything by this author, but I am a fan after reading this book. It was a short book and a fast read, but it was well written and flowed smoothly. The characters were well developed which can be hard to accomplish in short books, but the author did it. It was easy to connect to Mandy and Alex and see how their relationship progressed.
Mandy Reynolds and Alex Noonan, her ex-stepbrother, each inherit half of a house in Heavenly Falls from Mandy's mother, Maureen. Maureen had married Alex's dad several years prior and they hadn't seen each other since the divorce of their parents. Mandy spent her time traveling as an actor and really hadn't ever had a permanent home since Maureen had married several times when Mandy was a child. She didn't want to settle in Heavenly Falls and wasn't sure why her mother had left her half of a home that needed a lot of repairs. Mandy wanted to repair the house, sell it, and move to Hollywood to accomplish her dream of acting in a big movie. She wasn't interested in settling down and establishing roots, or so she thought.
Alex had worked for the IRS until he was shot while working on a sensitive case. Since then, the nightmares and anxiety had turned him into a moody recluse. He couldn't return to work and was looking for something to do with his life. Restoring the house would help him to prove to his father and friends that he was able to make it on his own, even with PTSD. As Alex and Mandy continue repairing the house, their relationship slowly grows into love. Can Alex finally forgive his father and admit he might need help with the house when it becomes unsafe?
This was a wonderful book to read and it was very easy to connect with the characters. The author did a great job describing the feelings and anxieties someone with PTSD might have. She was able to address the difficulties it added to Alex's life and showed the struggle he had to make in order to function in the world. I would certainly recommend this book.
Book Info:

Publication: March 9th 2020 | Entangled: Bliss |
Mandy Reynolds needs a reset on life in so many ways. Her acting career isn't exactly where she'd hoped it to be. She can't even get a job as a germ for a commercial. When she inherits half a house she sees it as a sign and heads home to Heavenly Falls, Illinois. She'll sell the house, and use the money to take her career to the next level in Los Angeles. That is if she can convince her hard-headed––and stupidly gorgeous–– ex-stepbrother, Alex Noonan, to sell fast.
The last time Alex saw Mandy, she was a gangly teen, who followed him around like a sad puppy. But she's grown into a smart and funny woman, who is as frustrating as she is beautiful. The fact that they have to live in the house––together––while they fix it up, is one temptation he doesn't need. And while he's having fun spending time with her, she's moving on soon, and he needs time to heal.
Plus, she has no idea he's got a secret that could put a monkey wrench in all of her plans…