Yes & I Love You by Roni Loren: Everyone knows Miz Poppy after all she is your go to on all things New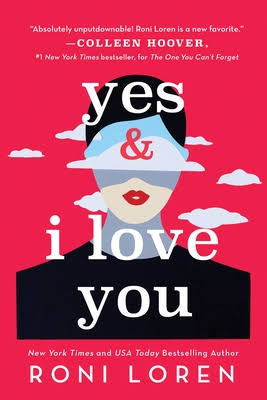 Orleans nightlife, while Miz Poppy might have the know of all the hot places to be she is just a persona, the real person behind the larger than life blogger is shy Hollyn. You see Hollyn likes her life just the way it is; secluded and on her own terms after all with her Tourette syndrome and anxiety attacks she really doesn't need any more unkind human interaction. So when her boss informs her that to keep her job she needs to add a video element to her blog Hollyn is put into a tailspin.
Jasper is an aspiring actor but things are going slow in the work department for him so when he runs distort Hollyn, Jasper thinks fast and offers to help her with her video dilemma and at the same time help gain some much needed exposure. With the two of them working so closely together soon feelings begin to form but will these two be able to move past their past hurt and find their own forever happily ever after?
First things first I have to give Roni Loren a huge thank you for not making her main character a victim to her condition, it was incredibly refreshing to read a book that had a character that suffers from Tourette syndrome but not have it define them or use it as a crutch. This book was a sweet and uplifting read that made you truly appreciate everyday and all that you have.
I absolutely loved the connection between Hollyn and Jasper. Hollyn was just brilliant, I loved her fighter spirit and her need to constantly better herself. As for Jasper, I liked that he provided the push that Hollyn needed to grow and come out of her own cave. I liked that they balanced each other out so perfectly.
Overall Yes & I Love You was a beautifully emotional book of self growth and how sometimes it just takes a push from the right person to help you be the best you.

Book Info:

Publication: March 2nd 2021 | Sourcebooks Casablanca | Say Everything #1
Everyone knows Miz Poppy, the vibrant reviewer whose commentary brightens the New Orleans nightlife. But no one knows Hollyn, the real face behind the media star…or the fear that keeps her isolated. When her boss tells her she needs to add video to her blog or lose her job, she's forced to rely on an unexpected source to help her face her fears.
When aspiring actor Jasper Deares finds out the shy woman who orders coffee every day is actually Miz Poppy, he realizes he has a golden opportunity to get the media attention his acting career needs. All he has to do is help Hollyn come out of her shell…and through their growing connection, finally find her voice.