Today it is my pleasure to welcome Harlequin Presents author Michelle Conder to HJ!
Michelle welcome for all of my readers who may not be familiar with your work, could you tell us a bit about yourself and your books?
Hi everyone. I am a psychology graduate, a mother of three, and have an avid interest in the inner workings of the mind.
I drive my husband nuts because my motto has always been that if there's a rock – even a happy one – I'll turn it over and see what's underneath. My books are sexy, contemporary and full of character's who are working through life issues. Writing for Mills and Boons Presents line means there's an element of glamour and fantasy and a gorgeous Alpha male attached.
Do you usually begin a book with a character or a plot?
I often begin a book with a scene. I might have heard or read something, or just be minding my own business when a scenario starts to unfold inside my head and I'm usually hooked at this point; voyeuristically listening in as the characters interact. Then the novel unfolds a bit like a movie and I scribble down notes or, if my laptop is handy, type furiously to capture it all.
What's your favorite Romance Novel?
Rather than mention a favourite (I really don't have one) I'll mention that the last romance I read and loved was Pamela Clare's
If Hollywood made a movie about your life, who would you like to see play the lead role as you? Why?
My husband just said the female version of Jack Nicholson… someone with attitude! I have no idea what he means…
 If you were stranded on an island…
I would be blissed out. It has a Robinson Crusoe bungalow, lush vegetation, Luc Martineau from See Jane Score (don't tell my husband), my kids (but with a nanny for when Luc needs me!), my laptop, oodles of sunshine, and an Arabian stallion I ride bare back on the sugar-soft sand. And okay, my husband, for when I get sick of Luc – if that's actually possible…
 What are you currently working on? What can we expect from you in the future 
I am currently working on my fourth Presents. It's about a princess whose life changes when her brother is killed and she becomes next in line to the throne. When they find out her life is in danger the oh so sexy guy she slept with at a friend's wedding is (reluctantly) assigned as her personal bodyguard. After that I have another Presents novel to write and also some screenplays and kids books. We'll see what comes up!
 Let's talk about your new release 'His Last Chance at Redemption'
 What sparked the idea for the book 'His Last Chance at Redemption'? 
I read about a celebrity who unknowingly fathered a child after a one night stand and found out months later. It got me thinking about how often this happens and what kind of people would be involved. In this novel the pregnancy is not accidental and the mother of the baby is not actually the heroine.
 If you had to sum up 'His Last Chance at Redemption' what would you say? 
This is essentially a book about an honourable man who believes he is doing the right thing by staying away from his young son who is challenged to reconsider his views by a woman who believes family is the most important thing in the world.
If you had to pick your favorite scene in 'His Last Chance at Redemption' 
It would be toward the end of the book when Leo looks in on his sick son late at night and finally opens his heart to himself and his child and releases the ghosts of his past.
 Who would play Leo Aleksandrov and Lexi Somers in the movie version of your book? And why? 
Daniel Craig because he seems tough, debonair, menacing and vulnerable all at once. And Kate Beckinsale because she seems fun, feisty, determined and very feminine.
 Michelle you picked my fav hero and heroine 🙂 Thanks for the interview.
Giveaway: Michelle will be giving away
3 copies of her copy His Last Chance at Redemption

. 2 through Rafflecopter here and 1 copy to anyone that email's Michelle through her blog be sure to enter

"HJ Blog Giveaway"

in the subject line.
To enter giveaway: Please enter the Rafflecopter below and post a comment to this Q:
If you had to pick three attributes in your ultimate hero what would they be?
Would you please share an excerpt from 'His Last Chance at Redemption' ?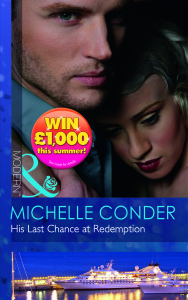 In this partial (unedited) scene Lexi Somers has just inadvertently agreed to go to Greece with the hero Leo Aleksandrov to take care of his three year old son Ty. In doing so she finds herself in the position of having to spend the night at Leo's apartment. Something she is not at all happy about.
'Let me show you to your room,' Leo said.

Lexi nearly threw her hands up in the air as she realised that she'd just inadvertently agreed to go to Greece with him. The last thing she wanted to do. But how could she say no now? 'I must be mad.' She muttered under her breath, trailing him up the long corridor toward the bedrooms.

He stopped in front of the room next to the one Ty occupied.

'Why do I have to stay here tonight if you're not leaving until the morning?'

'Insurance.'

'If I give my word then I keep it.'

'But you haven't given me your word.'

Lexi felt like stamping her foot. 'Are you always this argumentative?'

'Funny, I was going to ask the same thing about you.'

Lexi breathed deeply. 'I give you my word I will return first thing in the morning.'

He folded his arms. 'It doesn't matter. I need you here tonight in case Ty wakes up.'

Lexi wanted to argue with him but again he had a point. There was every possibility that Ty would wake up and he would most likely become frightened if Leo was the only person available to go to him.

'I don't have anything to wear to bed,' she said irritably.

He looked her over. 'Give me your address and keys and I'll send my driver to pick up whatever you need.'

'Why can't I go myself?'

'Because Ty might wake up.'

'I'll be an hour,' she said, completely exasperated.

'No.'

'Well I'm not having someone I don't know go through my things.'

And she knew Aimee would be at Todd's by now so she couldn't very well call and get her to send her things over in a cab.

He looked down at her, his blue eyes twin pools of open sensuality. 'There's always your birthday suit.'

Lexi chose to ignore the dangerous gleam in his gaze and instead focused on the fact that this man was the worst type of playboy around. Then she remembered his suggestive comment in her office earlier. The man would probably have sex with a lamp post if it offered.

'I don't suppose one of your many girlfriends left a nightie I could use did they?' she asked sweetly.

She was hoping he'd be a little embarrassed by her sarcasm, but instead the smile that curled the corners of his mouth was lethally sexy. 'I don't have girlfriends. But if you're referring to my many bed partners, I'll check.'

Lexi released her breath as after he walked out and surveyed her room. It was a carbon copy of the one Ty was in and wouldn't look out of place in any five star hotel. She placed her bag on the embroidered silk bedspread and stood with her hands on her hips wondering what she had got herself into.

She felt, more than heard, him return and turned just as he tossed something soft her way. Lexi caught the grey fabric and held it out in front of her. It was a well-worn t-shirt someone might wear to the gym. 'This is yours,' she said huskily.

He looked at her through heavy lidded eyes. 'And I'll dream about you in it all night, angel.'

'I don't find comments like that funny.'

He smiled again and grabbed the door handle. 'Good night Miss Somers. Oh.' He paused and Lexi felt her nerves that were already jangling on a knife edge split down the middle. 'In case I forget to tell you. I appreciate you staying. And tell lover boy I'm sorry for ruining his plans.' That last was spoken with not even a hint of sincerity and Lexi's teeth ground together. She had fallen in with the devil and he was every bit as ruthless as myth suggested.