Today it is my pleasure to welcome Entangled Publishing debut author 

Stephanie Monahan

to HJ!
Stephanie congrats on your debut release, please tell us about yourself, and your writing.
I am thirty-four years old and live in Central Massachusetts, about 40 miles west of Boston.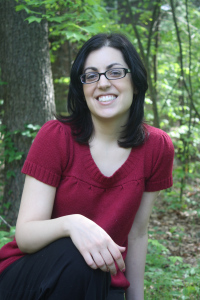 I've been married for nearly 12 years. I'm a little obsessed with British pop music, tea, and of course, books.
I write character-driven romance/women's fiction stories with lots of humor and heart.
Are you a plotter or do you write from the seat of your pants?
I'm partly both. I like to jump right into a story—beginnings are always the easiest and most fun for me. When I'm a few chapters in I usually take a breather and do the outline. It makes it less intimidating to have a guide for the rest of the book.
What is a typical writing day like for you?
I work 8-5. I'll come home, feed the dog and let him out. Once he's all taken care of, I sit at my desk and put some music on. I usually choose music that suits the mood of what I'm writing that day. I do at least 1,000 words a day (sometimes more, never less). I like to leave off in the middle of a sentence at the end of the night. It makes it easier to get back into it the next day.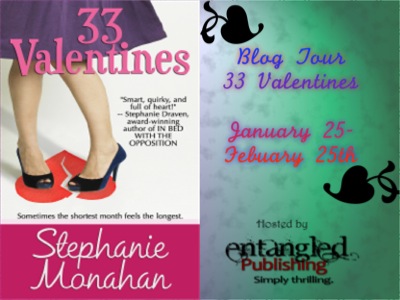 Who do you love to read? Favorite authors, favorite books?
I love to read all kinds of books. My favorite author of all time is probably Margaret Atwood—Cat's Eye is one of my all time favorite books. I love YA authors like Sarah Dessen and John Green. I am a huge fan of contemporary women's fiction, authors like Leah Stewart, Julie Buxbaum, Jodi Picoult, and Amanda Eyre Ward. I love funny, witty books like This is Where I Leave You. I also like to read memoirs and biographies. Whatever I can get my hands on, I'll read!
What is something you'd like to accomplish in your writing career next year?
I would love to see my work-in-progress be published. It is about a former mean girl whose life comes back to haunt her in the form of a top 40 hit. It's a little bit darker than 33 VALENTINES, but there's still lots of humor, plus hot musicians and a main character who is stronger than she thinks she is.
If you could travel anywhere and do anything, no limits or money holding you back, where would you go?
I would love to go to London one day. I think I would fit right in—my niece and I have been practicing our accent for years, and if there's even the slightest chance of meeting Prince Harry, I'm in.
Tell us a little about your latest release.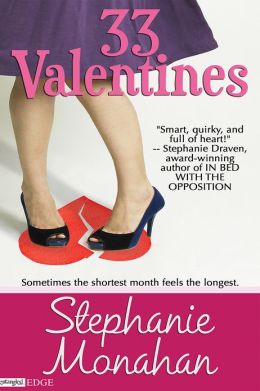 33 VALENTINES tells the story of Sophie Parker, a Boston native who is haunted by a string of unlucky Februaries, and especially Valentine's Days. She decides to take matters into her own hands this year and start the month off right: by telling her best friend, Sam, that she's in love with him. Before she can do that, though, Sam tells her he's got a date with his dream girl. February only gets worse from there.
Sophie is sarcastic, funny, and a little sad. She wants to move forward in her life but she's not sure how. I think everyone can relate to that.
If you were on the staff to have a book adapted to movie, what would you pick?
Can I pick my own book?? I would love to see 33 VALENTINES on the big (or small) screen—as long as James Marsden's available to play Sam ☺. Other than my own book I would have to say THE FAULT IN OUR STARS by John Green, even though I'm not sure a movie could do it justice.
 Giveaway:

2 copies of  33 VALENTINES
To enter giveaway: Please complete the Rafflecopter form below and post a comment to this Questions:

 If you could travel anywhere and do anything, no limits or money holding you back, where would you go?
About the book:
All Sophie wants for her thirty-third year is a calendar without a February—and without a Valentine's Day. The unlucky month haunts her with regrets, loss, and missteps she can never take back. But this year, she's determined to make a change— and she's going to start with telling her best friend, Sam, how she feels about him.
But February isn't making it easy for her. Sam's got a date with his dream girl, and Sophie finds herself in the hospital. Then there's her father, who has a surprise that's about to turn her world upside-down, and her little brother, who doesn't seem to have any room for her in his life. While everyone else seems to be living life, Sophie is stuck in neutral.
Now, Sophie must come to terms with everything that's holding her back in order to fight for what she wants before she loses the chance to turn her luck around.
Buy Links
About the Author
Stephanie Monahan received her degree in English Literature and Rhetoric from Binghamton University. It was there, in her first Creative Writing workshop, that she fell in love not only with storytelling but also with the man she would go on to marry. In addition to reading and writing, she is passionate about the New York Giants, finding the perfect cup of chai tea, and her dog. She is a firm believer in the healing powers of a good night's sleep and British pop music. Born and raised in upstate New York, Stephanie now lives in central Massachusetts with her husband.
Where Stephanie can be reached: