Today it is my pleasure to Welcome author
Amy Ruttan
to HJ!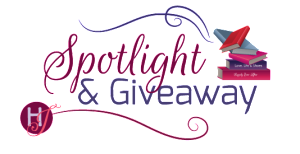 Hi Amy and welcome to HJ! We're so excited to chat with you about your new release, A Date with Dr. Moustakas!

Hi! Thank you for having me here. 🙂

Please summarize the book for the readers here: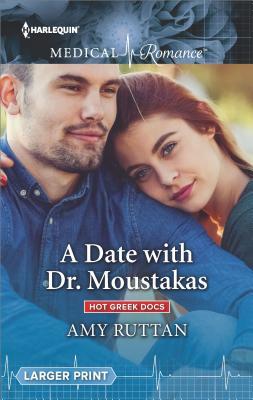 A Date with Dr. Moustakas is a reunion romance. Christos never wanted a family or kids, but Naomi did. When they meet up again, Naomi is shocked to discover that Christos is a father. She's wary of falling for Christos again, but she's never forgotten him and he's never forgotten about her.

Please share your favorite line(s) or quote from this book:
He ran a hand through his hair. "I guess I have no choice—because I can't have you cut your feet up walking back down to the clinic, nor have you savaged by a wandering goat." A smile tugged at the corner of his mouth when he saw her eyes widen.
"Goats?"
He laughed. "I'll do it. What do I need to do, though?"
"Just think of something romantic to do with whoever wins the date. You were always pretty good at that."
A blush rose in her cheeks and his blood heated. He loved it when she blushed, and it made him feel good that he still had some kind of effect on her after all this time.
She was the only woman he'd ever cared about. Even though he'd been completely stubborn and too pigheaded back then to see it.
And now it was too late.
Is it?
"Come on, let's get you back to the clinic," he said, heading back to the scooter.
"Before I'm savaged by a goat?" she teased.
"Yeah."
Naomi stumbled over some of the small rocks on this section of the road and without thinking he closed the distance between them and scooped her up, carrying her the short distance back to the scooter.
She was blushing again.
"This…" she whispered as he sat her down on the back of the scooter.
"What?"
"Sweep the winner off her feet. You're good at that too."
"Okay. I'll think of something." He climbed onto the scooter.
"Thank you, by the way. In case I don't say it later. You're making my life just a bit easier," she said gently.
He smiled. "You're welcome."
Please share a few Fun facts about this book…
This book is part of Hot Greek Docs, which is Amalie Berlin, Annie O'Neil, Tina Beckett and my brain child. It was, as it always is, a lot of fun writing with these authors.
I have never been to Greece, but my grandparents lived in the heart of Greek Town in Toronto. I spent a lot of time there.
I was bridesmaid for my bestie, who married a Greek man and I am a godmother to their youngest son. It's a very serious appointment. They're godparents to my son and it's like one BIG family.
When I was picturing my hero Christos Moustakas, I was picturing John Stamos. That was a nice inspiration board for this book.
What first attracts your Hero to the Heroine and vice versa?
When they first were together (before the first break up), she was kind and sweet and he wasn't used to that. She's also strong too and he likes that about her. She's very selfless and just wants to help.
Chris is a kind man. He was always afraid of settling down after his parents failed marriage, but he's doing right by his son and Naomi can see that.
If your book was optioned for a movie, what scene would you use for the audition of the main characters and why?
"Going once…twice…and Dr. Naomi Hudson has won a date with Dr. Moustakas!" Antreas shouted.
There was loud cheering—because it was all for charity and for fun.
Naomi's hands were shaking as Chris came up beside her. He said nothing, just led her down the stairs and offstage. She had to go and give her information to the ladies at the back. And he walked with her.
One of the stagehands took her microphone and Antreas began to work the crowd and get them worked up for the rest of the bachelors.
Chris's arm slipped around her waist, steadying her. She was still in disbelief over what had just happened.
"You just bid thirty-five grand on me," he said.
"I know," she whispered, her voice shaking. "I'm in shock."
"You're not the only one—but I'm glad it was you who won the date with me," he said huskily in her ear.
Warmth spread through her body. "Me too."
"You look beautiful, by the way. Wear this tomorrow night and I'll wear my tuxedo. It's going to be a fantastic night."
Readers should read this book….
It's a fun, island fantasy second chance romance. The whole series is fantastic. Four friends, who are family and their chance at finding happiness.
What are you currently working on? What other releases do you have in the works?
I'm currently writing Arctic Flames, which is the third book for Phoenix Agency and my mini series 62 Degrees North. I just turned in another medical to my editor titled Carrying the Surgeon's Baby.
I have a release in October, my 20th Harlequin Medical, NY Doc Under the Northern Lights.

Thanks for blogging at HJ!
Giveaway:

A copy of A Date with Dr. Moustakas, A copy of Arctic Burn (Book 1 of 62 Degrees North) and a flat doctor bookmark. Open Internationally.
To enter Giveaway: Please complete the Rafflecopter form and Post a comment to this Q:

Have you ever been to Greece?
Excerpt from A Date with Dr. Moustakas:
As the bachelors came out on stage in turn they all flirted with her. It was working well, and Naomi soon found herself in a bit of a groove and started enjoying herself.
"Now for bachelor number ten…" She trailed off as she realized it was time to auction off Chris in front of the hungry hordes of single wealthy females who wanted to win a date with him. "Dr. Christos Moustakas—world-renowned neurosurgeon and native of Mythelios."
Chris came out on stage, looking mighty sexy and svelte in his designer tuxedo.
"Your date with Dr. Moustakas will involve a ride on one of the Mopaxeni yachts under the stars to the small island of Spritos, where dinner will await at the private beachfront property of shipping magnate Nikos Moustakas, who happens to be Dr. Moustakas's father, well-known in Athens's social circles. We'll start the bidding at ten thousand."
In a flurry, multiple paddles were raised, and Chris shot her a flirty glance, just like all the other men had done before.
Then Alexandra Pappas stepped forward and raised her paddle. "Fifteen thousand!"
Naomi's stomach twisted.
There was another flurry of bidding and then Alexandra shouted out, "Twenty thousand!"
Chris was flirting with Alexandra too, as he was supposed to do.
Before Naomi knew what she was doing, she shouted out, "Twenty-one thousand!"
Antreas was taken aback, but he continued taking bids and Naomi kept bidding.
Chris was still smiling, but she could see the surprise on his face. She was just as surprised at herself—but she didn't want another woman to have a dream date night with Chris.
The crowd seemed to love the fact that the master of ceremonies was getting in on the event and bidding.
It all came down to her and Alexandra Pappas—the Athenian socialite who had been married four times to wealthy men, who was a man-eater and who probably had way more money in the bank than Naomi.
But there was no way she was going to let that woman, dripping in diamonds, get her claws on Chris. Naomi had some money stashed away after a shrewd investment a few years back, and suddenly she felt compelled to dip into it. A lot…
"Twenty-five thousand!" Alexandra said, sounding smug but seeming to waver.
Naomi saw the look of concern in her eyes and knew that she almost had her. "Twenty-six thousand!" she shouted.
"Twenty-seven!"
"Twenty-eight!" Naomi's pulse was thundering in her ears and she wasn't sure she was going to be able to maintain her grip on the microphone.
"Thirty thousand!"
"Thirty-five thousand!" Naomi shouted.
Excerpt. © Reprinted by permission. All rights reserved.
Book Info:
A date with her former flame…
Brings the past flooding back!
In this Hot Greek Docs story, doctor Naomi thought her ex didn't want kids. So she's shocked to find Dr. Christos Moustakas at her new workplace—and he's now a single dad! Chris has dropped his playboy ways, but he still has a hold on Naomi's heart. And if she can now reveal their secret loss, it might finally give them another chance…
Book Links: Book Links: Amazon | B&N | iTunes | kobo | Google |


Meet the Author:
Born and raised just outside of Toronto, Ontario, Amy fled the big city to settle down with the country boy of her dreams.
After the birth of her second child, Amy was lucky enough to realize her life long dream of becoming a romance author. When she's not furiously typing away at her computer, she's a mom to three wonderful children who use her as a personal taxi and chef.
Website | Facebook | Twitter | Instagram | GoodReads |