Today it is my pleasure to Welcome author
Opal Carew
to HJ!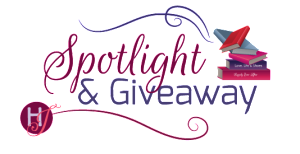 Hi Opal and welcome to HJ! We're so excited to chat with you about your new release, A Fare to Remember!
Please summarize the book for the readers here: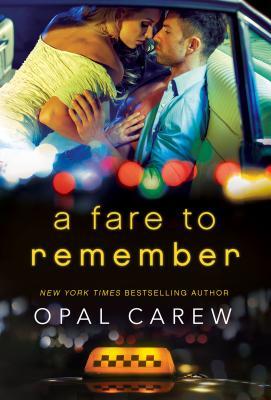 This book is about Stevie, a female cab driver whose life is turned upside down when the disgustingly wealthy Rex Jacobs steps into her cab. After they have an illicit tryst in a dark alley, he invites her to a fancy party and soon she's drawn into a captivating affair.
But the last thing Stevie wants is to be involved with a rich man. Not again.
The dominating and sexy billionaire, however, is unwilling to let her. So she decides to keep him off balance by suggesting she have sex with him and his sexy billionaire buddy, Dylan, a hot, architect biker type. Rex will either go running for the hills… or she'll have her most erotic fantasy come true.
Either way, she plans to keep one step ahead of Mr. Rex Jacobs.

Please share the opening lines of this book:
Stevie turned on the wipers as the small splatters of rain turned to huge drops bombarding the windshield as she drove, blurring the lights of the city street.
Finally, she'd caught a break. It had been a slow night, leaving her alone with
Please share a few Fun facts about this book…
My husband suggested the idea for this book years ago and asked when I'd write it. At the time, I estimated it would be about 5 years. It's now been 15!
The book was originally scheduled to be released on his birthday (a total coincidence), but was then postponed.
One of the scenes in the book was inspired by the cover, which I saw before I'd finished the book. And it's hot!
Please tell us a little about the characters in your book. As you wrote your protagonist was there anything about them that surprised you?
Stevie is a cab driver in NYC. She's feisty and fiercely independent. She loves her job for many reasons, but mainly because of the freedom it gives her. (She owns her own cab, which helps.) She doesn't want to answer to anyone, depend on anyone, or live by anyone else's rules.
Rex comes from money and runs his own business he built from the ground up. He's successful, confident, and used to getting what he wants. And he wants Stevie. She's strong-willed, beautiful, and does her best to keep him off balance. She is also extremely comfortable with who she is, which he finds out the hard way when she refuses his help to better her position in life, insulted that he would even think she needed help. He quickly realizes she is exactly the woman he needs in his life.
Dylan is Rex's best friend and business partner. He wasn't born rich, but his talent as an architect, paired with Rex's wealth and business savvy, has made him rich, too. But he's very down to earth with a bad-boy biker vibe. He's also attracted to the lovely and spirited Stevie. He's loyal to Rex, though, and Rex is clearly smitten with her. When he's asked to become part of a threesome with her, however, he's thrilled.
What surprised me about them? Well, what happens in the last half of the story surprised me (I can't tell you what without spoiling it!), but the characters were true to their natures. The only thing with a character that surprised me was how quickly Rex decided Stevie was more than just a fling. I thought he would feel their relationship was more casual at first, but once he gets to know her, he falls fast and hard!
If your book was optioned for a movie, what scene would you use for the audition of the main characters and why?
I can't really tell you the scene I would want to pick, because it's a big spoiler, but I'll just say it's poignant and would probably make you cry. It made me cry!
So my next choice would be the scene just after Stevie meets Rex, the sexy billionaire who gets into her cab. He talks her into going for a coffee with him, which leads to… Well, you'll see in the snippet. ☺
The reason I would pick this scene is because it shows some radical shifts in attitudes between the two characters. It also shows the chemistry between them and how they play off each other. I would want to see how the actors pull this off.
"Is that what this is all about?" Stevie asked, her gaze cautious. "Asking me in for coffee? Talking to me like I'm a date? You want to screw the lady cabbie to add a little excitement to your life?"

"If I was pursuing you, it wouldn't be so I could screw you." He leaned in closer. "I would slowly and purposefully seduce you, then take you to heights of ecstasy far surpassing anything you have ever experienced before."

Rather than looking shocked, her eyebrow quirked up. "That would be more difficult than you think. Hank might have been a jerk, but he was the best lay I've ever had."

He grinned. "I'm sure I could meet the challenge."

* * *

Stevie couldn't believe her own words. What the hell was she doing? But this guy, he was so . . . so . . . damn, he was so gut-wrenchingly sexy her hormones were boiling over in a wild fit of primal desire.

She reached for her coffee, purposefully brushing her hand against his. Electrifying desire sparked between them. She picked up her cup, making a decision she knew she would probably regret later, but right now, she didn't care.

"All right." Then she stood up and turned toward the door.

He followed her to the cab and got in, then she pulled away from the curb in silence.

She passed his hotel and drove another couple of blocks, then pulled down a side street. It was a quiet, out-of-the-way place she would sometimes use to grab a nap if needed during a long shift. She had friends in the neighborhood that looked out for her. She opened the door and got out of the cab. Her handsome passenger followed.

"Aren't you going to come up to my hotel room?" he asked.

She walked toward him and rested her hand on his warm chest. A surge of adrenaline rushed through her.

"I think here will do fine."

"You don't like a comfortable bed?"

She smiled, loving the fact that she was keeping a man off balance for a change. She stroked up his chest, then along his jaw, the light dusting of whiskers sending tingles through her.

"I don't need a bed."

Then she cupped his cheeks and kissed him, feeling every bit in control.

Until his arms came around her and she felt herself crushed against his chest. He pulled off her hat and tossed it onto the roof of the cab. Her long blonde hair fell around her shoulders in waves. He drew back and smiled, running his fingers through the soft strands.

"That's much better."

Then she felt herself backed against the wall. He leaned against her, his cobalt-blue gaze locked on hers.

"If this is what you want, then that's fine with me," he murmured.
What do you want people to take away from reading this book?
That it's important to be true to yourself no matter what. And that there's nothing wrong with accepting help and support from those who love you. I'm also hoping a few tears are shed along the way. (I cried through parts of it… in a good way.) ☺
What are you currently working on? What other releases do you have planned for 2017?
HEAT is the book I just finished writing for St. Martin's Press, which will be out on June 6th. It's about a woman who is taking photographs for a calendar of sexy firefighters. Her first love was a firefighter and he died, so she doesn't want to get involved with a firefighter again, but Simon and Carter are too hot and charming to resist.
The book I'm writing right now is X Marks the Spot. Here's my short description of it:
Abi has been in love with Del for years, but things stopped them from acting on their mutual attraction in the past. Then she wound up marrying his best friend, Liam. Now both she and Del are free, but Del clearly feels she's off limits.
This weekend, her brother is getting married and that's triggered Abi to decide it's time to take control of her life and find her own happily-ever-after. With Del.
While they're away at the lovely country inn where the wedding will take place, she intends to use her strongest weapon—the intense attraction between her and Del—to turn things around.
The plan is simple. She'll slip into Del's bed and seduce him.
The problem is…. she winds up in the wrong bed!

Thanks for blogging at HJ!
Giveaway:

3 Print copies of A FARE TO REMEMBER by Opal Carew
To enter Giveaway: Please complete the Rafflecopter form and Post a comment to this Q:

A Fare to Remember was inspired by the old movie classic, An Affair to Remember. Do you like classic movies? Are there any you would love to see inspire a new contemporary romance novel?
Excerpt from A Fare to Remember:
This is the scene that was inspired by the cover. It's one of my favourites in the book!
Stevie drove to the office tower, then pulled up in front. Dylan strode out the door and over to her cab.

"Hey, thanks for picking me up," Dylan said with a smile as he got in the back of the cab.

She gazed at him in the rearview mirror and smiled. "It's what I do."

He laughed. "Yes, well, I appreciate it. It's murder getting a cab on a wet night like this." He pulled off his damp suit jacket and lay it down beside him.

"So where to, sir?" she asked with a grin.

"Well, I have this great penthouse. How about you take me there and we both go up and I'll show you the fabulous view?"

She caught his gaze in the mirror. "I might be persuaded."

He opened his briefcase and pulled out a shopping bag from a designer store. "Would it help if I gave you a gift?"

She grinned. "I don't know. Depends on what it is."

She pulled off the main road and down a quiet street, then pulled over. She turned and took the bag he offered and peeked inside. She pulled out the tissue and found a lovely white shirred dress. It was very elegant, but at the same time, sexy, since the slinky fabric would cling to her every curve.

She gazed at him questioningly.

"We thought we'd dress for dinner."

"Should I be insulted?" she teased. "My plaid flannel shirt isn't good enough for you fancy penthouse dwellers?"

He chuckled. "Personally, I love your plaid flannel. It's so"—he grinned—"soft to the touch. Especially with you inside it."

The thought of him touching her shirt . . . stroking over the fabric . . . cupping her breast . . . sent her hormones spinning.

"The fact that you gave this to me now rather than when we reach the apartment . . . I assume that means you want me to put it on now?"

He nodded. "That way from the time you park the cab and we start upstairs, it's like we've started a date."

She smiled. "A date with two men. I could go for that." She pulled away from the curb. "I'll take us somewhere I can change."

* * *

Dylan was looking forward to this evening. He and Reid had put their heads together to plan the perfect evening to convince Stevie that what Reid could offer her surpassed anything she could get from being with her ex-fiancé, in case she was having second thoughts. Reid felt his biggest weapon was Dylan—a second man to ramp up the excitement.

Dylan was thrilled to be a part of it.

Stevie turned down a quiet street, then into a dark alley. She pulled over and stopped the cab.

"What are we doing here?" he asked, glancing around.

She tossed the shopping bag into his lap, then she got out of the car, opened the back door and climbed into the backseat beside him. Then she started unbuttoning her shirt.

"You're changing here?" he asked, his eyes widening as she slipped off her shirt, then tugged her navy tank top over her head, revealing her black lace bra.

"Sure. Why not?"

"I . . . uh . . . guess."

She'd kicked off her shoes and was already slipping off her jeans, pushing them to the floor of the car. At the sight of her in her tiny bra and panties, his groin tightened. She held up the dress.

"Hmm. It's off the shoulder, and I definitely don't want a black bra underneath."

She dropped the dress and reached behind her. His cock swelled as she peeled away her bra and dropped it on the seat. She grinned at him, clearly aware of the effect her perfect, round, naked breasts were having on him.

She pulled the dress over her head and let the slinky garment glide down her body. She pulled it into place, smoothing it down. It lovingly hugged every curve. And he couldn't help noticing that her hard nipples were clearly visible through the thin fabric.

She pushed herself up on her knees. "Do you like it?" she asked, swiveling a little to give him different views.

"Oh, yeah." His gravelly voice made it clear how much.

She smiled. "Can you see my black undies through the white fabric? Because I wouldn't want that."

His gaze jerked to her groin.

"I . . . uh . . ." Just say yes, a little voice shouted in his head.

"Better not to take any chances." She tugged the hem up a little and slid her hands under the dress, then began to wiggle.

"What are you doing?" But he knew damned well exactly what she was doing.

Dylan almost salivated as Stevie sat down again, then glided her panties down her shapely calves and slipped them off her feet.

"Any shoes?" she asked. "My sneakers will just ruin the look."

"Uh . . . yeah. In the bag."

God, she was totally naked under that dress. His cock swelled some more.

She pulled out the shoes—white satin stilettos with rhinestone trim—and slipped them on.

"Nice." She smiled at him and pushed herself onto her knees again, but this time she pulled up the hem of the dress enough to straddle his legs.

Her fingertips moved down his chest and he realized she was unfastening the buttons of his shirt. She pushed it open and smiled as she stroked his naked flesh.

"Thank you for the pretty gift."

"It was from Reid, too," he said absently, mesmerized by the glitter in her eyes.

She rested her hand so her palm cupped his nipple, keeping it warm, then she teased his other nipple with her fingertips.

"I'll thank him later."
Excerpt. © Reprinted by permission. All rights reserved.

Book Info:
A chance encounter leads to a passion they can't forget in Opal Carew's newest erotic romance!
Stevie has given up on love and just wants a simple life driving her taxi. But her plans are turned upside down when gorgeous billionaire Reid Jacobs steps into the back of her cab. Commanding and mysterious, he's a temptation she can't resist―and soon their torrid one night stand leads to an intoxicating affair.
In Reid's strong arms, Stevie finds herself falling harder than she ever imagined. But is she ready to trust again? And when his business partner falls for Stevie, will it change everything? One thing is clear: she's about to take the ride of her life….
"Carew brings erotic romance to a whole new level…she sets your senses on fire!" – Reader to Reader
A Fare to Remember by Opal Carew is one sexy ride!
Book Links:

Meet the Author: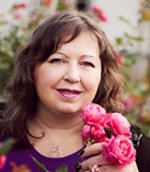 As a New York Times and USA Today bestselling author of erotic contemporary romance, Opal Carew writes about passion, love, and taking risks. Her heroines follow their hearts and push past the fear that stops them from realizing their dreams… to the excitement and love of happily-ever-after.
Opal loves nail polish, cats, crystals, dragons, feathers, pink hair, the occult, Manga artwork, Zentangle, and all that glitters. She earned a degree in Mathematics from the University of Waterloo, and spent 15 years as a software analyst before turning to her passion as a writer. She grew up in Toronto, and now lives in Ottawa with her husband, huge nail polish collection, and five cats. One of her sons just finished his second Masters degree in Geopolitics (first at Sussex University in the UK and second at Carleton University in Ottawa.) The other son has an undergraduate degree from Carleton
Website | Facebook | Twitter | Instagram | GoodReads |