Today, HJ is pleased to share with you Eloisa James new release: 

A Gentleman Never Tells

A witty, sexy novella about a virgin widow and a rake with something to prove.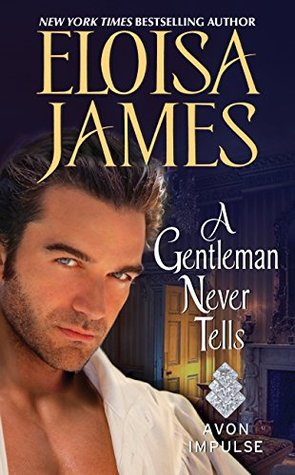 A GENTLEMAN NEVER TELLS introduces us to a character first referenced – but never by name – one of the young scoundrels who gave the delightful Josie the odious nickname, "The Scottish Sausage." This novella also features Lizzie Troutt, a heroine ripely suited for the Eloisa James pantheon: she's a snappy, bookish widow whose husband died in his mistress's bed eighteen months ago. Not only did this leave Lizzie determined to never marry again….it also left her, most unfortunately, with her virginity intact. A situation she feels compelled to remedy!

The Honorable Oliver Berwick is possessed of a blackened soul, compliments of nefarious deeds almost two decades past. But when the chance for redemption is dangled before this hardened and resolute bachelor, Oliver is determined to prove himself a gentleman. Until a merry widow entices him to break all the codes of courtly behavior…once again.

A perfect amuse-bouche of a romance, A GENTLEMAN NEVER TELLS is a witty and sparking standalone novella from one of the brilliant diamonds of romance!

Read an exclusive excerpt from A Gentleman Never Tells: 
She wanted to avoid him—a good instinct, because Oliver felt more and more like a fox who had stumbled on a particularly succulent chicken.
He wanted her.
He wanted to kiss the sadness out of her eyes, and ravish that wide mouth of hers until she looked as if she were wearing lip paint. He wanted to see her panting on his bed, all that glorious hair spilling around her shoulders. Maybe it fell all the way to her waist.
Lust went straight down his body in a shocking bolt of heat.
"Your gown is not intended to provide warmth," he said, unable to stop himself from glancing at her bosom. Gentlemen do not ogle a lady's breasts, even if her gown was so low that her breasts looked like presents, offered for his pleasure. Like creamy, silken—
He cut off that train of thought.
"This is a Parisian creation created from a few scraps of silk," Lizzie said disapprovingly. "I hate to think what my sister paid for it, given its lack of fabric."
"Surely you don't expect me to bemoan the fact that you aren't draped in bolts of cloth?" Oliver noted that his voice had dropped at least an octave.
Her mouth opened in a little circle. He leaned closer. "I was thinking of sending the modiste a personal thank you."
Rosy color swept into her cheeks.
This end of the drawing room was indeed rather chilly, with a distinct odor of damp. Oliver hated to cover up all that luscious skin, but he pulled off his coat and wrapped her in it.
"I cannot address you as Lady Troutt," he stated.
She was nestled in his coat, sunny hair scrunched against the collar. "Weren't you planning to address me as Lady Mayne?"
"For a few minutes, yes. But not thereafter." The words came out of his mouth without planning. "I dislike thinking of Adrian Troutt in connection with you."
"I wasn't aware that you knew my husband." Her eyes were cool and haunted again.
Damn it, she couldn't have loved that blighter, could she? Surely not.
"I knew of him. I spend almost all my time at my estate in Yorkshire and I rarely go into society."
"It would be most improper for you to address me as anything other than Lady Troutt," she observed.
"Yes, but here we are, without a chaperone. We're already being improper," he said, coming to the most extraordinary conclusion.
It seemed this was his girl.
His woman.
The person who would be his wife.
Excerpt. ©Eloisa James. Posted by arrangement with the publisher. All rights reserved.
Giveaway:

Digital copy of A GENTLEMAN NEVER TELLS by Eloisa James
To enter Giveaway: Please complete the Rafflecopter form and post a comment to this Q:

What did you think of the excerpt spotlighted here? Leave a comment with your thoughts on the book…
Book Info: 
Eighteen months ago, Lizzie Troutt's husband died in his mistress's bed, leaving her determined to never marry again….and unfortunately virginal.
Eighteen years ago (give or take a few) the Honorable Oliver Berwick blackened his own soul, leaving him hardened and resolutely single.
When the chance for redemption in the form of a country house party invitation comes his way, Oliver is determined to prove himself a gentleman.
Until he breaks all the codes of gentlemanly behavior…once again.
Purchase Link: https://www.harpercollins.com/9780062573063/a-gentleman-never-tells


Meet the Author: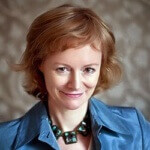 ELOISA JAMES is a New York Times best-selling author and professor of English literature who lives with her family in New York, but can sometimes be found in Paris or Italy. She is the mother of two and, in a particularly delicious irony for a romance writer, is married to a genuine Italian knight. Visit her at www.eloisajames.com.
Connect:
Website – http://www.eloisajames.com/
Twitter – https://twitter.com/eloisajames
Facebook – https://www.facebook.com/eloisajames