Today it is my pleasure to Welcome author
Theresa Romain
to HJ!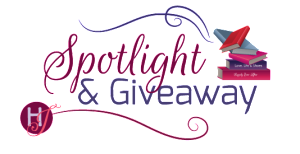 Hi Theresa and welcome to HJ! We're so excited to chat with you about your new release, A Gentleman's Game

!


Hello! Thanks for the chance to visit and chat about my newest historical romance, A Gentleman's Game.

Please summarize the book for the readers here: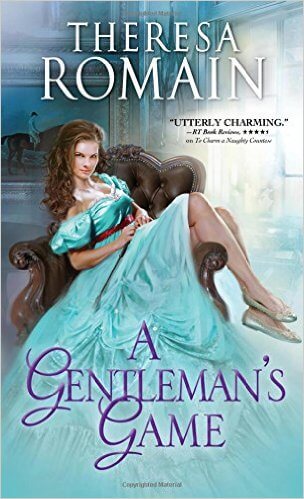 When valuable racehorses fall ill before a rich stakes race, Nathaniel Chandler must work with his father's mysterious new secretary, Rosalind Agate, to protect the horses and get them safely across England to Epsom. Along the road, Rosalind and Nathaniel fall for each other—but she's keeping some secrets that will tear them apart.

Please share the opening lines of this book:
Can I share 4? This is the first paragraph of the book:
Nathaniel Chandler sometimes thought he had traveled every road in England, and he liked them all. He liked the stony walks of Cornwall that fell away sharply to the salt-scented sea. He liked the wagon paths through endless, shifting Yorkshire moorland. He even liked the ramshackle corners of London's rougher bits—where a man had to keep one hand on a pistol and the other on his purse—as much as the wide, smooth paths of Mayfair, where the houses were large and the coal smoke hung less heavily in the sky.
Please share a few Random facts about this book…
I had a little fun with the names in this book. Carys, the beautiful sister of Rosalind, is the seventh of nine children. Yes, this is a Star Trek: Voyager joke.
The minor character George Hutchins draws his name from the two boys in the Captain Underpants series. My young daughter said I should name a character after them, so I borrowed the first name from one and the last from the other.
Old Toby, who brews Nathaniel's favorite substance, is himself named for the favorite substance of the hobbits of Middle-earth.
Please tell us a little about the characters in your book. As you wrote your protagonist was there anything about them that surprised you?
This book saw more changes from plan to final draft than most of mine do! By the time the book was done, both Nathaniel and Rosalind had become stronger and livelier than the way I'd first envisioned them. They just wouldn't be kept down.
What, in your mind, distinguishes this book from other books out there in the same genre?
A Gentleman's Game certainly isn't the first historical romance set in the Regency horse-racing world, but I think it's a fun time and setting to visit. Combine that with a troubled but charming hero, a determined heroine hiding burn scars, and a family patriarch holding secrets he doesn't even realize, and I hope readers are in for a story that really captures them.

The First kiss…
The thought made her smile as she blinked up at Nathaniel. His eyes were blue, as blue as the Suffolk sky in springtime. She had learned the shade of their brightness.

Slowly, he smiled. "It feels," he said, "like the sort of place where a man might kiss a woman with a crown of red flowers in her hair."

Her heart thudded a bit faster; her knees went watery. "It does feel that way," she whispered. "To me too."

He tipped up her chin, his hand strong yet gentle along the line of her jaw. "Thank God for that." And there in the shadow of a building once devoured by flame, he lowered his lips to hers.
Did any scene have you crying or laughing (or blushing) while writing it?
The scene that most touched me in this book is the one in which the traveling party stops at a coaching inn owned by Rosalind's parents. To pay for the medical care that saved her life, she has been in one type of service or another for years and hasn't been able to return home. The brief visit is a mixed blessing.
Her parents didn't know what it had been like for Rosalind, leaving them to work for Aunt Annie. The loneliness of snipped-off friendships. The gut-turning worry as she searched desks in the stealth of night for the papers Aunt Annie needed. Tranc like a shadow following them both. Cold, strained, fearful.

They didn't know any of that. And because she loved them, she would never tell them. She didn't have to. Once she reached Epsom, she would pay that old debt, and those days would be over.
Leaning against the wall, so warm she let it soak through her, she shut her eyes. A deep emotion seized her, so hard it almost hurt her heart, but it was not pain. It was too sweet for pain and too strong for fear. Too solid for all the filmy worries that had layered on her.

It was contentment. Joy. Happiness. It was a blessing with a bladed edge, one she knew she could hold for only one evening, one night. A bit of the morning, then another good-bye.
If your book was optioned for a movie, what scene would you use for the audition of the main characters?
I'd pick the black moment of the book and really let them have it out. If the actors could appear to have a genuine love for each other alongside anger, they'd deserve the part!
Quietly, Nathaniel said, "Rosalind. Please. You could stay if you wanted to. You stayed the last time I asked you. Couldn't you do the same again?"

"I can't do the things I want to, Nathaniel. You know that."

He whirled, rounding on her. "I know nothing of the sort. You could stay now if you wanted to. You could look me in the eye." He jerked her chin up, blue eyes hard. "You could answer my questions."

He swallowed heavily, dropping his hand from her chin. "You…you could kiss me again, Rosalind. Or agree that I might court you. You could fall in love if you wanted to." The muscles of his jaw went hard. "So I can only assume you don't want to."

She was a terrible liar, Aunt Annie had told her. And so Rosalind could not feign agreement with him. She could not bear to disagree either, to tell him all the things she wanted and had no means of having. At this moment, even sugared almonds and a crown of flowers were beyond her reach. A life with Nathaniel? She might as well wish to fly.

Already the fruitless wanting was painful, like being burned all over again.
If you could have given your characters one piece of advice before the opening pages of the book, what would it be and why?
Those two need so much advice. If I had to limit it to one piece, it would be "Trust no one." Not that most of the characters in the book aren't trustworthy! But both characters, especially Rosalind, put too much faith in the wrong people at first.

What are you currently working on? What other releases do you have planned for 2016?
The second book in the Romance of the Turf trilogy, A Rogue Never Rests, will be out in October! And before then I'm launching another historical romance duo, The Royal Reward. Book 1, Fortune Favors the Wicked, is out March 29, and I'm writing the second book now.

Thanks for blogging at HJ!
Giveaway:

My publisher Sourcebooks is providing a print copy of A Gentleman's Game to one winner. US addresses, please.
To enter Giveaway: Please post a comment to this Q:

Rosalind has had a series of jobs over the past decade, and her favorite by far is working as secretary to Nathaniel Chandler's father. What's been your favorite job, and what did you like most about it?

This contest will close on Feb 11, 2016 8:59 PM (PT) and the winners will be notified via email. Winner will have 48 hours to respond to my e-mail before a new winner is selected.


Excerpt from A Gentleman's Game:
Scattered about like seeds were small stalls selling meat pies and wagons laden with spring fruits. Above all wafted a heavenly scent of sweetness and spice. Rosalind imagined the aroma soaking through every inch of her body. Something roasted in sugar; almonds, probably. The Earl of Carbury's children had gobbled them last Christmas just as poorer children might eat popped corn or rejoice over raisins.

She didn't realize she was following her nose until Nathaniel caught up to her with a running step. "You've seen something you want?"

Another deep breath. Ah. "Smelled it."

He tilted back his head, hand to the crown of his hat, and drew in a deep breath. "Ah. The roasted almonds have you fascinated. Have a fondness for sweets, do you?"

She nodded as she clapped eyes on the source of the scent: an open fire in a ring of stones, over which a lanky half-grown boy was shaking a long-handled pan of the sort one used for roasting chestnuts.

"Almonds for yer?" He gave the pan another shake. Flame licked the bottom and made its contents sizzle.

Rosalind drew back a step, her skin tight and prickling.

It wasn't as though she were unaccustomed to fire. Nearly every room of every house had a hearth and—if one had the money—something to burn within it for warmth and light. But this open blaze… No, she wanted her skirts away from it.

Nathaniel must have understood why she halted. Giving her shoulder a quick squeeze, he closed the distance between them and the youth. "I think we must have some almonds, yes. How can anyone resist that smell?"

"Shoulda been here yesterdi'. I was roastin' sausages. Ma made roups of 'em out of the pig tha' we kill las' week for Whitsun."

"I'm sorry I missed it. Will you be here every day of the fete?" Nathaniel peered into the roasting pan. Rosalind rubbed at her elbow and took another step back.

The boy explained that he had injured his ankle the previous week and could not help on the land, so he was making amends by selling anything he could throughout the Whit week festivities. "If it's food, it's go' to have a fine smell. How's anyone to come buy if they can' smell me?"

"That's good sense," Nathaniel said gravely. "One must be smelled if one is to make a success of oneself. How much for a cone of your almonds?"

"A shillin'?" The youth's angular face split in a puckish grin.

Rosalind spluttered. "That's outrageous."

Nathaniel shrugged. "It's Whit week. We're celebrating." He fished out a silver coin and flipped it to the gaping boy. He accepted a twist of old newspaper from the boy, who scooped it full of sugared nuts. When Nathaniel stepped back to Rosalind and extended the cone, the warm almonds released their sweet, spiced scent in a blow of pleasure.

"For you." He smiled.

She took another step back. "Oh—I shouldn't accept…" It was not much of a protest, but protests were difficult when one's belly was empty and one's nose was full of the scent of warm sugar.

"If you like sweets, you should have them." His blue eyes were shaded beneath the brim of his hat. His lips curved, kind and wry at once. "And you ought to ask for what you want, Rosalind. You never know but that you might get it."

How confident he sounded, that to want a thing was to have the right to pursue that desire. For a decade she had asked for nothing she did not earn, save the money that would pay long-held debts. There was no room in her life, in her well-ordered mind, for any but the deepest claims upon her soul. What were sugared almonds next to that?

Yet he made it look so easy. If almonds meant so little, then it was but a small gesture to get them. And here they were, hot and cinnamon-scented in her grasp. All the sweeter for being a gift.
Excerpts. © Reprinted by permission. All rights reserved.

Book Info:
HOW FAR WILL A MAN GO
Talented but troubled, the Chandler family seems cursed by bad luck—and so Nathaniel Chandler has learned to trade on his charm. He can broker a deal with anyone from a turf-mad English noble to an Irish horse breeder. But Nathaniel's skills are tested when his stable of trained Thoroughbreds become suspiciously ill just before the Epsom Derby, and he begins to suspect his father's new secretary is not as innocent as she seems.
TO WIN A WOMAN'S SECRETIVE HEART?
Nathaniel would be very surprised if he knew why Rosalind Agate was really helping his family in their quest for a Derby victory. But for the sake of both their livelihoods, Rosalind and Nathaniel must set aside their suspicions. As Derby Day draws near, her wit and his charm make for a successful investigative team…and light the fires of growing desire. But Rosalind's life is built on secrets and Nathaniel's on charisma, and neither defense will serve them once they lose their hearts…
Meet the Author: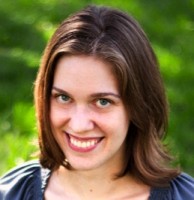 Theresa Romain is the bestselling author of historical romances, including the Matchmaker trilogy, the Holiday Pleasures series, the Royal Reward series, and the Romance of the Turf trilogy. Praised as "one of the rising stars of Regency historical romance" (Booklist), her highly acclaimed novels have been chosen for the Smart Bitches Trashy Books Sizzling Book Club, featured in the DABWAHA tournament, and deemed "Desert Isle Keepers" by All About Romance. A member of Romance Writers of America and its Regency specialty chapter The Beau Monde, Theresa is hard at work on her next novel from her home in the Midwest.
Website | Facebook | Twitter |