Today it is my pleasure to Welcome author
Alissa Johnson
to HJ!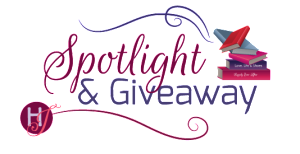 Hi Alissa and welcome to HJ! We're so excited to chat with you about your new release, A Gift for Guile!
Please summarize the book for the readers here: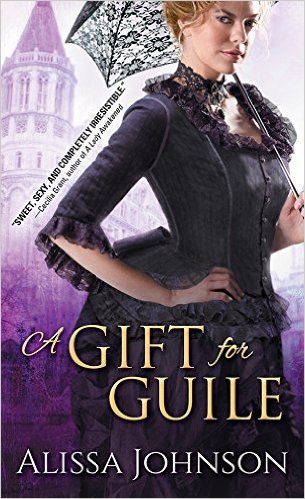 A Gift for Guile is the second book in the Victorian-set Thief Takers series. It features Sir Samuel Brass, famed private detective, and former thief Miss Esther-Walker Bales. The pair reluctantly team up in London to solve a mystery from Esther's past.

Please share the opening lines of this book:
Technically, the first two lines are just the word, "hello." So, I'm going to cheat a little and not count those.
"Hello."
Hello. Quite possibly the single most innocuous word in the whole of the English language. It was difficult to take exception to the word hello under nearly any circumstance. Unless, of course, it happened to be uttered in the wrong place, at the wrong time, by the wrong man—in which case that one simple word spelled disaster.
Please share a few Fun facts about this book…
When I first started the Thief Takers series, I'd thought to match Esther with someone else—possibly Sir Gabriel Arkwright, the hero in the next book. Fortunately, it didn't take me long to figure out that she belonged with Samuel.
There's a short scene in the book where Esther soaks in a bathtub. I spent maybe two hours writing that scene, but I spent days researching Victorian era plumbing.
"Esther" was a place holder name I gave the heroine when she was still a secondary character in A Talent for Trickery. I intended to replace it, but I fell in love with it instead. Now I can't imagine her with any other name.
What, in your mind, distinguishes this book from other books out there in the same genre?
The Thief Taker series is set in the Victorian era, which isn't always easy to find in romance. Also, the heroine is a reformed criminal who once served as a kind of henchman for her con artist father.

Please tell us a little about the characters in your book. As you wrote your protagonist was there anything about them that surprised you?
Samuel Brass is a taciturn private detective with a mile wide protective streak. Esther Walker-Bales is a sharp-tongued woman with a talent for knife throwing.
I think Samuel surprised me more than Esther. I imagined him a somewhat dark character, and he turned out to be endearingly sweet and funny.
The first kiss… OR Do you think there's a common trait or a je ne sais quoi that your protagonist must have?

The first kiss:
She'd never been so deliciously aware of someone before, of every breath and every movement. Samuel's form filled her vision. When she closed her eyes, the sensation of his mouth moving over hers crowded her mind.
He kissed her gently, slowly, as if testing her response, and she followed suit, matching his movements and pace. Without experience to draw from, she used him as a guide, being careful when he was careful, turning her head when he turned his. The kiss took on a lovely dreamlike quality, a hazy and decadent game of follow the leader. And she was only too happy to play along, to enjoy the slow chase.
It was exciting and magical and perfectly wonderful.

Did any scene have you blushing, crying or laughing while writing it? And why?
There is one scene that had me laughing. Esther and Samuel play badminton in the park.
She tossed the shuttlecock into the air, hopped up, and gave it a solid whack, sending it over the top edge of the rope and right past Samuel into the ground.
"Oh, point for me," she cried. "I like this game."
"Are there points?"
"I've no idea. There must be, I should think. Else the game would go on forever." She scrunched her face up in thought. "Shall we play to twenty?"
"Fifteen." He retrieved the shuttlecock and passed it under the rope. "We haven't much light left."
"You'll change your mind once I've arrived at fifteen without you. At this rate, it shouldn't take more than a minute," she teased, tossing the shuttlecock in the air for another volley.
He was ready this time. One quick step to the left and he sent the shuttlecock back over the net in a high arc. It went sailing a good six feet over Esther's head and landed a solid ten yards behind her.
"Point for me." He shrugged at her shocked expression and decided he might just enjoy this game. "You said there were no rules."
"You play dirty, Sir Samuel." A smile of unholy delight spread slowly across her pretty features. "Excellent. So do I."
If your book was optioned for a movie, what scene would you use for the audition of the main characters and why?
A Gift for Guile contains an enemies-to-lovers element, which only works well on screen if the actors have chemistry. To see if they have that special spark, I would use an early scene in the book where Samuel and Esther are arguing in the carriage.
He wanted answers. "Who was the man at the station?"
She matched his clipped tone. "I honestly do not know."
"Why did you come to London?"
"I've already answered that."
"No, you refused to answer."
"No, my answer did not meet with your satisfaction, but that is your misfortune, not mine."
Samuel was not a man given to speeches, even small ones. He preferred economy of words over lengthy discourse. Sometimes a simple grunt was sufficient to get one's point across. But there were times when nothing short of a lecture would do.
"You wish to speak of misfortune, Esther? Then let us speak of the misfortunes you court by coming to London. Nine years ago, your family was forced to leave town under assumed names in order to hide from men who might strike at you in revenge against your father. It was only last year that one of those men found you, nearly killed you and your sister in a stable fire, shot me in the shoulder, and kidnapped your brother."
Esther did not appear to appreciate his oratory efforts.
"Heavens, I'd quite forgotten," she drawled in a voice that could only be described as sweetly caustic. "Thank goodness you are here to remind me of all the little details of my life."
God, she was infuriating.
Excerpts. © Reprinted by permission. All rights reserved.

If you could have given your characters one piece of advice before the opening pages of the book, what would it be and why?
The advice I would have given my characters is: set aside your preconceived ideas about each other.
Of course, if they did, A Gift for Guile would be a very different book.
What are you currently working on? What other releases do you have planned for 2016?
I'm currently working on the third book in the Thief Takers series, A Dangerous Deceit. It centers on the third thief taker, Sir Gabriel Arkwright, and a new character, Miss Jane Ballenger.

Thanks for blogging at HJ!
Giveaway:

Print copy of A Talent for Trickery by Alissa Johnson (US & Canada).
To enter Giveaway: Please complete the Rafflecopter form and Post a comment to this Q:

The badminton game is one of my favorite scenes in A Gift for Guile. Writing it reminded me of all the lawn games I used to enjoy as I child, but fell out of the habit of playing as I got older. What about you? Are there any games you loved as a kid and still enjoy with friends and family today?
Book Info:
She's a liar.
She's a con.
She's a thief.
And God help him, but he'll do anything to keep her safe.
Beautiful and conniving, maddening and brilliant, Esther is everything private detective Samuel Brass shouldn't want. Esther knows she's put herself in terrible danger, but nothing will stop her from making amends-not her family's enemies, not old fears, and certainly not the domineering, interfering, and undeniably handsome former officer of the Scotland Yard. Yet whenever he's near, Samuel makes her long for a life that can never be hers…and wish she were worthy of being saved.


Meet the Author: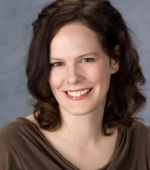 Alissa Johnson, a RITA Award nominee, is the author of Tempting Fate and several witty historical romances. She grew up on Air Force bases in the United States and Europe and attended St. Olaf College in Minnesota. She currently lives in the Ozarks, Arkansas.