Today it is my pleasure to Welcome romance author
Maisey Yates
to HJ!


Hi Maisey, welcome to HJ!
If someone wrote a biography about you, what do you think the title of the book should be? Why?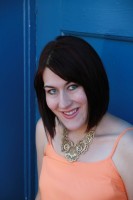 Caffeinated, the Maisey Yates Story. (I think that's self-explanatory!)
Let's talk about your newest release: A Hunger For the Forbidden
If you had to summarize the book for the readers here
Forbidden lust, dark twisted secrets, an accidental pregnancy, a runaway bride and…the mafia. It's sort of Romeo and Juliet, but without all the unfortunate death.
Please tell us about the characters in your book?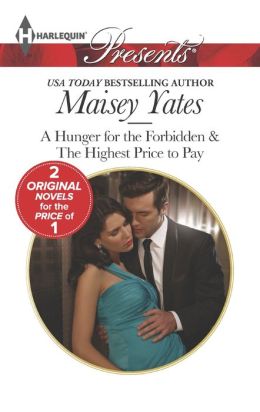 Alessia was an interesting character to write. She's endured a lot of hardship, and it's her imagination and her belief in fairy tales, really, that keeps her going while she tries to be strong for her brothers and sisters, and enables her to endure years of abuse at her father's hands. She's strong, but she has a core of optimism and sweetness,
Matteo was the hero I…affectionately …called The Ice Man. His emotions are in the deep freeze. His father forced him to do unspeakable things, and in the end, in order to save his family, Matteo had to become the thing he hated the most. He's hard, and scarred, and he doesn't believe he's worthy of love. So…my favorite sort of hero.
Was it love at first sight for your characters? If not what was the pivotal moment of change?
They have a little bit of an age gap, and Alessia was very young when they first met, but I think it was at least fascination at first sight. They had a connection from the first moment they saw each other.
If your characters could go back in time and change one thing what would it be? Why?
I think there is a walk through the countryside Alessia wouldn't take. To spare Matteo another sin on his conscience…
For Matteo? I think he would say nothing. Because he believes he had to make the choices he did. And the one he shouldn't have made -touching Alessia while she was engaged to his cousin- he would just never take back!
What scene did you have the most fun writing? Why?
Matteo and Alessia strike sparks off each other. Either sexual sparks…or angry ones. And I always liked writing their banter.
"Should we go somewhere more private?" she asked. Suddenly she felt like she'd rather brave his rage than put on a show. She was too tired for that. Too vulnerable. Bringing the press in was never about drawing attention to herself, it was about getting information to Matteo that he couldn't ignore. Giving the man no excuse to say he didn't know.
"Says the woman who called a bloody press conference?"
"You didn't answer my calls. Or return my messages. And I'm pretty sure now that you didn't even listen to any of them."
"I have been away," he said.
"Well, that's hardly my fault that you chose this moment to go on sabbatical. And I had no way of knowing."
He was looking at her like she'd grown an extra head. "Take me to your suite," she said.
"I'm not in the mood, Alessia."
"Neither am I!" she shot back. "I want to talk."
"It's just that last time were in this hotel, talking was very much not on the agenda."
Her face heated, searing prickles dotting her skin. "No. That's very true. Which is how we find ourselves in this current situation."
"Communication seems to be something we don't do well with," he said. "Our lack of talking last time we were here together certainly caused some issues."
"But I want to talk now," she said, crossing her arms beneath her breasts.
He cocked his head to the side, dark eyes trained on her now with a focus he'd withheld until that moment. "You aren't afraid of me."
"No."
"A mistake, some might say, cara mia."
"Is that so?"
"You won't like me when I'm angry."
"You turn green and split your pants?"
What scene was the hardest to write? Why?
Matteo gets drunk on their wedding night and doesn't show up to do his expected duties. I think writing a drunk hero, in his POV was not the easiest! Plus he was a jerk. 😉
Matteo didn't get drunk as a rule. Unfortunately, he had a tendency to break rules when Alessia Battaglia – or was she Alessia Corretti now? – was involved.
Damn that woman.
Even after his father's death he hadn't gotten drunk. He'd wanted to. Had wanted to incinerate the memories, destroy them as the fire had destroyed the warehouses, destroyed the man who had held so much sway over his life.
But he hadn't. Because he hadn't deserved that kind of comfort. That kind of oblivion. He'd forced himself to face it.
This, this he couldn't face.
He took another shot of whiskey and let it burn all the way down. It didn't burn as much at this point in the evening, which was something of a disappointment. He looked down at the shot glass and frowned. Then he picked it up and threw it against the wall, watching the glass burst.
Now that was satisfying.
He chuckled and lifted the bottle to his lips. Dio, in his current state he almost felt happy. Why the hell didn't he drink more?
"Matteo?"
He turned and saw Alessia standing in the doorway. Alessia. He wanted her. More than his next breath. He wanted those long legs wrapped around his waist, wanted to hear her husky voice whispering dirty things in his ear.
He didn't think she'd ever done that, whispered dirty things in his ear, but he could imagine it, and he wanted it. Dio, did he want it.
"Come here, wife," he said, pushing away from the bar, his movements unsteady.
"Are you drunk?"
"I should be. If I'm not…if I'm not there's something very wrong with this whiskey."
Her dark eyes were filled with. some kind of emotion. Something strong and deep. He couldn't decipher it. He didn't want to.
"Why are you drunk?"
"Because I've been drinking. Alcohol. A lot of it."
"But why?"
"I don't know, could be because today I acquired a wife and I can't say I ever particularly wanted one."
How did your character spend the week just before the story starts?
Alessia was preparing for her wedding, and dealing with the emotional fallout of having slept with her convenient groom's cousin…and Matteo was in a rage over the wedding. 😉
Who would you cast in the role of your characters if your book was optioned for a movie?
Alessia would be Megan Fox maybe because I'd need a dark haired beauty…and Matteo would be…Henry Cavill. 😉
What are you currently working on? What other releases so you have planned for 2013 into 2014?
I'm wrapping up a dark, secret project that I'm very excited about! Details forthcoming. 😉 And then I'll be starting the first book in my brand new single title contemporary series with HQN.
In 2014 I have quite a few books coming out. Including a Presents in January (Forged in the Desert Heat) the 2nd book in my Silver Creek series Untouched (January 21st) my first Cosmo Red Hot Read in February (Crazy, Stupid Sex) and some books that were previously published in the UK and never released here (Her Little White Lie, A Game of Vows) coming to ebook in February as well. There's more too, but we'll start with that! LOl
Thanks for blogging at HJ!
Giveaway:

An ebook copy of 2n1 A Hunger For the Forbidden & The Highest Price to Pay
To enter Giveaway: Please complete the Rafflecopter form and Post a comment to this Q:

A Hunger for the Forbidden is about forbidden love, which is one of my favorite themes in a romance novel. What are your favorite themse? (Secret babies, marriages of convenience, friends to lovers, etc)
Except
Alessia Battaglia adjusted her veil, the whisper thin fabric skimming over the delicate skin of her neck. Like a lover's kiss. Soft. Gentle.
She closed her eyes, and she could feel it.
Hot, warm lips on her bare flesh. A firm, masculine hand at her waist.
She opened her eyes again and bent down, adjusting the delicate buckle on her white satin heels.
Her lover's hands on her ankle, removing her high heels. Leaving her naked in front of him, naked before a man for the first time. But there was no time for nerves. There was nothing more than the heat between them. Years of fantasy, years of longing.
Alessia swallowed and took the bouquet of blood red roses from the chair they were resting on. She looked down at the blossoms. She'd bruised some of them by laying them down that way.
Brushing her fingertips over the crushed velvet petals brought another wave of memory. A wave of sensation.
Her lover's mouth at her breast, her fingers woven through his thick dark hair.
"Alessia?"
Her head snapped up and she saw her wedding coordinator standing in the doorway, one hand covering her headset.
"Yes?"
"It's time."
Alessia nodded, and headed toward the doorway, her shoes loud on the marble floor of the basilica. She exited the room that had been set aside for her to get ready in, and went into the vast foyer. It was empty now, all of the guests in the sanctuary, waiting for the ceremony.
She let out a long breath, the sound loud in the empty, high-ceilinged room. Then she started her walk toward the sanctuary. Pillars lined the walk, inlaid with gold and stones. She stopped for a moment, hoping to find some comfort, some peace, in the biblical scenes depicted on the walls.
Her eyes fell to a detailed painting of a garden. Of Eve handing Adam the apple.
"Please. Just one night."
"Only one, cara mia?"
"That's all I have."
A searing kiss, like nothing she'd every experience before. Better than any fantasy.
Her breath caught and she turned away from the painting, continuing on, continuing to the small antechamber outside of the sanctuary.
Her father was there, crisp, pressed. Antonioni Battaglia looked every inch the respectable citizen everyone knew he was not. And the wedding, so formal, so traditional, was another statement of his power. Power that he longed to increase, with the Corretti fortune and status.
That desire was the reason she was here.
"You are very much like your mother."
She wondered if there was any truth to the words, or he was just saying them because it was the right thing to say. Tenderness was something her father had never seemed capable of.
"Thank you," she said, looking down at her bouquet.
"This is what's right for the family."
She knew it was. Knew that it was the key to ensuring that her brothers and sisters were cared for. And that was, after all, what she'd done since her mother died in childbirth. Pietro, Giana, Marco and Eva were the brightest lights in her existence, and she would do, had done, whatever she could to ensure they had the best life possible.
And still, regret settled on her like a cloak, and memory…memory clouded the present. Memories of her lover. His hands, his body, his passion.
If only her lover, and the man waiting behind the doors to the sanctuary, waiting to marry her, were the same.
"I know," she said, fighting against the desolation inside of her. The emptiness.
The double doors parted, revealing an impossibly long aisle. The music changed, everyone, all twelve-hundred guests, who had come to watch the union of the Battaglia family and their much-hated rivals-turned-allies, the Corretti's, looking at her.
She held her head up, trying to breathe. The corset bodice of her dress threatened to choke her. The lace, which formed a high collar, and sleeves that ended in a point over her hands, was heavy, scratchy against her skin. The yards of fabric clung to her, heat making her feel light headed.
It was a beautiful dress, but it was too fussy for her. Too heavy. But the dress wasn't about her. The wedding wasn't about her.
Her father walked into the sanctuary behind her, but he didn't take her arm. He had given her away when he'd signed his agreement with the late Salvatore Corretti. He didn't need to do it again. He didn't move to take a seat either, rather he prowled around the back of the pews, up the side of the church, his steps a parallel to hers. That was Antonioni Battaglia all over. Watching to proceedings, ensuring all went well. Watching her. Making sure she did as she was told.
A drop of sweat rolled down her back and another flash of memory hit her hard.
His sweat slicked skin beneath her fingertips. Her nails digging into his shoulders. Her thighs wrapped around lean, masculine hips…
She blinked and looked up at Alessandro. Her groom. The man she was about to make vows to.
God forgive me.
Had she not been holding the roses, she would have crossed herself.
And then she felt him. As though he had reached out and put his hands on her.
She looked at the Corretti side, and her heart stopped for a moment. Matteo.
Her lover. Her groom's enemy.
Matteo was arresting as ever, with the power to draw the breath from her lungs. Tall and broad, his physique outlined to perfection by his custom made suit. Olive skin, a square cut jaw. Lips that delivered pleasure in beautiful and torturous ways.
But this man standing in the the pews was not the man who'd shared her bed that night a month ago. He was different. Rage, dark and bottomless, burned from his eyes, his jaw tight. She had thought, had almost hoped, that he wouldn't care about her being promised to Alessandro. That a night of passion with her would be like a night with any other woman.
Yes, that thought had hurt, but it had been better than this. Than him looking at her like he hated her.
She could remember those dark eyes meeting hers with a different kind of fire. Lust. Need. A bleak desperation that had echoed inside of her. And she could remember them clouded by desire, his expression pained as she'd touched him, tasted him.
She looked back to Alessandro. But she could still feel Matteo looking at her. And she had to look back. She always had to look at Matteo Corretti. For as long as she could remember, she'd been drawn to him.
And for one night, she'd had him.
Now…now she would never have him again.
Her steps faltered, her high heel turning sideways beneath her. She stumbled, caught herself, her eyes locking with Matteo's again.
Dio, it was hot. And her dress was suffocating her now. The veil too heavy on her head, the lace at her throat threatening to choke her.
She stopped walking, the war within her threatening to tear her to pieces.
Book Info:
A Hunger for the Forbidden
Scandalized & Seduced: to desire a Corretti…
Alessia Battaglia is a vision in white…as she flees the church. She's abandoned her fiancé, praying that his cousin, Matteo Corretti will come after her.
Because there are two things Matteo doesn't know… Alessia is pregnant, and the child is his!
Book Links:
Author Bio
USA Today Bestselling author Maisey Yates lives in rural Oregon with her three children and her husband, whose chiseled jaw and arresting features continue to make her swoon. She feels the epic trek she takes several times a day from her office to her coffee maker is a true example of her pioneer spirit.
In 2009, at the age of twenty-three Maisey sold her first book. Since then it's been a whirlwind of sexy alpha males and happily ever afters, and she wouldn't have it any other way. Maisey divides her writing time between dark, passionate category romances set just about everywhere on earth and light sexy contemporary romances set practically in her back yard. She believes that she clearly has the best job in the world.
Website | Facebook | Twitter |