Today it is my pleasure to Welcome author
Melinda Curtis
to HJ!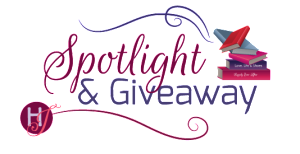 Hi Melinda and welcome to HJ! We're so excited to chat with you about your new release, A Memory Away!

Happy Holidays to HJ Readers!

Please summarize the book for the readers here: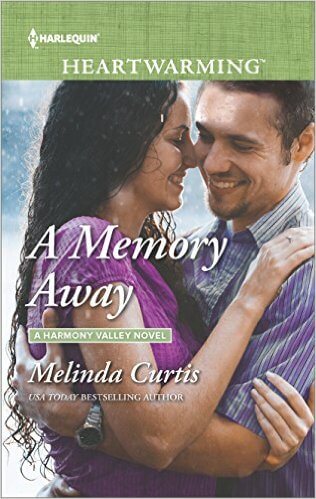 When Jessica Aguirre wakes up after a car accident, she can remember everything about her life but how she got pregnant. Months later, a newspaper photo leads her to Harmony Valley and Duffy Dufraine, who has answers, just not the ones Jessica wants to hear.

Please share the opening lines of this book:
Did he love me?
Jessica Aguirre didn't know if he loved her. She didn't know if he knew her.
Did he love me? The man in the photograph would know.
Please share a few Fun facts about this book…
The idea for this book was built upon a dare in a bar by Senior Editor Victoria Curran at Harlequin. I was pitching rough ideas for the next series of Harmony Valley books when she latched onto one word: amnesia. She couldn't remember the last time she'd read an amnesia book, much less a good amnesia story. How could I let that dare pass me by?
If your book was optioned for a movie, what scene would you use for the audition of the main characters and why?
Here's a critical scene: the first meet. There are a lot of subtleties here in terms of Jessica's expectations and hopes, and Duffy's curiosity.
A man got out of the truck. Dark hair. Straight nose. Familiar eyes.
It's him.
She leaned forward, peering through the paned glass, her heart sailing toward him, over ever-hopeful waves of roses and rainbows.
Jess didn't usually let herself dream. But now…today…him…
And yet…
He wore a burgundy vest jacket that clashed with a red long-sleeve T-shirt. Worn blue jeans. A black baseball cap.
Instead, she saw him in a fine wool suit. Black, always black. A navy shirt of the softest cotton. A silk tie in a geometric pattern. Shiny Italian loafers…
He took the stairs two at a time, work boots ringing on wood.
Jessica's heart sank as certainly as if someone had drilled holes in the boat carrying her hopeful emotions. Clouds blocked the sun. The rainbow disappeared. Unwilling to sink, Jess clung to joy. To the idea of him.
He entered without a flourish or an energetic greeting. He entered without the smile that teased the corners of her memory. He entered and took stock of the room, the situation, her.
Their eyes met. His were the same color, same shape, so heart-achingly familiar.
It was the cool assessment in them that threw her off. Not a smile, not a brow quirk, not an eye crinkle.
He came forward. "I'm Michael Dufraine, but everyone calls me Duffy."
His name didn't ring true.
Had he lied to her?
She couldn't speak, could barely remember her name.
The wind shook the panes. The house creaked and groaned.
He smiled. A polite smile, a distant smile, an I-don't-know-you smile.
Disappointment overwhelmed her. Jess resisted the urge to dissolve into a pity puddle on the floor.
"And you are…?" He extended his hand.
On autopilot, she reached for him. Their palms touched.
Jessica's vision blurred and she gripped his hand tighter as clips of memory assailed her—his deep laughter, him offering her a bite of chocolate cheesecake, his citrusy cologne as he leaned in to kiss her.
It is him.
Relieved. She was so relieved. Jessica blinked at the man—Duffy—who she vaguely recalled and, at the same time, did not.
She'd practiced what to say on the hour-long drive up here from Santa Rosa. Ran through several scenarios. None of them had included him not recognizing her.
She should start at the beginning. Best not to scare him with hysterics and panicked accusations, of which she'd had five months to form.
Don't raise your voice. Don't cry. Don't ask why.
And don't lead the conversation with the elephant in the room.
Despite all the cautions and practicing and caveats, she drew a breath, and flung her hopes toward him as if he was her life preserver. "I think I'm your wife."
What do you want people to take away from reading this book?
That setbacks in life can be overcome. That forgiveness is possible.
What are you currently working on? What other releases do you have planned for 2015?
I just finished revisions for the next Harmony Valley book and I'm gearing up the promotion machine for the first quarter of 2016 because Harlequin Heartwarming books will be available in large Walmart stores beginning January 2! It's a big deal to Harlequin and Heartwarming authors! And A Memory Away will be available at Walmart in January.

Thanks for blogging at HJ!
Giveaway:

One lucky commenter will receive an ebook of their choice from Melinda's backlist.
Sign up for Melinda's mailing list to receive a free e-cookbook: Mexican-Italian recipes inspired by Melinda's short Harmony Valley story – A Kiss for the Cook – currently available as a free online read at Harlequin.com.
To enter Giveaway: Please complete the Rafflecopter form and Post a comment to this Q:

The older I get, the more forgetful I become. I walk into a room and forget why I came there in the first place. I enter the grocery store and can't remember the third thing on my mental list. And let's not start on those moments when I can't remember my son's name! Have you ever experienced a moment where you couldn't remember something you should have?
Excerpt from A Memory Away:
As with all my Harmony Valley books, I feature elderly characters who provide both comic relief and a foil for my hero/heroine. In this scene, Duffy's elderly neighbor Eunice (once a model) comes over to be neighborly…and to find out what Jessica is doing there.
"I'm not in a very nice mood in the mornings, Eunice, not until I've had more than one cup of coffee." A mug rested on the black lacquered coffee table.
She considered his closed off expression, weighing it against the grumpy texture of his mood. "How many cups have you had?"
"This is my second." He angled his head toward her, wrinkling his nose. "What's that smell? It came in with you."
Eunice squared her shoulders proudly and moved toward the kitchen. She so rarely had a chance to show off her cooking skills. "It's bananas wrapped in ham with hollandaise sauce." It had been one of her mother's favorite recipes. "Would you like some?"
Duffy opened his mouth to speak, but nothing came out.
Jessica emerged from the bathroom, wearing gray sweats that dragged on the floor and an army-green sweatshirt that stretched across her girth. She looked like a child who'd raided her father's closet. Or more likely, Duffy's. "What's that smell?"
Eunice widened her eyes and gave Jessica her sweetest smile, the one that always landed her modeling jobs. "Bananas wrapped in ham with hollandaise sauce."
"It's just as shocking the second time you say it," Duffy muttered.
Jessica placed a hand over her mouth and nose. "Baby is sensitive to smells, but it sounds…lovely. Is there a story behind it?"
"It's a Fletcher family favorite, born of the need to entice my younger sister to eat. She loved bananas and she loved hollandaise sauce." They both stared at Eunice. She stood in the kitchen doorway holding her smile and herself very still, because that's what beauties did. They held still for everyone's regard.
Jessica made a small mewling noise, which Eunice translated to yum.
Duffy was suddenly on the move and heading toward Eunice. She'd forgotten the magnetism of her pose, the allure of her smile, the power of her incredible eyes.
"Whoa, big fella." Eunice raised a hand. Men in her day weren't as tall a specimen as Duffy. "I know I pack some powerful mojo." And it had been years since she'd wielded it toward a man. "I'll tone it down a notch or two." Turn her smile into a small, secretive one, take her peepers off her wide and innocent setting.
Duffy paused in front of her. All six foot plus of big, intense man. "I'm here for the dish."
Eunice felt a jolt of indignation. She was not that kind of woman. "I'm old enough to be your grandmother," she sputtered.
"I'm here for that dish." He pointed to her casserole.
"Oh." Pity. For a moment, she'd felt twenty-five again.
Excerpt. © Reprinted by permission. All rights reserved.

Book Info:
Duffy Dufraine just found out he's going to be an uncle. Jessica Aguirre came to Harmony Valley in search of the father of her unborn child, which is by no means him. An accident may have damaged the expectant mom's memory, but he knows his twin is the man she's looking for. But Greg's gone, which leaves Duffy the only family Jess has. And he has to make things right. Offering her a temporary place to stay seems an ideal short-term solution. Until she stirs desires that make the embattled vineyard manager rethink his own long-term game plan. Is he ready to offer Jess and her baby a home to call their own—with him?
Book Links:


Meet the Author: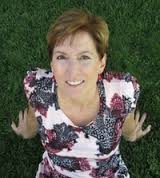 Award winning, USA Today bestseller Melinda Curtis writes sweet romance and sweet romantic comedy as Melinda Curtis, and fun, more traditional, sexier romances as Mel Curtis.
Website | Facebook | Twitter |