Today it is my pleasure to Welcome author
Amy Ruttan
to HJ!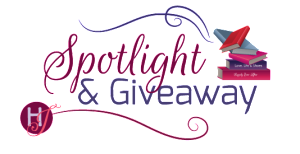 Hi Amy and welcome to HJ! We're so excited to chat with you about your new release, A Mommy for His Daughter!

Thank you for having me here. I love stopping by Harlequin Junkie!

Tell us about the book with this fun little challenge using the title of the book: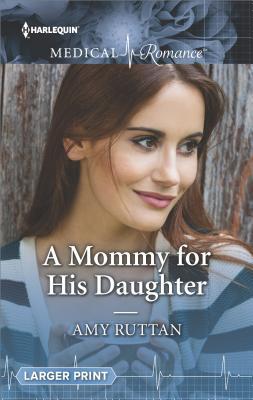 The book is about single father and doctor Derek Taylor. He's been raising his daughter since his wife during childbirth in a fictional town between Sitka and Juneau Alaska. So when the heroine comes to do an OB/GYN rotation in the small island village, he's immediately drawn to her. Dr. Evelyn Saunders is from Wolf's Harbour, but she hasn't been back since her father died and she was sent to live with her grandmother. She lost a piece of herself being isolated from the place of her birth and she's back to sort of reclaim it and find a family she didn't even know she was missing.
What's your favorite line(s) from the book?:
There are many lines, but this part really hit me in emotional punching bag. My father's siblings were all taught Cree when they were young, but my Dad never had the opportunity to learn it. They moved out of the bush and away from the elder who taught his older siblings. It was never spoken of again for fear of being taken away. My Dad lost a piece of his identity. So when I wrote about Evelyn's return to home, this line is what choked me up:

"Ladies and gents, we're now making our descent into Wolf's Harbor. Please fasten your seatbelt."
The pilot made the same announcement in Tlingit and Evelyn felt sad that she'd almost forgotten her mother's language. She understood it still, but when was the last time she'd spoken it?
Please tell us a little about the characters in your book. What first attracts your Hero to the Heroine and vice versa?
Both are broken in their own ways and lonely. They both completely misunderstand each other when they first meet, but neither back down. They may be a bit broken and untrusting, also afraid, but they're really strong willed individuals.
When you sat down to start this book, what was the biggest challenge you faced? What were you most excited about?
The biggest challenge, as always, is the research. I'd never been to Alaska. And I hadn't been north of the 60th parallel. What excited me about it was I was writing this book when I was travelling to the Northwest Territories on a journey to sort of piece together what was lost to my father. So writing this book was a bit of an emotional upheaval for me.
What, in your mind, makes this book stand out?
It was a pain to write. LOL Oh that's what makes it stand out to me. I fought hard to write this book. There are books that are difficult to write and this one was, but I think what will make this book stand out is the setting. I love settings that are different than the big cities. I love places that are off the beaten path and hard to get to. I also absolutely love the north. Plus, the hero is one of the dishiest heroes I've written about. I love Derek.
The First Kiss…
Their first kiss happens under the northern lights. I love the northern lights. About three days after I wrote this scene I was standing under them. They were right above me and I never tire of them and I love including them in my book when I can!
"I heard you're supposed to whistle at them to make them dance."
Evelyn frowned. "But I heard that some Inuit in Canada believe whistling at them means the spirits will come down and grab you. Don't whistle."
"Okay. I wouldn't want to be grabbed."
Evelyn chuckled. "No, neither would I."
They stood there in silence, just staring up at the green ripple of northern lights, his arm still around her.
It had felt so good when he'd placed his arm around her, and when his hand had been in the small of her back. Maybe it was the wine talking, but if Derek had been the bait, and if she'd been a different person, then she would have jumped at the job John was so slyly offering her.
Evelyn took a step forward, and before she knew what was happening she was lost in those gray-green eyes and swept up into a kiss that was tender at first but then, as she melted into his arms, became more intense. It felt so right, so good.
If your book was optioned for a movie, what scene would you use for the audition of the main characters and why?
I like when my characters are goofing around. This is when they're in Juneau to inquire about bringing a patient to the hospital for testing, they have a meeting with the hospital chief later and they take a ride up the tram in Juneau. I'm terrified of heights. I've ridden up a tram in Jasper, Alberta and I swear I felt like this.
Evelyn peered over to the front of the tram to see the upper tram station waiting for them. Once the tram was safely docked the doors opened. Derek and Evelyn lingered to let the other people get off first, so they weren't caught up in the mad crush of tourists.
"Want to go for a quick hike? John said he'd meet us at the Langstrom Grill at seven o'clock. We can head up to the alpine meadow and then take the tram back down."
"Sounds good. Lead the way. I don't think I have my footing yet."
"What?" Derek asked playfully. "Come on, you, goose. This is solid ground."
"It's a cliff. This station is hovering over a cliff."
Derek rolled his eyes and then stomped his foot. "See—it's solid… Whoa! Whoa! Oh, my God, I'm going to fall off the edge of this cliff."
Evelyn punched his arm. "Ha-ha. Funny."
Derek was shaking his head and still laughing as they left the tram and headed for a path that wound its way through two-hundred-foot-tall trees up to the alpine meadow.
If your hero had a sexy-times play list, what song(s) would have to be on it?
I love Sia's Salted Wound. Also, John Legend's All of Me and 9 Crimes by Damien Rice were on my auto playlist for this book. I have a very large Medical Book playlist and shuffle through them when I write. It's hours long and some books have different songs.
What do you want people to take away from reading this book?
You can always go home. Always.
And just because you fall in love again after losing the love of your life doesn't mean you push that person out of your heart. Your heart just expands, because we all need love.
What are you currently working on? What are your up-coming releases?
My upcoming releases for the rest of 2018:
July 2018 A Date with Dr. Moustakas, which is part of the Hot Greek Docs quad with Amalie Berlin, Tina Beckett and Annie O'Neil.
October 2018 NY Doc under the Northern Lights is my TWENTIETH Harlequin Medical. I'm still in shock over that.
I also plan to release ARCTIC FLAMES & ARCTIC EMBERS in the Phoenix Agency Kindle World. That's books 3 and 4 of 62 Degrees North.
It's a busy year!

Thanks for blogging at HJ!
Giveaway:

A paperback copy of A Mommy for his Daughter, a flat doctor bookmark and a button. Open Internationally.
To enter Giveaway: Please complete the Rafflecopter form and Post a comment to this Q:

Alaska, yes or no?
Excerpt from A Mommy for His Daughter:
"I'm glad you were there today." He looked away. "For both Christina and Mo."
"Thank you. I'm glad I was there too." She looked down at her empty wineglass.
Tension hung in the air, electric and crackling. How long had it been since he'd felt this way? It had been too long. He'd forgotten what it was like. He'd forgotten what it was like to feel so alive.
He looked back at her. "I'm sorry I get so possessive over my patients and my home. Even though I wasn't born here, Wolf's Harbor is my home."
"I understand," she whispered. "That this is your home."
"Isn't this your home?" he asked.
"No," she whispered. "It hasn't been my home for some time."
He wanted to tell her it could be. Because they needed her medical skill.
He didn't want her to stay for any other reason.
Liar.
He had to put some physical distance between them before he did something he would regret.
Would you regret it?
"Would you like another…?" He leaned forward, but he was gripping the glass too tight and it shattered and cut his hand. "Dammit!"
He got up and ran to the kitchen to inspect the damage.
Evelyn followed him. "Let me see."
"It's fine. It's small and superficial."
"Let me see," she repeated, taking his hand.
Her touch sent a shiver through him. Her skin was soft, but her grip firm. A surgeon's hand. Delicate, long fingers. They were hands that had been taken care of.
"See," he murmured. "Superficial."
"Not even a shard of glass in there."
She looked up at him. They were close and he could see how long her lashes really were.
Evelyn cleared her throat. "Do you have a first aid kit?"
"Yeah, in the powder room over there—under the sink."
She disappeared and Derek took a deep breath. He had to get control. He was made of stronger stuff than this.
She returned with the kit and opened it, pulling out gauze and ointment. She bent over his hand and went to work. He could smell the scent of her shampoo. It was coconut. It reminded him of summer. Hot summers with his friends on the beaches of Lake Michigan, swimming and trying not to get too burnt.
"There," she said, wrapping his hand because the cut was on his palm. "You had some Steri-strips, so I put a couple on just to make it easier on you."
"Thank you," he said, his voice hitching.
Their eyes locked and they didn't say anything. Against every rational thought in his head he reached out and touched her cheek. She sighed when he touched her, closing her eyes, and he bent down, his lips barely grazing hers. His pulse thundered between his ears…
"Daddy?"
Evelyn jumped back, as did Derek when he heard Mo call from the other room.
She came into the kitchen. "Evie! You came!"
Evelyn smiled and cleared her throat nervously. "You bet I did. A promise is a promise."
Mo looked at his hand. "What happened, Daddy?"
"I cut it. Just an accident. Dr. Saunders fixed it for me."
Mo beamed. "Good job, Evie."
Evelyn picked up the box of cupcakes. "I brought you these from Sally's. How's your head?"
"Ooh, yum! My head hurts a little. Do you want to come see my room?"
Evelyn looked at him, as if asking for permission. He appreciated that. He nodded. "Go ahead."
"Sure," Evelyn said.
Mo took her hand and led her out of the kitchen while Derek tried to regain some of his composure.
It had just been a light kiss, barely a kiss, but it had seared his soul. Then Mo had almost walked in on them, and that was a scary thought indeed.
He couldn't let that happen again.
Even if he wanted it to happen again.
Badly.
Excerpts. © Reprinted by permission. All rights reserved.


Book Info:
She's never had a chance at a family…
But could happiness be found where she least expected?
Dr. Evelyn Saunders left her orphan past behind, along with the cold Alaskan climes of Wolf's Harbor. But an unexpected posting back home brings her up close and personal with single dad GP Derek Taylor. Neither are looking for love, but could this doting dad and his little girl bring Evelyn the happy family she's longed for?
Book Links: Website | Website | Website | Website |


Meet the Author: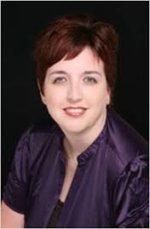 Born and raised just outside of Toronto, Ontario, Amy fled the big city to settle down with the country boy of her dreams.
After the birth of her second child, Amy was lucky enough to realize her life long dream of becoming a romance author. When she's not furiously typing away at her computer, she's a mom to three wonderful children who use her as a personal taxi and chef.
http://www.amyruttan.com/contact.html#newsletter
Website | Facebook | Twitter |