Today it is my pleasure to Welcome author
Debbie Burns
to HJ!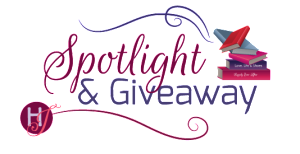 Hi Debbie and welcome to HJ! We're so excited to chat with you about your new release, A New Leash on Love!
Please summarize the book for the readers here: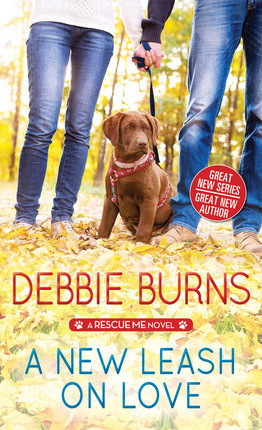 When Craig Williams draws the short straw and has to take his daughter's adorable new puppy to a shelter after the holidays, it's just another painful episode in the fall-out of a miserable divorce. He needs to pick up the pieces of his life, and, after a fiery confrontation with Megan Anderson, the young woman running the shelter, he wants to put the whole episode behind him. However, when he keeps finding new ways to reconnect with her, he realizes Megan's compassionate and caring nature just might be the perfect salve for his broken heart.

Please share the opening lines of this book:
There were a dozen reasons not to pick up Bernie's call. He only called for one thing. And try as she might, she'd never been able to tell him no.
If your book was optioned for a movie, what scene would you use for the audition of the main characters and why?
There's a scene in the story when Megan and Craig have acknowledged the growing attraction between them, but the timing seems so off they've determined they're best off being only friends. However, keeping to just friends is harder to do than either anticipated. The scene takes place outside at night. They're taking a walk in a picturesque neighborhood and sipping on mochas. Megan trips on a bit of uneven sidewalk, dumping her mocha, and scratching her hands. As he helps her up, the scene changes from light-hearted to visceral, and every time I read it I catch myself holding my breath wanting them to get together.
Snippet:
He was so close. Twelve little inches separated them. That and a canyon between two different lives, one more in limbo than the other. His thumb circled the hollow of her neck, and he released a slow, controlled breath that washed against her forehead, smelling of wine and mocha. Would one kiss—one night—be enough? Why did it feel like moving on from anything with Craig would hurt more than her split with Paul had? That it'd be like being thirteen again and learning to live without the one person closest to her in all the world?
What do you want people to take away from reading this book?
I'd love this story to serve as a reminder that no matter how tough times get, life is beautiful and meant to be embraced.
What are you currently working on? What other releases do you have planned for 2017?
Right now, I'm in the editing stage of the second book in the Rescue Me series, as well as in the drafting stages of the third book in the series. Book two, currently titled Sit, Stay, Love, is scheduled to be released in May of 2018.

Thanks for blogging at HJ!
Giveaway:

Print copy of A New Leash on Love (Rescue Me) by Debbie Burns
To enter Giveaway: Please complete the Rafflecopter form and Post a comment to this Q:

If you were headed on a trip and your only form of entertainment during travel was to bring one (and only one) book that you've already read, which book would it be and why?
Excerpt from A New Leash on Love:
The front door jangled open, and Megan's stomach flipped. He'd said that bit about never crossing paths again, yet here he was walking into the shelter. He was in a dark suit with a white shirt and a blue-gray tie. Megan clamped her fingertips over the edges of the sleeves of the cozy Henley she'd slipped on this morning.
His gaze dropped to her hips a split second before connecting with her eyes. Are eyes ever really that blue?
"Ms. Anderson," he said, a smile pulling at the corners of his mouth. "And here I worried we'd never meet again."
Megan's heart slammed against her rib cage as she took his extended hand. An electric current raced up her arm at the skin-to-skin contact. "It is sooner than I'd have thought. But I have great news about your puppy."
"I hope it's that you potty-trained him. Wouldn't that be nice?" He gave his daughter a playful wink.
An alarm went off at his words. That was definitely hopeful-for-the-future talk. "I'm sorry, Mr. Williams. Are you… Were you… Are you here because you're hoping to get him back?"
He looked from her to his daughter, then back to her. His smile fell. "Are you saying he's been adopted?"
The girl's hands flew to her mouth.
This isn't happening. Megan racked her brain for the right words, but her mouth went dry.
"Are you telling me half the city was closed down, your phones were out, and someone still came in and adopted Sophie's puppy? All that talk about how hard it is to get an animal adopted, and he didn't even last a day?"
Megan's pulse tapped an erratic beat in her neck. She forced herself not to crumple under his direct gaze. She'd thought she'd done a good thing adopting out his dog. Until now.
Excerpt. © Reprinted by permission. All rights reserved.


Book Info:
First in a fresh contemporary romance series from award-winning debut author Debbie Burns.
Every heart has a forever home.
Megan Anderson loves the animals at her no-kill shelter. She'll do anything for them―even go toe-to-toe with a handsome man who's in way over his head. She'll help him sort out his troubles, but getting too close to an adorable puppy's human counterpart? Been there, done that, got burned.
When Craig Williams arrived at the local shelter for help, he didn't expect a fiery young woman to blaze into his life. But the more time they spend together, the more he realizes it's not just animals Megan is adept at saving―she could be the one to rescue his heart.
Soon, Craig and Megan find that the magic of unconditional love can do anything…even lead to their forever home.


Meet the Author: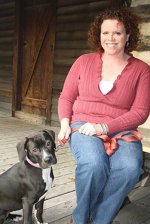 Debbie lives in Saint Louis with her family, two phenomenal rescue dogs, and a somewhat tetchy Maine Coon cat who everyone loves anyway. Her hobbies include hiking, gardening and daydreaming, which of course always leads to new story ideas.
A New Leash on Love, Debbie's first contemporary romance, has finaled in multiple contests. Her writing commendations include first-place awards for short stories, flash fiction, and longer selections from the Missouri RWA and the Missouri Writers Guild.