Today it is my pleasure to welcome author 

Michelle Gable

to HJ!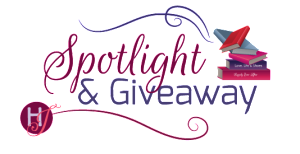 What would you say is your motto or maxim as a writer?
"There are no wasted words."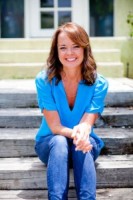 Books might not sell, entire drafts might be scrapped, but it's all practice and improvement. In the book "Outliers," the author talks about "10,000 hours"…the amount of time it takes to be truly proficient in something. I view everything I write as getting in those 10,000 hours.
Of course the hours are not always easy to squeak out, which is where my other personal motto comes into play: "know when to half-ass it." In other words, cut yourself the slack in some areas so you can focus on what's truly important to you, or has to get done that day.
If you were stranded on a deserted island…
I would certainly need a Kindle to carry an unlimited supply of books! That's a purely logistical choice as I generally prefer what I call RFBs (real f'ing books), though Kindles are great for travel. Or a deserted island!
I should probably also bring my husband, because it sounds like the right thing to say. But definitely no kids!
Let's talk about your newest release: A Paris Apartment
If you had to summarize the book for the readers here…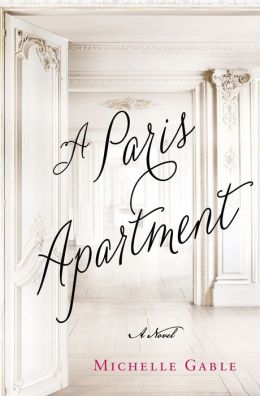 Earlier this year you might have heard about the Parisian flat left abandoned for seventy years. Though photographs of the frozen-in-time apartment went viral only recently, I read about the discovery in 2010 and it inspired A Paris Apartment.
When April Vogt's boss tells her about the discoveries in a decrepit Parisian apartment, the Sotheby's furniture expert doesn't hear the words "dust" or "rats" or "shuttered for seventy years." She hears escape.
With the help of a salty Parisian solicitor and a deceased courtesan's private documents, April tries to uncover the secrets buried in the apartment, as well as those hidden in her own life. Billed as where The Paris Wife meets Moulin Rouge, A Paris Apartment weaves romance, mystery, the past and the present, in a tale told against the backdrop of Paris during its Gilded Age.
Please tell us about the characters in your book
Sotheby's continental furniture expert April Vogt is the novel's modern-day protagonist. Having lived in Paris for several years prior to her marriage, April is anxious to return, especially following her husband's recent marital transgression.
April views herself as a little awkward, a tad plain. Indeed she describes her features as: "casually assembled; unobjectionable basic pieces." So when she encounters the charming, rakish estate attorney Luc Thébault, April is immediately thrown off her game.
Through the journals April discovers in the abandoned apartment, we come to know Madame de Florian, the home's resident during the Belle Epoque. Though Marthe is what we'd consider a courtesan, the more accurate title is demimondaine. Demimondaines were known for their extravagant lifestyles, funded by a string of wealthy and well-known lovers.
In the novel we also meet April's suave venture capitalist husband, artist Giovanni Boldini who loved and painted (and often infuriated) Marthe de Florian, a Folies Bergère contortionist, the renowned pistachio-suited dandy Robert de Montesquiou, along with many others, both past and present.
As you wrote your protagonist was there anything about them that surprised you?
I was surprised how closed-off April could be! She is hurt, and feeling insecure, and there were times I felt like she didn't want to let me in.
What scene did you most enjoy writing? Why? 
I have to confess, writing Marthe's journal entries came extremely easily for me, even the most ribald and off-color ones! My favorite scenes were not ones relating to her occupation but those featuring her best friend, contortionist Marguérite:
"All this talk of Marguérite and I cannot stop seeing her up against the fireplace, flesh displayed like a ham hock at the market, coils and coils of tubes dropping from her nancy. And, I must add, a nancy not so pert and fresh as it once was!"
What scene was the hardest to write? Why? 
Some of the early scenes with April were challenging. When we begin the story, she's under a lot of stress and it was hard to make her seem realistic without being overly grumpy.
The last scene was also difficult because I wasn't sure what I'd do until I got there – and even after I was there I questioned whether I'd handled it correctly.
"'Who will bid in at half a million?'

"The room remained still. April's heart scrambled up into her throat. She held her breath while glaring at the former fidgeters, willing them to bid in.

"'Five hundred thousand euros,' Olivier said again. 'Do I hear five hundred thousand?'

"Something creaked behind her. April turned around to see Luc Thébault slip through the door."
Who would you cast in the role of your characters if your book were optioned for a movie?
That's a tough one! I might be the only author who hasn't thought about this, mostly because I have several already-published friends and therefore know how remote the scenario is.
Let's see…Jennifer Garner would make a terrific April. April's husband Troy would have to be someone coiffed and slick, not to mention chiseled. Actually, Jennifer's real-life husband Ben Affleck would make a perfect Troy Edward Vogt III, even if the coloring is slightly off. After all, "April liked her men one way: big, sandy-haired, and American." (Or so she tells herself). Nathan Fillion could also work!
I'm not very familiar with French actors but in my head Luc Thébault looks like Ed Weeks, aka Dr. Jeremy Reed from my favorite comedy The Mindy Project. I wonder if Ed could pull off a French accent?
Now on to Marthe de Florian…there are so many options. Rachel McAdams? Jennifer Lawrence? It would have to be someone who combines ethereal beauty with a sense of innocence, but also displaying a hint of something racier. Marion Cotillard would be magnificent. Of course she always is.
For Giovanni Boldini it'd have to be someone who can pull off disheveled. Robert Downey, Jr. and Guy Pearce would both make good Boldinis.
If you could have given your characters one piece of advice before the opening pages of the book, what would it be and why?
What fun would it be to give them advice at the start of the book? They might make too many good decisions, which is not fun for the writer at all!
If anything, I'd tell April to be more up front, with herself and with others. I'd also tell her to have a little more fun, a little earlier, a la Marthe de Florian!
I have many pieces of advice for Marthe but it would involve too many spoilers so I cannot mention them here!
What are you currently working on? What other releases do you have planned for 2014?
I don't have any other 2014 releases but just turned in two manuscripts to my agent, both quite different from A Paris Apartment. The first book is about the aftermath of a plane crash told through the viewpoints of the pilot's widow and the (dead) pilot himself. The second is about a pack of somewhat-evil sorority girls.
I am currently working on a novel about an American woman who flees to Oxfordshire, England in the early 70s after losing her fiancé in the Vietnam War. She encounters some strange (and potentially dangerous) people and situations. Like A Paris Apartment, this was inspired by true people and events.
Where can readers get in touch with you?
I can be reached on Twitter at @MGableWriter, Facebook at facebook.com/MichelleGable and through the email form on my website. I would love to hear from readers!
GIVEAWAY:

A print copy of A PARIS APARTMENT
To enter Giveaway: Please complete the Rafflecopter form and post a comment to this Q:

What does April find appealing about Luc? Do you feel she's attracted to him much earlier than she lets on? What do you like about their friendship? What don't you like? How did you feel about the last scene of the book?
Excerpt:
"'Do you think I might meet with your client, Lisette Qautremer's heir? Between the journals and a brief interview, I could quickly get all the background required to complete my work.'

"'Ah, so hungry la jolie fille and you only just ate.' He nodded toward the journals as his eyes skipped over to the mangled piece of bread.

"'Well, to establish provenance it'd be quite helpful–'

"'You and your provenance. I've already grown tired of the word.'

"'Shall I use the phrase 'more money' instead?' she asked. 'Because that's really what we're talking about.'

"'Mo' money, mo' problems.'

"'Excuse me?' April barked out a laugh, startled by the unexpected phrase. She couldn't decide if Luc was trying to amuse her or whether he was simply funny without the effort."
About the book:
Where Moulin Rouge meets The Paris Wife lies A PARIS APARTMENT (Thomas Dunne Books; On-sale: April 22, 2014), a rich and colorful debut by Michelle Gable. Inspired by the uncovering of a shuttered, long-forgotten Parisian apartment full of endless treasures, Gable's A PARIS APARTMENT allows the imagination to fly—to Paris, to decades past, and to one woman's truly amazing abode—as it winds between the past, the present, and the lives, loves, and fortunes of two captivating women.
April Vogt has overseen countless auctions in her career, with the spoils usually coming from different versions of the same place: a grandmother's mansion or a father's penthouse. So, when April's boss asks her to fly to Paris to help remove the possessions found inside a cramped, decrepit, 9th arrondissement apartment, the Sotheby's furniture specialist doesn't think much of it, eager to leave behind her husband to continue her love affair with Paris, a city she knows well.
Once in Paris, however, April finds the apartment is not merely some rich hoarder's repository. Instead, she uncovers untouched, museum-quality pieces curated only by spiders and ghosts. The apartment is a goldmine, filled with painted ostrich eggs, mounted rhinoceros horns, a bronze bathtub, and a priceless Boldini portrait. Perhaps most intriguing, though, is the discovery of the letters and journals that reveal the passionate woman in the portrait. For April, it's now no longer about the bureau plats and Louis-style armchairs sure to fetch millions at auction. It's about a life. Two lives, actually.
As April digs further into the woman's life, with the help of a sexy Parisian solicitor, of course, she can't help but take a deeper look at her own. When two things she left bubbling back in the States begin to boil over, April starts to wonder if she'll ever find what she's looking for, in this apartment or in her life.