Today it is my pleasure to Welcome author
Anna Sugden
to HJ!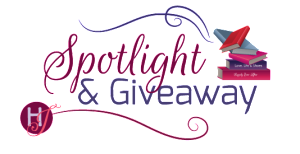 Hi Anna and welcome to HJ! We're so excited to chat with you about your new release, A Perfect Selection!

Hi Sara and HJers! It's great to be back with you all!

Tell us about the book with this fun little challenge using the title of the book: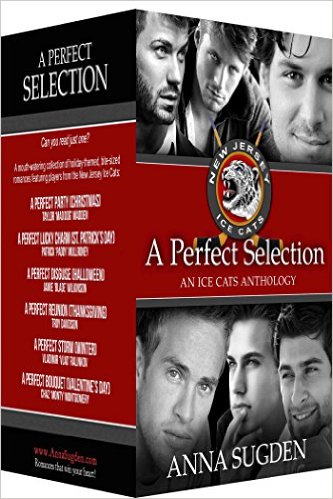 A = Anthology of six bite-sized romances
P = Players – six, sexy Ice Cats
E = Each player get his own complete short story
R = Romance – six, lovely heroines
F = Finding love in all kinds of places
E = Even though he's not Irish, will Patrick find love on St. Patrick's Day?
C = Christmas party – Can Taylor finally get together with Lizzie?
T = Trapped by a storm – The perfect opportunity for Vlad and Poppy to heat things up?
S = Season and holidays – each story has its own theme
E = Elementary teacher, Daisy, believes she the perfect treat for Blade.
L = Love does not equal red roses for florist, Kayla DeMarco.
E = Extras – These short stories are extras, while you wait for the next Ice Cats book
C = Catwoman – who is the sexy woman behind the Halloween disguise?
T = Thanksgiving – Will Troy and Charlotte have a perfect reunion?
I = It only takes a few minutes to read each one.
O = Only one? Can you stop at just one?
N = New Jersey Ice Cats – Delicious men of the ice!
What's your favorite line(s) from the book?:
Oh, it's so hard to choose! In the end I had to do eeny, meeny, miny mo and choose a line from A Perfect Reunion, the Thanksgiving short story. Here, Troy is trying to apologise to Charlotte for the past:
"I should have broken our engagement face-to-face."
Remembered humiliation jabbed under Charlotte's ribs. "You couldn't even have made a phone call?"
"I meant to tell you before the party, but things snowballed and before I knew it, I was in a wedding chapel in Vegas."
Please tell us a little about the characters in your book. What first attracts your Hero to the Heroine and vice versa?
I'm going to cheat with this question a little, as there are six heroes and heroines!
Taylor 'Mad Dog' Madden is always the straight guy. He helps bail JB Larocque out of trouble in A Perfect Distraction, and again in A Perfect Compromise. I had intended for him to get together with Sapphie from A Perfect Compromise, but somehow he kept pushing me towards Lizzie Martin (Jenny's sister in A Perfect Trade). Who am I to argue with my characters?
Patrick 'Paddy' Mullroney isn't Irish, despite his name, and doesn't believe in luck. Hard work is the only thing that'll get him out of his scoring slump. But can the shamrock charm from Shayla Friel's ear-ring change his mind and bring him some St. Patrick's day luck?
Jamie 'Blade' Wilkinson has a dark past and thinks his neighbour, pretty schoolteacher, Daisy Carturo, is too good for him. Sexy Catwoman, whom he meets at the Ice Cats' charity Halloween event, would be more suitable. Can he have the best of both worlds?
Troy Davidson screwed up years ago when he ditched his engagement party to elope with a movie star. Now divorced, he realises the only woman he ever loved is Charlotte Daniels. But, even though, she claims to have forgiven him, can their reunion at his parents' Thanksgiving party lead to a second chance at love?
Vladimir 'Vlad' Ralinkov aka The Russian Rocket has been looking for an excuse to ask diner owner, Poppy Lambert on a date. When a winter storm strands him in her diner, could this be the opportunity he's been waiting for?
Florist, Kayla DeMarco, doesn't think red roses are romantic and she doesn't trust hockey players, after her cheating ex-husband. But Chaz 'Monty' Montgomery has shown he is nothing like her ex. Maybe Valentine's Day is a good time to trust her heart again.
When you sat down to start this book, what was the biggest challenge you faced? What were you most excited about?
As my lovely loyal readers know, I'm a really slow writer. So, there is a long gap between books. I thought it would be fun to put out something in between book launches to keep readers going while they waited. Plus, I kept being asked questions about secondary characters getting their own stories. I had some ideas for each player, but some of those stories wouldn't stretch to a full book. And I wasn't sure I could write short. My patient editor knows I always come in way, way over word count!
Anyway, I was asked to contribute a short story, with a very strict word limit, to a seasonal anthologoy – Tiny Treats – so I thought I'd give it a shot. I wrote A Perfect Party for that and enjoyed it so much, I wrote another, A Perfect Lucky Charm, for the second Tiny Treats – St. Patrick's Day. When I gave them away on my website, I was asked for more, so I obliged with the four themed around Halloween, Thanksgiving, Winter and Valentine's Day.
Since some readers had missed stories, they asked if I'd pull together and anthology of them all. And so, A Perfect Selection was born!
I was most excited about the opportunity to give readers more stories about the Ice Cats and explore some cute, fun scenarios at the same time. Like Daisy being disguised as Catwoman in A Perfect Disguise to get Jamie 'Blade' Wilkinson to see her as something other than a cute schoolteacher. Or Monty falling for a florist who not only doesn't like red roses, but doesn't like hockey players, in A Perfect Bouquet.
What, in your mind, makes this book stand out?
One of the compliments that has pleased me the most is that this series doesn't play lip-service to hockey. So sports romance fans can enjoy moments on the ice and in the locker room that ring true. But at the same time, the hockey doesn't overwhelm the romance. It adds to the depth of the heroes, and is a fundamental part of what makes them who they are.
Of course, the best compliment is one from a new reader that said, 'I'm not a hockey fan, but I loved this book (A Perfect Compromise – my most recent Ice Cats' book) so much, I bought the rest of the series'!
The First Kiss…
Again, I've cheated here and pulled straws for which first kiss to include. This is from A Perfect Storm, where Vlad is helping Poppy get bedding for him and his team-mate, Chance, who are stranded at her diner.

Poppy stopped in front of the linen closet, once again aware of his closeness. Her heart pounded slowly, heavily.
This was the perfect opportunity for him to make a move. Would he?
She opened the closet door, hardly daring to breathe, awaiting his touch.
It didn't come. Poppy pulled two quilts off the shelf and turned.
Vlad's arms were outstretched, ready to take her load. Had he given her the slightest invitation, she would have dropped the quilts and walked into his embrace. Instead she thrust them into his arms, then stretched up to get pillows from the top shelf.
"Let me." Vlad laid the quilts on a chair, then stepped closer, reaching over her head.
Poppy turned back towards him at the same time, which brought her face up against his broad chest. She swallowed hard and tried to take a step back. The back of her legs hit the closet shelves.
She lifted her head slowly, from the pulse throbbing steadily in the hollow at the base of his neck, past the rugged edge of his jaw, dark with stubble, and the scar across his cheek, until her gaze met his. The heat in his eyes sent fizzes of desire skipping through her veins. She moistened her suddenly dry lips, as his gaze dropped to follow the motion of her tongue.
Time seemed to stop.
She didn't know which of them moved first, but their mouths came together in a kiss that could have lit up the whole block, let alone her diner.
When they finally broke apart, he said, "I've wanted to do that for a long time."
If your book was optioned for a movie, what scene would you use for the audition of the main characters and why?
I think the scene in A Perfect Disguise where the Blade is manning a stand at an Ice Cats' charity Halloween event for kids and Catwoman visits his stand. It's a fun moment – with oodles of sexual tension – especially when she'd bobbing for apples!
Jamie adjusted his Zorro mask, then swirled the apples, printed with skulls, in the water-filled tin tub "Who's brave enough to take a bite?"
"I'll have a nibble." The husky words definitely did not belong to a kid.
Blade turned to see who owned the sexy voice.
Catwoman had never looked so good.
From the tip of the furry ears perched on her dark hair, through the black leotard which dipped tantalisingly low across her cleavage and hugged luscious curves, to the fishnet stockings and spiked heel, over-knee boots, which emphasised every inch of her long, shapely legs, she was a comic-book reader's wet dream. Her almond-shaped green eyes, emphasised by her cat mask, and her full, scarlet lips tempted a man to see how loudly he could make her purr.
Unfortunately, asking her to nibble him was not a suitable response with kids present.
Jamie cleared his dry throat. "Knock yourself out."
As she bent low over the tub, Blade couldn't tear his gaze from her delectable ass. He grabbed a cold bottle of water and rolled it across his heated forehead. He was tempted to give his groin the same treatment, to ease the raging erection tightening his jeans, but instead visualised a sheet of fresh ice.
Catwoman surprised him by snagging an apple stalk between her teeth and lifting the fruit out of the tub.
"Neat trick," he managed to say.
"Works every time." Her teasing smile undid the relief from the cold bottle.
If your hero had a sexy-times play list, what song(s) would have to be on it?
Hmm, these men are all so different, it's hard to choose. It would probably be by a rocker, have great rhythm and meaningful words, guaranteed to melt a woman's heart – maybe Aerosmith's "I don't want to miss a thing".
What do you want people to take away from reading this book?
That every player has his story and that the perfect heroine is out there for him, often in the most unexpected places.
What are you currently working on? What other releases do you have planned for 2016?
I'm currently working on book 5 in the New Jersey Ice Cats series – tentatively titled 'A Perfect Plan'. It features recently retired captain, Scott 'Scotty' Matthews and Saphhire Houlihan (Issy's best friend from A Perfect Compromise). That will be out in Feb 2017.
Once that's in my editor's hands, I plan to write some more shorts and maybe even one of the two Ice Cats' novellas I've been thinking about.

Thanks for blogging at HJ!
Giveaway: 2 copies of the anthology (ebook, gifted via Amazon)
2 sets of signed, limited edition, print copies of the 6 short stories.
Open internationally.
To enter Giveaway: Please complete the Rafflecopter form and Post a comment to this Q:

Which holiday/celebration would you like to see featured as a NJ Ice Cats' short? Why?
Excerpt from A Perfect Selection:
Since we've not long passed St. Patrick's Day, here is an excerpt from A Perfect Lucky Charm. Unusually for a hockey player, Patrick 'Paddy' Mullroney doesn't believe in lucky charms, wishing on stars or superstitious nonsense. But his views and his luck are about to change:
Paddy's attention shifted to the woman standing beside the ten-year-old and was captivated by a pair of laughing, emerald eyes.
He almost tripped over his skates.
Damn, he hadn't lost his cool like that since Juniors, when a puck-bunny-in-the-making had flashed her breasts after he'd scored a hat-trick.
Shayla was petite and pretty. Shiny, dark hair framed her face. Her nose and cheeks were pink from the cold. Her green sweater matched her eyes and hugged her curves. From each ear hung a rainbow, with a pot of gold and shamrock beneath. The whole delectable package was enough to make him reconsider his stance on St. Patrick's Day.
He tried not to gawp like a teenager. "Hi."
"Good luck," she said, huskily.
He cleared his suddenly dry throat. "Uh … thanks."
A stick poked him in the back. "Let's go," JB Larocque said, a knowing look in his dark eyes. "Time to get to work."
Paddy nodded at Shayla, forcing his legs to move.
As he skated around the Cats' half of the rink, the tension tightening his muscles began to ease. During the shooting drills, pucks flew into the net.
"You may not be Irish, but your stick's heating up, for sure." Kenny's shot hit the pipes.
"That's not all that's heating up." Larocque smirked as he whipped the puck past goaltender, Ike Jelinek.
Paddy told the stud winger to do an anatomically impossible sexual act.
The ribbing continued, until the horn blew for the end of the warm-ups. As Paddy headed off the ice, his heart jolted when he saw Shayla smiling at him.
Kenny pushed past, wolf-whistling under his breath.
Paddy resisted the urge to hook Kenny's skates from under him and tried to look nonchalant when Shayla stuck out her hand for him to tap.
Despite his thick glove, electricity shot up Paddy's arm when he touched her.
At the same moment, something glittery fell to the matting by his skate. The shamrock from one of her ear-rings.
He removed his glove, picked up the trinket and handed it to her.
Shayla shook her head. "Keep it as a good luck charm."
Biting back his usual spiel about luck, he thanked her and went to the locker room.
Seated at his stall, Paddy finished his pre-game prep. Then, as the clock counted down to game-time, he rolled the shamrock back and forth across his palm. He should leave the charm in his locker. Instead, he taped it to his right sock, above his skate. He glanced around to see if anyone had noticed, but they were all listening to the coach's instructions.
Excerpts. © Reprinted by permission. All rights reserved.
Book Info:
Can you read just one? From award-winning author, Anna Sugden, comes a mouthwatering selection of six holiday-themed, bite-sized romances featuring players from her popular hockey romance series, The New Jersey Ice Cats.
A Perfect Party (Christmas)
Just Good Friends?
Ice Cats defenseman, Taylor 'Mad Dog' Madden wants more than friendship from Lizzie Martin. Much more. So when a Christmas party provides the chance to kick their relationship up a gear, should he take it or will he lose her completely?
A Perfect Lucky Charm (St. Patrick's Day)
There's no such thing as luck!
Despite his name, Ice Cats' forward, Patrick 'Paddy' Mullroney, isn't Irish and doesn't believe in lucky charms. For sure, they won't help him get out of his scoring slump. But when a shamrock from the ear-ring of a green-eyed beauty drops at his feet, he wonders if St. Patrick's Day might be lucky for him after all.
A Perfect Disguise (Halloween)
Who's the lady behind the mask?
Ice Cats' forward, Jamie 'Blade' Wilkinson thinks his neighbour, pretty schoolteacher, Daisy Carturo, is too good for him. She deserves better than a man with his dark past. When he meets sexy Catwoman at a team charity event, he thinks he's found a more suitable woman to date. So why does she make him think about Daisy? If only he could have the best of both worlds.
A Perfect Reunion (Thanksgiving)
A day of thanksgiving?
When Ice Cats' defenseman, Troy Davidson, sees his ex-fiancé at his parents' Thanksgiving party, he's determined to make things right. He screwed up five years ago, when he ditched their engagement party to elope with a movie star. Now divorced, he realises he's only ever loved one woman. Charlotte Daniels claims she's forgiven Troy. But can she trust him enough to take another chance on him and love?
A Perfect Storm (Winter)
Snowbound!
When Ice Cats' forward, Vladimir 'Vlad' Ralinkov, gets caught in a snowstorm, on his way back from a game, he seeks refuge in his favourite diner. Could this be the opportunity he's been waiting for to heat things up with lovely diner owner, Poppy Lambert, or will she leave him out in the cold?
A Perfect Bouquet (Valentine's Day)
Anything, but red roses!
Ice Cats' back-up goaltender, Chaz 'Monty' Montgomery, fell in love with florist Kayla DeMarco the first time he met her. Unfortunately, then she was married to one of his former team-mates. Since Kayla's divorce, Monty has waited patiently, hoping that one day she'll notice that he's more than just a great customer. Can he convince her with a special bouquet that Valentine's Day is the perfect time to take a chance on a different hockey player?
Book Links:

Meet the Author: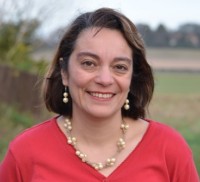 A former marketing executive and primary school teacher, award-winning author, Anna Sugden, loves reading and writing happy endings as much as hockey (where she prefers a happy ending for her team)! When she's not researching hockey players (for her books, of course), she makes craft projects and collects penguins, autographs and memorabilia, and great shoes.
Anna lives in Cambridge, England, with her husband and two bossy black cats.
Website | Facebook | Twitter |